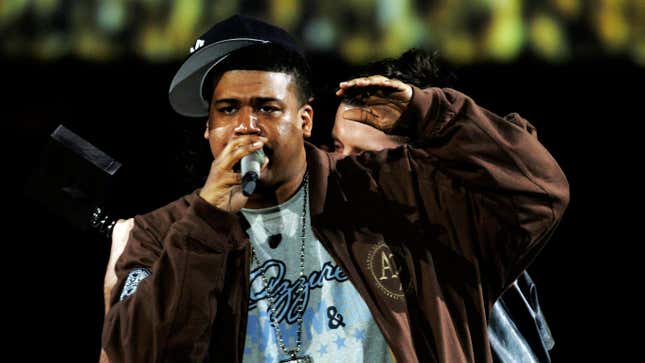 Rapper David Jolicoeur, a.k.a. Trugoy The Dove, has died. Trugoy was one-third of iconic hip-hop group De La Soul, with a representative for the group confirming Trugoy's death to Pitchfork. A cause of death was not given, but Pitchfork noted that Trugoy had openly discussed dealing with congestive heart failure a few years ago. He was 54.
John Hughes says the director called his Ferris Bueller performance "boring"
Trugoy (who explained that he took his stage name from the fact that he likes to eat yogurt) attended high school in Long Island with Vincent Mason and Kelvin Mercer, a.k.a. Maseo and Posdnuos, the other two members of De La Soul, and together they released their groundbreaking debut album 3 Feet High And Rising in 1989. The extremely influential album, which introduced the group's penchant for clever lyrics and surprising samples, was De La Soul's biggest hit, but they continued releasing critically acclaimed albums that shook up their usual style over the course of the next decade or so.
De La Soul's output slowed down in the early 2000s, partially due to disputes with record labels, but their collaboration with Gorillaz on the hit track "Feel Good Inc." won the members of De La Soul their first Grammy (it's Trugoy rapping on the second verse of the song, and the group also appears in the video). De La Soul released its most recent album, The Anonymous Nobody… in 2016 following a very successful Kickstarter campaign.
But as De La Soul was getting critical acclaim and influencing future generations of hip-hop, the group's music became increasingly difficult to actually listen to. Due to issues with securing licenses for the many samples the trio used and predatory contracts that prevented the group from seeing much of the profits from their work, most of De La Soul's catalog—save for The Anonymous Nobody… and 2004's The Grind Date—was completely unavailable on music streaming services. That is finally set to change this year, thanks to a company called Reservoir Media, which worked out the rights and gave control back to De La Soul.
The full catalog still won't be available to stream until March, which will presumably trigger a new wave of appreciation for Trugoy and the group as a whole, but a few songs—like "The Magic Number" (featured in the end credits of Spider-Man: No Way Home)—are available early.