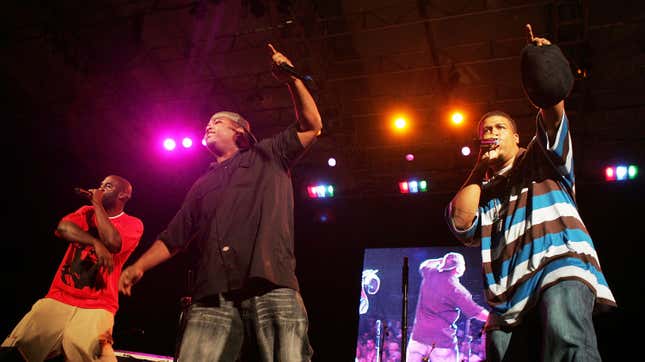 34 years after the release of debut album 3 Feet High And Rising, and some 10 years or so after Spotify launched in the U.S., the De La Soul catalog is finally coming to streaming. Like, there's a date and everything. It's really happening for real—unlike when this was first announced in 2021 with a plan to release all of De La Soul's older albums on streaming services that year. That obviously didn't happen, but now we're reasonably sure that it is happening this time!
Netflix plans to make you freeloaders finally cough up the dough
The groundbreaking hip-hop trio made the announcement with Spotify on Instagram, saying "The De is finally here" with the date of March 3, 2023. That's when De La Soul's first six albums, including 3 Feet High And Rising, will be available to stream for the very first time. For the past few decades, the band's early albums have been wrapped up in various legal disputes with former label Tommy Boy due to old contracts that De La Soul signed and the trio's extremely influential use of samples (many of which may not have been totally cleared, legally). A few years ago, De La Soul's catalog was purchased by Reservoir Media, which pretty much immediately worked out the necessary deals to get the group's music on streaming in a way that made everybody happy (something Tommy Boy had apparently been incapable of pulling off, though De La Soul has always been careful about not putting any of the blame on their old label), and now it's happening.
But the good news doesn't stop there: Variety says that De La Soul's "The Magic Number" will actually be released on streaming later this month, on January 13, presumably in honor of the fact that it was the end credits song for 2021's Spider-Man: No Way Home. It's a few years late to capture what could've/should've been a huge zeitgeist moment (just ask Kate Bush how much she liked being readily available on streaming after her song was in Stranger Things), but everybody loved No Way Home at the time. Maybe they'll still be happy that they can finally stream its credits song?