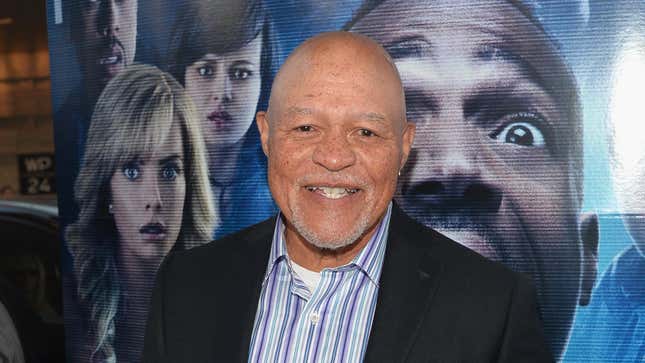 John Beasley, the prolific character actor who played school bus driver Irv Harper on Everwood, has died. As confirmed by his son [via The Hollywood Reporter], Beasley died Tuesday at a hospital in Omaha, Nebraska, where he was undergoing tests. He was 79.
"Man…you know this is a part of life…but that doesn't make it any easier," his son Mike W. Beasley wrote on Facebook. "I lost my best friend today. They say you shouldn't ever meet your heroes because they don't turn out to be who you thought they were. That is so wrong. My hero was my father. Thank you for everything. I hope I made you proud. Love you more."
Born in Omaha on June 26, 1943, Beasley, the eldest of five, wouldn't launch his acting career until the mid-80s at 45 years old. Following the family tradition, Beasley joined the army after high school but met his future wife of nearly 60 years, Judy Gardner, while visiting his sister in Ohama. The couple moved to Philadelphia in the late 60s after Beasley began receiving death threats for speaking out against racist policing. "I've seen the rough side of life, where I thought maybe I might not make it out alive," Beasley said, "but I always did. It's always turned out. But you've got to stay the course and believe it will work out."
Over the next few decades, Beasley worked as a janitor, a machine operator, a Philadelphia TV producer, an independent jitney driver, a longshoreman, a player on a semi-pro football team, and as a janitor and clerk for the Union Pacific Railroad, before he began taking drama classes at the University of Nebraska in the 70s. However, it wasn't until 1989 that he landed his first onscreen role, playing a Henchman in the Joe Spinell action movie Rapid Fire. The following year, he got an even bigger opportunity, starring opposite Oprah Winfrey on four episodes of the miniseries Brewster Place.
"There's no road map; you just have to do it," Beasley told Noise Omaha last year. "You step out on faith is what you do. I wanted to be an actor, not an actor-waiter, so waiting tables was not in the cards. I've been a working actor all my career. That's the best you can hope for. Stars come and go, but I've never stopped working."
Throughout the 90s, Beasley worked regularly, appearing in a trio of family sports movies, The Mighty Ducks, Little Big League, and Rudy, as well as hit TV shows Early Edition and Millennium. Beasley continued to appear on film throughout the decade, starring in The General's Daughter and the Robert Duvall-directed movie, The Apostle, which he considered his big break.
The 2000s brought more film work. He starred opposite Dwayne "The Rock" Johnson in Walking Tall, Ben Affleck in The Sum Of All Fears, and Cate Blanchett in The Gift. During this time, he collected TV roles on NCIS, CSI, Judging Amy, Treme, and Boston Legal, too. In 2002, he nabbed the longest-running role of his career, playing Irv Harper on The WB drama Everwood for four seasons. He also co-starred in the Cedric the Entertainer comedy The Soul Man for several seasons. Recently, he starred in the first episode of the Star Wars series The Mandalorian. Beasley was currently starring in a Chicago Shakespeare Theater adaptation of The Notebook, heading to Broadway next year.
In 2002, Beasley founded the John Beasley Theater & Workshop, producing August Wilson's 10-play cycle and offering opportunities to underserved communities. Last year, in recognition of his accomplishments, a portion of North 30th Street in Omaha was named after him, "John Beasley St."
Beasley is survived by his wife Judy, daughter-in-law Katie, and grandchildren Evan, Miles, Olivia, Mika, Darius, and NBA player Malik Beasley.