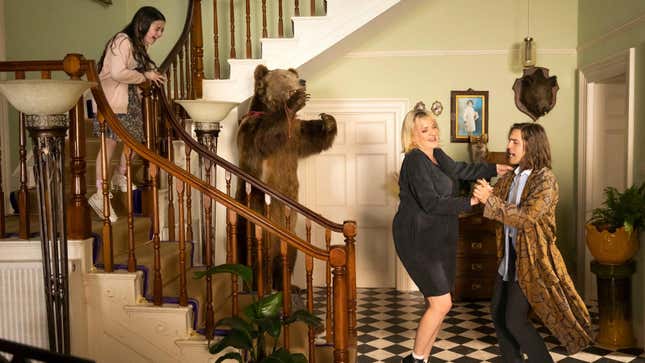 Sometimes, a family is an impoverished aspiring writer, a well-to-do homosexual ex-con, and a precocious kid. Or at least that's the premise behind Rain Dogs, the new dramedy series from writer Cash Carraway. The trailer for HBO's latest show depicts the highs and lows of this atypical family unit ahead of the series premiere on March 6.
"From the brilliant new voice of Cash Carraway, RAIN DOGS is an unconventional love story between a working class single mum, her 10-year-old daughter, and a privileged gay man," reads the series synopsis. "The dark comedy stars Daisy May Cooper as Costello Jones, Jack Farthing as Selby, Ronke Adekoluejo as Gloria, Adrian Edmondson as Lenny and Fleur Tashjian as Iris in her debut role, as a dysfunctional family on the fringes of society attempting to go straight in a crooked world."
In the trailer, Costello expresses concern about Iris growing up amidst all the chaos, but chaos is nevertheless in surplus for the unlikely trio. And as parental figures go, these ones are full of dubious wisdom: "It's completely normal to hate the people you love," Selby remarks, while Costello replies to Iris' inquiry whether her mother would ever lie to her by saying, "Yeah, of course I would. I love you."
Rain Dogs is not billed as an adaptation of Carraway's memoir Skint Estate: A Memoir Of Poverty, Motherhood, And Survival, although one can tell from the title alone that the subject matter is similar. The book details Carraway's own determination to write her way out of poverty and give her daughter a better life, with detours that include food banks, women's shelters, and sex work. All these experiences can be seen reflected in Rain Dogs.
"I wanted to create a working-class protagonist who doesn't die easily in her attempts to 'rise to the top' yet who is stunted by scrutiny, public ridicule, and gatekeepers due to her socio-economic status," Carraway said in a statement. "Rain Dogs is your classic transformation story, only Costello Jones is trapped in circumstances where she's not allowed to change. It isn't autobiographical, but it definitely has firm roots in the chip on my shoulder!"