The shuffler: Punk and alternative-rock icon Bob Mould, co-leader of the massively influential Hüsker Dü and guiding light of Sugar, one of the 1990s' most acclaimed alterna-rock bands. Since that group disbanded more than a decade ago, Mould has had a prolific solo career, and he recently released a new full-length, District Line.
Black Flag, "Rise Above"
Bob Mould: Black Flag, hilarious. Was this the first Henry track, or was "Jealous Again" the first Henry track? It's definitely Henry now that they're singing. I think it was the period where there were five members of Black Flag for that moment, when Dez Cadena went from singing to playing the second guitar.
The A.V. Club: There's that old story about Black Flag seeing Hüsker Dü in Minneapolis and being blown away by the whole frenzied spectacle.
BM: It was Chicago, actually. It was at Oz. It was after a show that they played at another club. They came over and saw Hüsker Dü and sorta flipped out. That was '80 or '81. I can't remember, somewhere in there. Black Flag were quite a band. That was always quite a sight, to see them onstage.
G/O Media may get a commission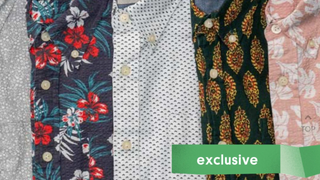 Grab three styles!
JACHS NY Summer Pack
AVC: Is this something you still listen to?
BM: I'm not sure why this song is on my phone. I just wonder if I have this as part of an entire record, or part of a compilation that I made. But there it is. I have a "hardcore mix" on here; I think this must be it.
Armand Van Helden, "This Ain't Hollywood"
BM: What a great album. It's like being in New York in the early '90s. Ghettoblaster's a really good record. What is the song that I've been playing at Blowoff [Mould's DJ series]? It's the first track off the record. "Go Crazy!" is the song that I usually play when I'm deejaying. Will Lemay is the singer on this one. This whole record was such a great throwback.
AVC: You got into that scene in the '90s, right?
BM: Yeah, late '90s, when I started getting more into the trance and techno stuff that was going on in the city at the time. The Paul Van Dyk sessions, Digweed, Deep Dish.
Bob Mould, "Who Needs To Dream?"
BM: That's a good song.
AVC: J. Robbins got a Burning Airlines track during his Random Rules, and was so embarrassed.
BM: I'm not! I've listened to this song thousands of times. I have, like, 18 mixes of it on my hard drive. It was a bear to work on for the album.
AVC: What made it so difficult?
BM: Because there's so much stuff going on. There's like three different acoustic guitars, eight drums, and then there's like two different synthesizer riffs going through it. I'm trying to get everything in place so that when the other two big guitars and all the looped percussion and the synthetic strings come in, there's still room. It's really a monstrous mix that I was trying to get at. Sometimes when I mix, the more stuff I put in, the smaller it ends up sounding. This one was just maddening.
Alan Banford & Audio Junkies, "Jack Up Da Bass"
BM: This was probably something I was playing at Blowoff. I don't know much about this, other than that it's a good groove. Something I bought on Beatport. I bought a lot of stuff on Beatport for potential sets that doesn't get used. This one clearly did, because it's on my phone.
AVC: Did you audition stuff on your iPhone for Blowoff gigs?
BM: Yeah, when I'm putting sets together, I'll move them over to my phone. I'll take them to the gym with me, or when I'm out walking around, or I have to drive somewhere, I'll plug them into the car and listen, and make sure that the tracks are happening and working together. Sometimes I'll do stuff when I'm in a hurry, and I don't audition stuff enough, and I get there and then realize there's like this three-minute breakdown in the middle of it. Like everything's rocking, then there's this huge breakdown that I didn't know was there. And nothing's happening except swirly shit, and I'm like, "Oh, God! I gotta get out of this song." Then just play, like, Stardust or something.
M83, "A Guitar And A Heart"
BM: From Before The Dawn Heals Us, the most recent album, not counting the one that's coming out any moment. Great, great record.
AVC: How long have you been a fan?
BM: Probably like three or four years now, since this record came out. I saw them at Coachella, I think, three years ago, and they were great—really, really good. Live, there are two guitars, bass, drums. They have all the loops and samples going as well. Live, they're very reminiscent of My Bloody Valentine, in terms of lineups and stuff.
AVC: Did they pull it off at Coachella? That sounds like it would be hard to do.
BM: It is hard to do, but they did pretty well with it. I got there about song three of the set, so I saw maybe 35 minutes. It was good. It was really tight. The one thing is, they were smoking a lot between songs. The song would finish, then they'd start smoking, because I think they're French.
Blowoff, "Tag It"
BM: Did anybody hear that record?
AVC: When did that come out?
BM: Fall '06. That was a painful lesson in what happens when you put a record out yourself these days. It's really hard. It's too bad, because it's a really good record. "Tag It" is not one of the better [songs]; it's an okay song on the record, as they go. It was a really fun record to make with Rich.
Sebastian, "Ross Ross Ross"
BM: Another one of these French guys with Justice, all that gang. He's been doing some great remixes. He did a great Editors remix. [Sings.] "Lens of a camera…" You know that whole super-micro-slicing kind of sampling stuff? He's, like, third generation of that stuff, because second generation was Daft Punk. That was their whole thing. And the first [generation], Todd Edwards, that's really where that stuff started. Daft Punk brought him in to sing on "Face To Face," I think. So that's the beginning of that whole micro-slicing, house kind of stuff, and the sort of garage-y house beats. I'm a huge fan of all that stuff. Todd was the innovator of all that. Daft Punk was really influenced by it, and now Sebastian is like the new version of it. I mean, all that stuff that's going on right now is all about that—Justice, Simian Mobile Disco.
Morel, "Mean Time"
BM: It's a really sad, sparse song. Queen Of The Highway came out right before Modulate. When I was living in New York, the guys at Rebel, Rebel—which was in the West Village, this record store I was buying a lot of stuff [from], and they were sort of helping me make my way through all the electronic stuff. They turned me onto Rich's music. It's very house-y, but also very guitar-driven—more introspective words and stuff. Queen Of The Highway's a great record. I used to get together with a buddy, and he listened to the record constantly, and he'd smoke pot constantly. He lived in a studio apartment in the West Village, and he always has his stereo on stadium setting. Rich's music always has a lot of delays in it, and on the stadium thing, I couldn't even tell what was happening. I was like, "Could you just put it on regular setting? This is really crazy! Can you even hear what's happening?"