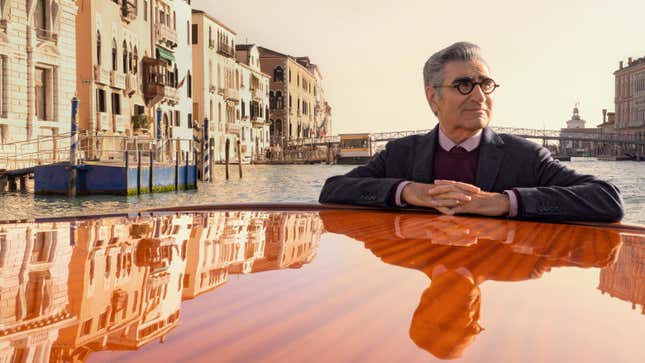 Just from hearing the basic concept of Apple TV+'s new series The Reluctant Traveler With Eugene Levy, you can make a safe assumption about the format of each episode: Lovable TV/movie/real dad Eugene Levy doesn't like to travel, but armed with Apple's budget for outrageously fancy hotels and high-quality camera equipment, he meets interesting new people and has interesting new experiences that teach him to appreciate different cultures and different places. It's nice. But, as we pointed out in our review, you can pretty much see where every episode is going from the moment Levy sets foot in some spectacular new place —which, to be fair, is probably intended more as a feature than a bug.

And then there's episode three, in Venice, where the reluctant Eugene Levy reluctantly visits one of the most famously must-see cities, reluctantly gets ferried around by a charismatic Italian ferryman, and reluctantly stays in an obnoxiously incredible hotel. By the end of the installment, Levy makes his usual admission that it was probably good that he got to spend a few luxurious days in Venice (the poor man), but here's the thing that makes the Venice episode weirdly subversive as far as The Reluctant Traveler goes: It really seems like he's lying, and that makes it either a jarringly off-brand outing of the show or a perfect encapsulation of its host's attitude toward travel.
The first indication that something is wrong, to the extent that anything can be "wrong" in Venice other than … you know, fucked-up sea levels caused by global warming, is when Levy meets Paolo Lorenzoni, the general manager of the Gritti Palace hotel. Lorenzoni presents Levy with a book that all of the Gritti's most famous guests ever are asked to sign, featuring autographs from Ernest Hemingway, Liberace, Charlie Chaplin, Princess Margaret, and countless others, and while Levy makes self-deprecating comments in voiceover about how it sure is weird that he hasn't been asked to sign it, he's just doing that for comedic effect.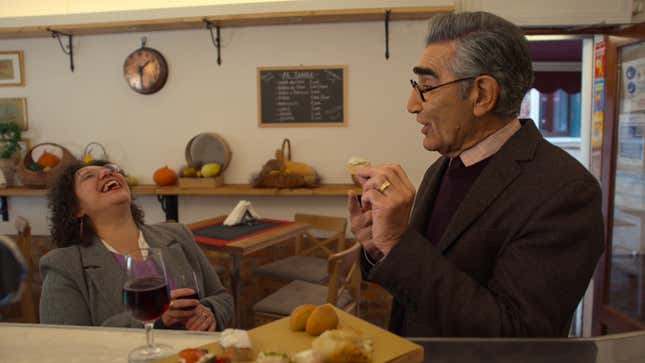 What does not seem to be done for comedic effect is that, as Lorenzoni continues showing Levy about this book that he is clearly immensely proud of, Levy becomes more and more bored with it. Anyone who has ever shown someone a cool thing that the other person couldn't care less about will recognize the body language here, as Lorenzoni keeps admiring his nice book and Levy starts looking around and asking about how sometimes the water that surrounds the hotel sometimes gets inside.
Later, Levy meets Monica, a local food writer, who is much more enthusiastic about the local food scene than he is. After Levy gets disappointed by the more sensible lunch than he expected (you've never seen someone say "it's very good" with less conviction), Monica takes him on a little historical tour featuring the first-ever Jewish ghetto in the whole world. She explains that, in 1516, the city thought it would make sense for communities to stick together, which naturally progressed into forcing Jewish communities to stick together. But when Napoleon invaded in 1797, he opened up the ghetto—not, as Monica explains, because he cared about Jewish people, but because he wanted them to give him money.
This prompts Levy to drop a good quip in the moment—that Napoleon was "one of the better anti-Semites"—but in a subsequent talking-head, it's very, very clear that Levy was bummed out by the whole thing. He notes that he wouldn't have done it if he weren't making this TV show, saying "it's not … what I do when I travel," and he doesn't seem as "on" as he did earlier in the episode. He pointedly does not say "it's good that I did this because I otherwise wouldn't have," he just says "I wouldn't have done this otherwise," and the distinction seems purposeful.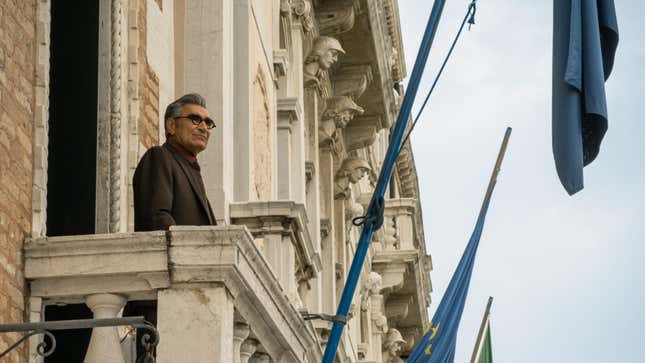 Near the end of the episode, there's a memorable return from Lorenzoni, who once again wants to show Levy a really nice thing he's proud of: watercolor portraits of the hotel's most famous historical guests. There's Greta Garbo, Humphrey Bogart, Grace of Monaco, and then … Eugene Levy! A gorgeous portrait of the man himself, alongside an array of some of the most famous people ever, part of a tribute to the hotel's history that Lorenzoni himself says he came up with, and Levy's reaction is: "Wow. That's … that's a nice touch." It's a wonderfully nice gesture, but he was more impressed with the furniture in his hotel room—though Lorenzoni reminds him that every single person on the wall other than Levy is dead, so maybe that accounts for some of his unease.
Levy wraps things up on a more positive note that has very little to do with Venice. Reunited with his gondolier from earlier in the episode, he meets the man's son as the boy prepares for his own future as a gondolier. Levy talks about working with his own son and what a learning experience that was for him, and he does seem legitimately touched by witnessing these two generations of Venetians working together. But then, finishing up his trip to Venice, all he'll concede is that he's "leaning toward" the trip being good for him. If he learned anything, he did it begrudgingly, and he admits that his favorite thing was staying in a very nice hotel.
It's like if they did an episode of The Magic School Bus that ended with the kids saying "yeah, it was fun shrinking down really small, but I didn't actually learn anything about how the human body works and I don't intend to learn more in the future." Is that bad because it breaks the show, or is it good because they're being honest and relatable? Just as long as they don't make Eugene Levy go to any ostensibly wonderful places like Venice too often, at least everyone will be happy.