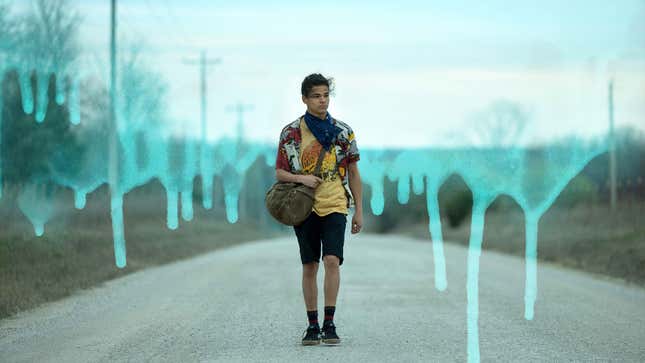 Since the beginning, Reservation Dogs' four teens have wanted to get the hell out of their Oklahoma town. Nothing is more appealing to Elora (Devery Jacobs), Bear (D'Pharaoh Woon-A-Tai), Willie Jack (Paulina Alexis), and Cheese (Lane Factor) than driving to California for a sunny, breezy fresh start. It's partly a way to escape mourning their recently deceased friend, Daniel (Dalton Cramer), with whom they shared the unfulfilled dream of moving away. And it's partly because they're not sure if their home, the only place they've ever truly known, is enough anymore. But what's the emotional toll of really splitting from Okern? Res Dogs beautifully captures a universal coming-of-age musing—the trepidation of leaving your community and comfort zone for the unknown.
Late-night hosts welcome back their writers—and their jokes
It's obviously a teenage rite of passage to worry about the real world outside the specific bubble of family, high school, and childhood BFFs. It's scary, exciting, and most of all, inevitable. TV shows from Degrassi to Riverdale and everything in between have used the classic graduation and college formula to address this narrative. Characters to ponder who will be the valedictorian and which university they should choose. It's nothing out of the ordinary. And yet, FX's comedy is extraordinary. Res Dogs capitalizes on the ineffable feeling of leaving your safe space to grow up and carve out a new place for yourself. The series' poignant crux stems from Elora, Bear, Willie Jack, and Cheese's internal tug-of-war: choosing to stay in a tight-knit reservation versus the beachy allure of Los Angeles.
Of course, Sterlin Harjo and Taika Waititi's show isn't a traditional teen comedy in the first place. It distinguishes itself with an inherent, incisive focus on a Native American community. In Res Dogs, the core four aren't nervous only about breaking away from a mundane daily routine, which sometimes includes light thieving (their kingdom for some Flaming Flamers hot chips). It's about distancing from ancestral roots they won't find anywhere else, and it's the thing that's shaped their identity so far. Res Dogs recognizes the challenge of forsaking familiarity in search of (maybe) something better. It also reflects on how maybe home is home for a reason.
And more than in previous outings, season three constantly reminds them of this. The premiere picks up with Elora, Bear, Willie Jack, and Cheese stranded in L.A. They've accomplished the goal of getting to the big city, memorializing Daniel, and seeing the ocean. What comes next? Disappointment. Their car is stolen, they've got no money, and a man dressed up as white Jesus steps in to help. It's not as they've imagined. There are no traces of normalcy—a diner waitress serving them has no idea what an Indigenous reservation even is.
Their experiences are not as much fun either, especially when they're forced to return home via bus. On the long ride back to Okern, Cheese—the youngest, wisest of the lot—asks Willie Jack if she still wants to get away. He knows he's staying put in Oklahoma now. "L.A. was cool but it just made me appreciate home more," she confidently replies. "Fuck it, I'm not going anywhere." A wacky California adventure is eye-opening enough for the two of them. Still, they're sure Bear and Elora will eventually depart someday, and their bond might not remain the same.
Res Dogs' beauty lies in making it clear there's no right or wrong here. The writing doesn't judge the characters; it simply understands the teen anxiety that comes with figuring out who you're supposed to be. Who hasn't felt like a total fuckup at 16? The show often uses the grown-ups to drive home this message, like the recent and pretty great season three outing "House Made Of Bongs," which flashes back to the '70s to shed light on how Elora's grandmother's friend group faced similar struggles when they were teens. As we said above, the fear of growing up is pretty universal.
It's a shame that Reservation Dogs will end after season three. Over a short span, it's crafted a distinct, unforgettable voice, encapsulating a rich culture and setting (it's filmed on location in Muscogee Nation) and acting as a love letter to its community. And yet, Res Dogs is resonant because of this precision, honing in on feelings many of us have had. It's ubiquitous and specific at the same time—not to mention pretty damn funny. And it will be missed.