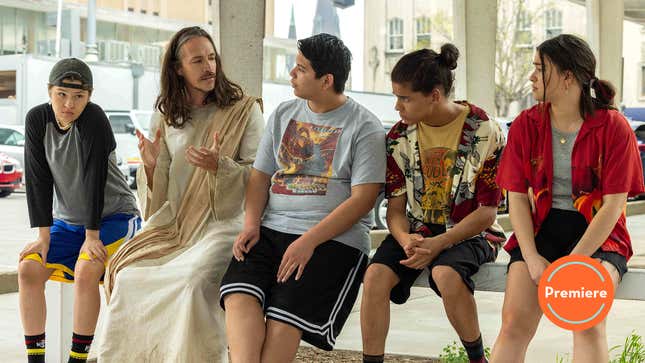 Reservation Dogs is one of the best television series out there. That may sound like hyperbole, but after watching its near-perfect first two seasons—and especially after seeing the first two episodes of season three—that sentiment feels more like a statement of fact. If we must offer a disclaimer, though, we can simply say that there are no shows like it. And we are all the better for it. And yes, in case you slept on season two (gasp!) or just needed a slight refresher, William Knifeman (Dallas Goldtooth), our resident spirit guide in a loincloth is here to catch us up.

The feud between Howard Stern and the world's smuggest man, Bill Maher, has come to a tentative ceasefire
Last we saw our fearless foursome, Bear (D'Pharaoh Woon-A-Tai), Elora (Devery Jacobs), Cheese (Lane Factor), and Willie Jack (Paulina Alexis) were stranded in Los Angeles. Yes, they'd finally made it out west, but a carjacking later they'd found themselves at a loss as to where to go and what to do. That is, other than wistfully celebrating their friend Daniel in the waters of the Pacific Ocean. In a way, that image, of the five friends hugging one another while wading in the sea, felt like an apt closer for the story seasons one and two set out to tell about the ways in which grief can spur radical change. And so if you were worried this season may feel adrift once that journey had come to an end, fear not.
GRADE FOR SEASON 3, EPISODE 2, "MAXIMUS": B+
---
For the question now is not only about how the four teenagers will get home, but also whether they want to. Whether going back is really all that simple—or all that necessary. And whether what they're returning to is worth it.

The questions are much more pressing for Bear and Elora. (Cheese, of course, worries about the answers precisely because he seems to have no immediate plans to leave Okern once he's back there, a sentiment Willie soon echoes.) In Bear's case, he's long been aching to leave home because it gave him an out from his life; it allowed him a chance to project himself elsewhere—ideally, as it turns out, toward his dad. And so it makes sense that he'd make a beeline for him as the four friends figure out what to do next. But if Punkin has proven anything, it's that he's not reliable; his girlfriend (from the looks of it) hasn't seen him in a week. He's in Oakland recording, or so she was told. Who knows. Such a dead end (courtesy of Bear's deadbeat dad) leads to a lovely surprise: Teenie (Tamara Podemski), Elora's aunt, arrives in Los Angeles to help bring the rogue teens back to Okern. No not on a plane (no free peanuts for Cheese and Willie) but by bus.
The bus ride back finds Elora and Teenie chatting precisely about what, if anything, the fearless teenager will find when she returns to Okern. Just as driven to find her way out, perhaps the wayward journey to California and back will see Elora reassessing what it is she wants out of life now that her grandmother is gone. The two share the most touching scene in this season opener, with Teenie voicing a sentiment many adults (young and otherwise) could heed with more conviction: "There's no miraculous change," she tells Elora about what it means to grow up. She still feels the same as she did as a child. What happens is that some kids have more baggage than others. And you often don't recognize how much you're carrying; sometimes you gotta get rid of it. It's a lovely message that helps establish not just a continuity between childhood and adulthood but serves as a reminder that one never knows what baggage others are carrying. It's a call to be more empathetic toward others and to oneself.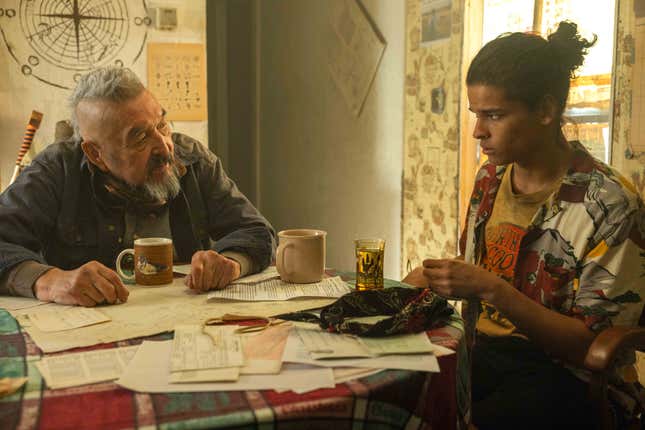 In true Reservation Dogs style, though, such tender moments are cut through with rather broad comedy. (This is an episode that featured White Jesus yet again and many food related punchlines; honestly, wouldn't you have taken a free donut?) And it ended, of course, with the question no one wanted to be asking themselves: "Where the fuck is Bear?"
Yes, caught up, as ever, in his own world (with William Knifeman's help, obviously), Bear misses the bus and is left stranded in such a literal sense that you're not surprised by the way the next episode ("Maximus") stresses just how metaphorical it was meant to read.
"Maximus" opens with Bear bickering with William Knifeman following an encounter with a Spanish conquistador on horseback. Bear is sick of being given cryptic aphorisms by his spirit guide, especially during what he's told is his walkabout, his spiritual journey. Can't he just head home? Must he really traipse through the middle of nowhere with a dead phone while listening to William egg him on about how he's stumbled onto a spirit portal? And also, won't he just fuck off?
Bear may come to regret those words (which elicit a single tear from his spirit guide) but he has no time to process this because he's immediately hit by an arrow. Yes, an arrow.
Next thing he knows he's blindfolded and being offered water by a stranger (the eponymous Maximus) who very clearly is weary of any and all strangers. Does his remote home in the middle of nowhere Oklahoma look like a paranoid man's bunker, replete with UFO photos, aluminum foil coverings, and the kind of wall decor that would make Carrie Mathison proud? Yes. Does he firmly believe there are Star people (not aliens, let's be respectful!) out there who are communicating with him and whose arrival he awaits by carefully growing eggplants? Also yes.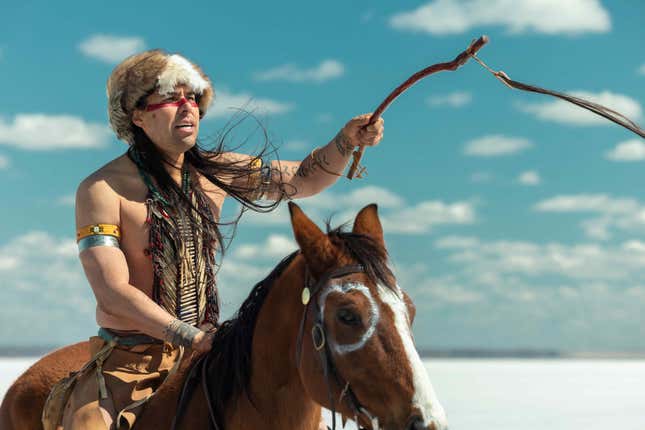 What's exciting about Reservation Dogs is the way it twists its tone so that you're laughing one minute and then questioning your very existence the next. Maximus (Graham Greene) demands that you see him as a joke. His isolated existence is initially played for laughs. Yet by the end, when he shares with Bear how his beliefs got him shipped off to psych wards where electroshock therapy was but one of the ways he was treated (and later still when we see the police driving him away, as they've likely done many times before), you get a more melancholy vision of this elder who forsook (or was forsaken) by those he loved and now looks up to the skies to find an answer.
Alone again, though now armed with some eggplants and perhaps a bit of perspective, Bear's journey is not yet over. It may have just begun. And while he may have done away with William Knifeman's aphorisms, he got plenty from Maximus: "We are just echoes of things that came before," "Love doesn't have to be received. It can just be," and "There are no separate entities, only things that rely on one another" feel like helpful clues as to what we can expect from Bear's arc this season. We should all be happy we get to be along for the ride.
Stray observations
"A story as old as time, as fresh as Mountain Dew" is a near-perfect line and one which captures the winking earnestness that characterizes the show.
A detail that won't (and shouldn't) go unnoticed is the way the map plotting the bus rides from Los Angeles to Okern do away with any semblance of a united (or divided) states: my favorite detail, of course, was INDIAN LAND given the Hollywood sign treatment.
I almost wish we'd gotten one more episode in Los Angeles so we could get more slight jabs at this city. (Yes, I'm talking about that A-plus L.A. drivers bit.)
"I'm not sure that's connected"—Cheese to the random guy on the bus gifting us the only adequate response when folks hit us with non-sequiturs as a way to spark conversations in public spaces.
Of course, that leads to a line that then gets echoed in episode two by Maximus: "Everything is connected." Are we sensing a thread for what's to come in the rest of the season?
How perfectly timed were these episodes that they're airing days after we had an entire hearing about government transparency when it comes to UFOs?
Music supervisors remain the unsung heroes of Peak TV. Yes, we're all grateful for the Kate Bush/Stranger Things moment but even quieter ones like Googling the end credits song of "Maximus" and learning about F.J. MacMahon, whose Spirit Of The Golden Juice (1969) remains a folk-rock curiosity all these decades later, is a joy. The song, "Early Blue," is an apt summary for what's to come: "I'll have to see my friends/ Where they go/ What they know."
As Bear presumably moves on from expecting anything from his dad, it's now time, it seems, for Elora to go forth and seek her own absent (white) father. (Talk about a bombshell revelation!)
The cast of Reservation Dogs has long been one of the main selling points of this Peabody Award-winning series. And while its central quartet deserves any and all accolades (not that, ahem, the Emmys would ever notice—did you know the series has only notched ONE nomination…for Sound Editing?!), the same is true for the many guest and recurring stars its recruited. I mean, Wes Studi, Lily Gladstone, and Joy Harjo have all graced the Reservation Dogs universe. But today I wanted to shout out Tamara Podemski's work in this episode. World-weary and wise yet wonderfully kind, her Teenie was a welcome balm in this season opener.
Bye White Jesus (played by Incubus' Brandon Boyd!). Thanks for your help. Enjoy your hot dogs.