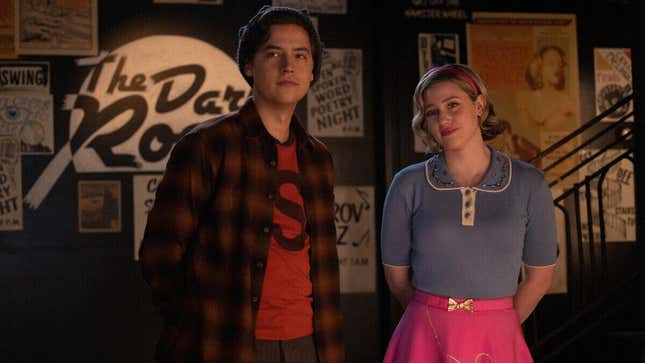 The students of Riverdale High are finally graduating—again and for good this time. The CW's sensational teen drama, which bewitched and bemused audiences for a solid seven seasons, is finally coming to an end on August 23. It's the closing of a chapter for a group of young actors, for its emergent showrunner Roberto Aguirre-Sacasa, and for Archie Comics. But when it comes to a certain form of teen soap, it may be the end of the book altogether.

Rachel Bilson on "Accused," "The O.C.," and more
Time was, there were at least a half-dozen teen shows on television at any given time. There were even entire networks more or less dedicated to it: The WB, UPN, Teen Nick (or The N), and Freeform (or ABC Family) all offered robust teen programming, on top of all the teen-focused content littered elsewhere at other networks. While teen entertainment comes in many flavors, the classic version of the form as it evolved is one where high school was mostly set dressing for whatever outlandish things were going on in the lives of its adultified young cast. Buffy was slaying the supernatural, Roswell dealt with the plight of extraterrestrials, the Pretty Little Liars were being relentlessly stalked by a mystery tormentor. The CW, a network launched in 2006, took this form and elevated it to new heights with shows like Gossip Girl, The Vampire Diaries, The 100, the 90210 reboot, and many more. These shows created their own lane of "camp," infiltrating the cultural zeitgeist and earning devoted (if sometimes niche) fanbases.
Riverdale was in many ways the last dying gasp of this species of series, a final evolution rooted firmly within the tradition of the genre while observing from without. Much has been said about Riverdale's increasing ridiculousness and how the show went "off the rails" as the show progressed, but that ignores how Riverdale was created to be a little ridiculous. The idea of a "dark and sexy" Archie Comics television show was silly from the start, something audience members may have forgotten due to the effectiveness of the first season's Twin Peaks parody. But it was always a parody, one that pilloried teen soaps as much as it reveled in being one. There were gang wars and class battles, big musical numbers, and characters declaring their own romantic relationships as "endgame." By the '50s-set final season, Riverdale had become nothing so much as a parody of itself, in the best and most entertaining way possible. Aguirre-Sacasa came from Glee, after all, a show similarly misunderstood in its intentional zaniness. "It is What the fuck? That's the whole point," star Lili Reinhart described the series in a recent Vulture interview. "When we're doing our table reads and something ridiculous happens, Roberto is laughing because he understands the absurdity and the campiness."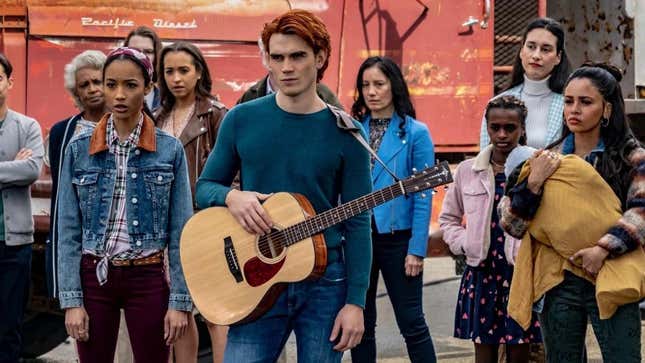 Perhaps it only makes sense for a series that can be read as meta-commentary on the teen soap to be "the last of its kind." You don't have to take our word for it; that's a quote from Luke Perry, who saw the genre in its nascent stage as a cast member on the original Beverly Hills, 90210, and its final stage as Archie's dad on Riverdale. According to star Madelaine Petsch (in that same Vulture interview), Perry saw the writing on the wall way back at Comic-Con in 2016 before the show had even premiered. It's easy to see why, since television was already changing radically at that point. Streaming services have saturated the market so much that it's hard to imagine a new teen soap cultivating enough hype or strong enough fandom to command an entire hall at Comic-Con.
Even The CW, home to Riverdale and so many of its predecessors, is leaving teen TV behind. Last year, the network was acquired by Nexstar Media Group, which subsequently revealed the average CW viewer is actually not a teenager. As such, the network that was home to so many iconic moments in genre television will pivot away from its roots to more "older-skewing" programming. The CW, the last holdout of a bygone era of teen-forward networks, the final bastion of television teendom, will cease to exist as we know it when Riverdale comes to its natural end, meaning Riverdale really is a last hurrah.
It's not that there won't be any teen television at all, but the high school shows emerging in Riverdale's wake (Euphoria, Never Have I Ever, Outer Banks, etc.) are fundamentally different from those of the previous era. The differences go beyond content. The real difference is in how the shows are made, with smaller writers' rooms and shorter seasons. Teen TV shows (and series in general) now average about eight to 10 episodes per season. The necessity of creating 22 episodes of television is where writers began to lean into the absurd, where book adaptations would diverge from their source material, where actors would really get to live in their characters. (Today's teen television trends are at least somewhat more realistic than absurd.) Some, if not all, of these concerns have been raised in the current writers' and actors' strikes, but even when those unions hopefully achieve their aims, the business of television has nevertheless been irrevocably altered. "We can all be happy that we had a fucking consistent job for seven years," Reinhart told Vulture in regard to Riverdale's legacy and the future of teen television. "I could speak for probably all of us: We will never again do something that's 100-plus episodes."
For fans, Riverdale's legacy will be one of joyful zaniness, sly commentary, and special cast chemistry. The final season was an utter delight, hilariously paying tribute to itself, to Archie Comics, and to the teen genre as a whole. It's a fitting goodbye for a show that was beloved and often misunderstood, a particular kind of teen sensation we might never see again. As an entry in the teen pantheon and the history of television as a whole, it'll be remembered as the end of an era, both a peak and a denouement for teen TV, "the last of its kind," like Luke Perry predicted. And what a way to go, huh?