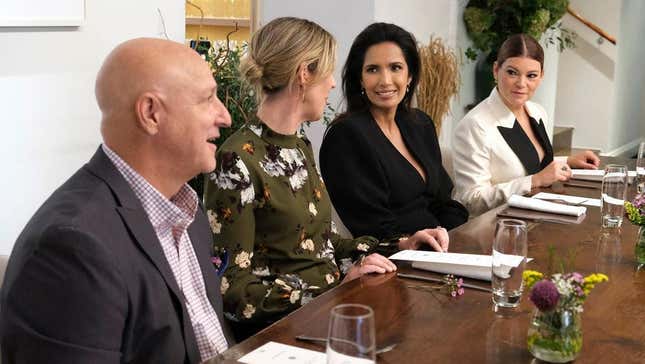 Like a thirsty diner trying to flag down the waiter for a refill, Top Chef viewers spend all season eagerly anticipating one thing: Restaurant Wars. Though not necessarily The Best episode of any given season of Bravo's iconic cooking competition, it is always—every single year—worth looking forward to. It's where the show turns the dials up on any simmering storylines or personality issues between the contestants, not to mention the whole competition of Top Chef, and throws it all into a heightened version of a real-world setting. The winner of Survivor isn't necessarily going to be the most adept person at living on a deserted island, but after surviving Restaurant Wars, it's hard to argue that the winner of Top Chef is anything but the Top Chef.

Milo Ventimiglia on "The Company You Keep," "Gilmore Girls," and more
The basic format of the Restaurant Wars episodes, going back to Top Chef's first season (even before Padma Lakshmi had joined the show as its regular host), is that the contestants—however many remain, because part of the trick is that Restaurant Wars happens at a different point every season—are split into teams and tasked with conceptualizing a pop-up restaurant within a very short timeframe. (Restaurant Wars for this fantastic season of the show, which currently has eight contestants left, airs May 4.)
They have to come up with a concept and a menu, create a space by picking out tables and plates, and then actually make and serve the food. One team member generally has to work in the front of the house, explaining the menu to guests and the judges, and the others work in the kitchen preparing all of the food. But even the person working the tables has to invent a dish as part of the menu and explain how to make it to their teammates.
The Restaurant Wars episodes are always team challenges, with one restaurant winning and the other losing. You could be the dumbest idiot in the history of food, but if your team carries you and they manage to put together a successful evening, you still might not get sent home. For the losing team, though, it might not even be obvious what will get you sent home. In that very first Restaurant Wars episode, the chef who went home was eliminated because he allowed his teammates to take charge and put together a menu he wasn't comfortable with. It wasn't because he did anything bad; it was because (as the judges pointed out) the show is called Top Chef and not Top Sous-Chef, which is pretty brutal.
In other seasons, judges have criticized contestants who worked in the front for not properly guiding their teammates through how to make the dish they came up with, so a chef could get sent home for a dish they weren't even responsible for literally making. They have to trust their teammates to do it right, and their teammates have to respect them enough to understand their vision for whatever dish they created.
Top Chef doesn't really require a "social game" like Survivor or Big Brother, but it does involve living with people and seeing what kind of food they make, so the contestants know what to expect from each other. There have been Restaurant Wars episodes where teams are assembled at random and episodes where chefs pick their teams, and both make for different kinds of tasty drama. Random teams mean you might end up stuck with someone whose kitchen work you don't like, but choosing teams means the other chefs will know if you don't like their cooking.
Restaurant Wars is effectively, then, the perfect culmination of everything happening on a given season of Top Chef in a way that also simulates real challenges that a chef might have to deal with in real life. Cooking isn't all about having Tom Colicchio tell you to make a sandwich and then comparing your sandwich to 10 other sandwiches and the best sandwich getting a prize.
That would actually probably never happen outside of Top Chef, but having to manage a hectic restaurant with people you don't necessarily like, where doing the worst job out of anyone might get you sent home, must happen constantly in the restaurant business. Hell, that happens in every business, which might be one of the most compelling things about Restaurant Wars. It's relatable, at least in a high-stakes reality competition way.
Speaking of stakes, they're really no different from any other Top Chef elimination challenge—you do something bad, you go home—but Restaurant Wars is great because it's the "put up or shut up" moment on each season of Top Chef. You have to do the work and advocate for what you're good at and make sure you support your team and still make sure that your contributions get noticed by the judges. It's the best part of every Top Chef season because it's the definitive Top Chef thing.
Considering that Top Chef is one of the—if not the—best reality show competitions, due to the fact that you can't really fake your way through it or get lucky or stumble through the game-y-ness of it, that makes Restaurant Wars the best of the best.