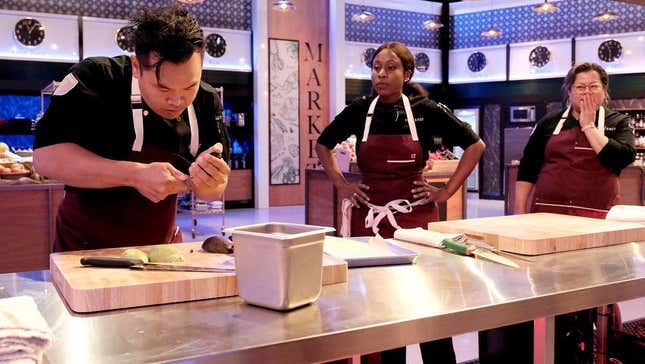 In a sentence we never thought would be written, Vin Diesel has officially entered the Top Chef universe. Yes, things get action-packed during this week's Top Chef: World All-Stars, which in a curious bit of corporate sponsorship, comes courtesy of Fast X, the latest edition of the Fast & Furious franchise. Yeah, we're not exactly sure why either. But the movie tie-in does provide inspiration for one of the most adrenaline-pumping Top Chef eliminations ever.

Arden Cho on "Partner Track" and Olivia Benson
But before we get ahead of ourselves, let's shift gears: This week's Quickfire was an around-the-world challenge in which the chefs had to blind-select a popular street food from one of 16 different countries and make it their own in under 30 minutes. "Have fun with it, but we still want to be able to understand what the original inspiration was," instructed guest judge Judy Joo, the chef-owner of Seoul Bird in London.

It's a mad-dash to the board displaying the countries, and some chefs are happy with their selects. Gabri gets Canada like he wanted; Sara was thinking arepas so she grabbed Argentina; and though Victoire came up last in the foot race, she's pleased with Jamaica. ("I'm feeling Rastaman!" she exclaimed mid-dance.) Less content is Charbel, who chose Japan but is flummoxed when faced with the given dishes: takoyaki, fried dough balls filled with octopus and commonly drizzled with kewpie mayo and a savory, Worcestershire-like sauce. "I have traveled a lot; I love Japanese food. But what the fuck is takoyaki?" he asked. "I'm making up my own recipe." (Later, when Amar asks him what's he's making, Charbel yelled: "I don't remember the name of the dish!")

Alas, Charbel's not-exactly-takoyaki lands him in the bottom of the Quickfire ("Didn't look like takoyaki, didn't taste like takoyaki, had no resemblance of takoyaki," Judy tells him), along with Nicole's stodgy take on a Chinese bubble waffle ("They're called bubble waffles because they're bubbly and light") and Sara's ground-beef empanada, which was stingily stuffed and plagued by a dry filling.

On the other end of things, though Tom was worried about cooking Indian food for Padma Lakshmi ("Padma is well-traveled and Indian on top of it, so it's very difficult to cook for her"), the host dubbed his bhel puri with mushroom steak and chaat masala "alive and fresh."

Gabri's modern interpretation of a classic Canadian poutine was praised by Judy, but it was Buddha's "technically difficult" and "beautifully executed" Vietnamese bánh xèo that claimed first place, earning the chef immunity in the Elimination Challenge.
And it was a good time to have immunity, because the Elimination Challenge took one of the franchise's toughest Quickfires—the mise en place relay race—and made it even "more stressful because someone's gonna get eliminated," per Padma. In teams of three, the chefs would be competing in three rounds of three ​​mise en place tasks (dicing, deveining, and other kitchen prep work). How each team fared each heat would dictate the order in which they could choose ingredients for their dishes, with each plate having to highlight at least one of the chosen ingredients (which, again, were weirdly pulled from the various settings of the Fast & Furious films). "This is three rounds, three things for each chef, that's nine things…they call it Top Chef: World All-Stars for a reason," said Amar.

Chosen by pulling knives, the trios were Team Yellow (Ali, Tom, and Gabri), Team Red (Nicole, Buddha, and Victoire) and Team Green (Sara, Amar, and Charbel). And we were off: fanning avocados, supreming orange segments, and fileting whole hamachi were the first-round tasks, with Ms. Swift herself Sara positively annihilating the competition. ("As a young female in the kitchen, one of the things that I relied on to show my value is to be way faster at prep than everyone else," she explained. Plus, "I'm a lot competitive.") However, Victoire's segmenting skills put Team Read in first place, so they smartly choose the heat's sole protein, the hamachi. Team Green chose the oranges, and Team Yellow was left with the avocados. ("You leave the Mexican the avocados? Wrong!" Gabri joked.)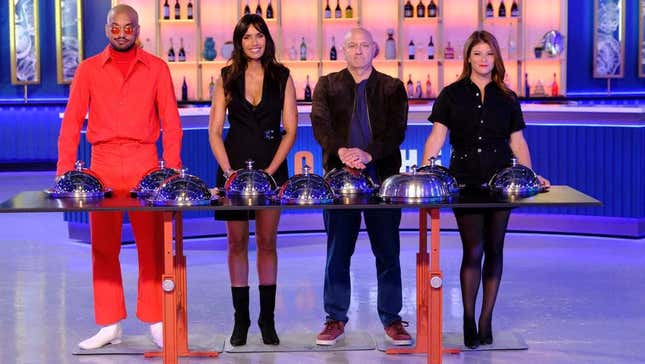 The second round included peeling and dicing prickly pears, deveining two dozen shrimp ("All the poopy out! We've already sent someone home this season for shrimp poop," Tom Colicchio yelled), and shelling enough peas to make one cup. Team Red won yet again, choosing the shrimp. Team Yellow took second place this time, opting for the peas, leaving the Green Team the cactus pears. "Both of our ingredients are sweet," Sara worried about the team's potential dishes.

In the final heat, the chefs had to pit two quarts of dates, Brunoise enough bell peppers to equal half a cup, and french two racks of lambs. Despite Gabri not knowing how to do the latter, he gets saddled with the sheep, which considerably slows Team Yellow down. They come last, with Team Green winning and finally getting themselves a proper protein with the lamb, the Red Team taking the dates and the Yellow trio being left with the peppers.

The chefs then only had 30 minutes to whip up three dishes per team, a time limit that had them Usain Bolt-ing around the kitchen and Gabri even taking a hard fall on the tile. Some competitors worried they were taking on too much (Nicole: "Mine's quite complicated; I have to start a prawn bisque and I have to test the tempura batter and I have to roast a sweet potato in 30 minutes. This is very risky but this is not my first rodeo") while others questioned if their dish was too simplistic, like Charbel and his seared lamb loin. In fact, instead of each chef highlighting one ingredient from the mise en place race, all three members of Team Green chose lamb, a strategy that left them concerned. "Did we just fuck up?" Sara asked.

Upon tasting, Team Yellow is declared by our Padma, Gail, Tom, and this week's guest judge, fermentation-loving judge David Zilber, as the winning team off the strength of Tom's "really tasty" whole-roasted bell pepper with hazelnut puree and chorizo, Ali's smashed peas with spiced potato and mint, and Gabri's charred avocado with soy sauce vinaigrette and bacon. Tom is chosen the individual victor of the week, also nabbing tickets to the Fast X world premiere for himself and a guest. "I'm gonna wear a tuxedo and a big hat!" he proclaimed.

The lamb-focused Green Team had the judges' least favorite dishes of the day. "I actually thought it was really smart," Tom Colicchio said of the lamb trio, "but the individual ingredients you were supposed to highlight weren't actually being highlighted." Sara's lamb with burnt orange yogurt and orange gremolata was dubbed the best of the three, so elimination was between Amar's harissa-grilled lamb chops with prickly pear gastrique and Charbel's lamb loin with carrot dijonnaise puree. "It was a little boring," Padma said of the latter. "If you're only gonna put three ingredients on a plate, those three ingredients have to blow my bloody mind," David added.

In the end, Charbel's "boring" lamb sent him packing, though he has the chance to return to the competition if he wins in Last Chance Kitchen. "I'm so grateful that I'm able to put my country on the map, that's an achievement of itself," Charbel said upon exiting. "At 25, I'm here. I'm still a student. I'm still learning," though he promised: "I'll be back, strong."

Stray observations
In a sweet moment, last week's guest judge, world-famous food god Gaggan Anand, popped behind-the-scenes to share a beer and talk food with the chefs, even offering them a spot in his kitchen. "This is one of those opportunities that only happens on Top Chef," Amar said.
Continuing the Fast & Furious weirdness, Victoire is surprisingly a huge fan of not only the movie franchise ("I love driving!") but also of its muscley leading man. "Who's your favorite actor?" Buddha asked her, to which she didn't hesitate: "Vin Diesel…I dream of him." Later, while Victoire was zooming her way through orange segments, Nicole gave her some on-brand sideline support: "Don't let Vin Diesel down!"