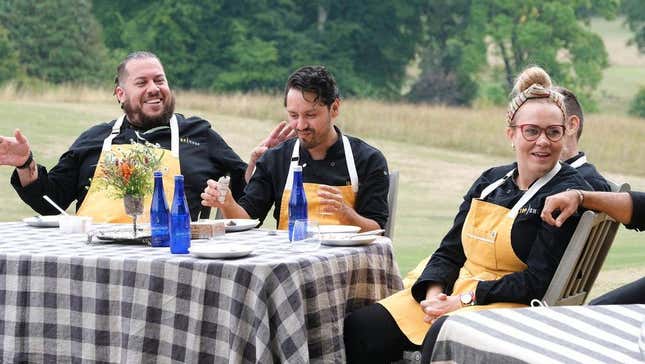 "As the saying goes, life is no picnic, unless of course you're at one," Padma Lakshmi intro'd this week's Elimination Challenge on Top Chef: World All-Stars. And while all of the competitors have had it tough this season so far, it certainly hasn't been a picnic for Dale McKay and Begoña Rodrigo. Running concurrently with the main series, Dale and Begoña have been battling their way through Last Chance Kitchen, Top Chef's spinoff that grants eliminated players the opportunity to cook their way back into the competition.

"Top Chef" judge Gail Simmons on favorite cuisines and dream guests
That chance finally arrived on Thursday's episode, during which—instead of a traditional Quickfire Challenge—the remaining chefs got to exit the kitchen and enter the judges' seat as Dale and Begoña whipped up afternoon-tea towers spotlighting a finger sandwich, a scone, and a pastry, all in under an hour.

"You chefs will be helping to decide who gets back into the competition," Padma explained, granting the cast one cumulative vote to go along with hers and Tom Colicchio's after a blind tasting. ("I can judge anyone at any time. Let me know and I can judge the shit out of you," Sara joked.) Not only would the winning competitor get a spot back in the kitchen, but they'd also win immunity for the Elimination Challenge. "Personally I don't want anybody to be back. Why would I want anybody to be back?" Ali asked.

Tasked with completing seven tea towers, Begoña and Dale had plenty to do in a frenetic sixty minutes of cooking. "If you try to do something to out of the box, you're fucked," Buddha said. Alas, that's exactly what happened with Begoña's "complex" spread. The Spanish chef ambitiously tried to make crab sandwiches, scones with a beetroot-tomato compote and eclairs ("why would you try and do choux?" Nicole questioned during the tasting), but in hustling to get everything plated, she dropped a stack of dishes and did not have time to place her scones on her towers. "I cannot believe that, Jesus Christ," she lamented.

So it wasn't a surprise when Dale's display of bacon-Gruyère scones, a ginger cake with mango compote, and an egg salad and smoked salmon sandwich won the vote unanimously, bringing the Canadian toque officially back into the game. "I'm happy to have Dale back but I'm also terrified because I know he loves to compete," Nicole said.

And, though Dale now had immunity, there was no rest for the returning chef as he was immediately thrown into the Elimination Challenge. "We want you to work in teams to create a ready-to-serve picnic basket for the judges and our guests at Highclere Castle, the famous home of the Crawleys in Downton Abbey," Padma announced. (Sara: "My mom loves that show!") To match the regal surroundings, each basket had to contain five elevated dishes including one sweet course.

After drawing knives to decide the two teams, we were left with Team Blue (Sara, Charbel, Nicole, Victoire, Buddha, and Dale) and Team Yellow (Gabri, Tom, Sylwia, Amar, and Ali), who were given £200 per team to shop at the luxury department store Fortnum & Mason ("the official grocer of the queen herself") for specialty items and another £250 to pad out the rest of their picnic at Whole Foods. They'd have one-and-a-half hours to prep, cook, and pack up their baskets, which would be enjoyed the next day by the judges at Highclere. "Once you get to the picnic round, there's no kitchen, so your dishes should hold well, serve at room temperature and be easily eaten," Tom instructed.

Almost immediately, the shared budget proved to be an issue, especially for Team Yellow. "It's very challenging; Tom spent £160 of the £200, which is crazy! So we have to make it work at Whole Foods Market," Amar worried. "Is this a team challenge or is this, you know, £450 just for Tom?" "I want to do something very complicated. I did not come here to play safe," Tom said of his cioppino-inspired salad with caviar chips, seafood marmalade, and pickled apples.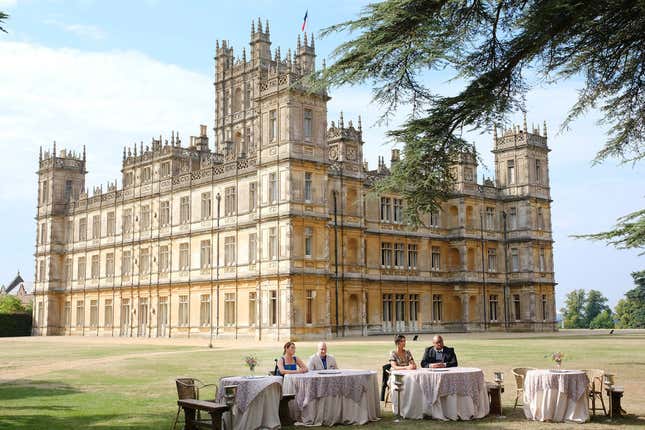 And timing was also a major concern. "Gabri is doing everything last minute. For me, that's very scary," Ali fretted, with the chefs chucking everything into their baskets until the very last second on the clock. "The challenge is done; all we can do now is serve the food," Sara said.

The next day, each team presented their respective baskets to Padma, Tom, Gail Simmons, and several guest judges (including Robin Wylde's chef-owner Harriet Mansell, cookbook author Max Halley, and pastry chef Graham Hornigold). On Team Yellow, Ali's muhammara with pickled walnuts and pomegranate vinaigrette as well as Amar's "super smooth" rum-raisin flan with pineapple-sage marmalade were praised by the judges. However, "the others were quite difficult in a picnic situation," guest judge Roger Pizey critiqued, with Gabri's smoked-fish tostada crumbling under the weight of "wet ingredients" and Sylwia's borek with nduja mousse and lemon posset being dubbed "confounding" by Gail.

Overall, the Blue Team's baskets had a stronger showing, with the judges singling out Charbel's vegetable crudité with "gorgeous" beetroot hummus and baba ganoush, Nicole's "beautifully cooked" salmon niçoise ("I didn't want to like it because I don't like the idea of salmon niçoise but I liked it anyway!" Tom declared) and Sara's "spot on" charred broccolini with manchego, lardo, and truffle vinaigrette. Nicole's niçoise ended up nabbing the top spot and earned the chef $10,000.

In the bottom were Sylwia's "bland" and "spongy" borek, as well as Tom's pricey cioppino, which "needed a lot of editing," Padma said. ("You not only wasted your money but you wasted theirs, too," Tom Colicchio brutally chided him.) However, a normal elimination this was not. "One of you will be going home…just not yet. Come with me," Padma told Sylwia and Tom, leading them to a pair of tricked-out tents. Yes, it looks like we haven't seen the last of Last Chance Kitchen after all, as the two chefs will be going head-to-head in next week's episode to dictate who will ultimately be packing their knives.

Stray observations
Padma at a Picnic™ is an entire mood: "Oh, thank god!" she yelled when she heard Tom Colicchio pop open a bottle of bubbly. Five minutes later, upon sight of some manchego: "Finally, I was waiting for some cheese!"
It's unclear if it was all of that fresh air, but the chefs were feeling especially bawdy this week. Sara likened her salad to laying down on a blanket and making love ("or a quilt if you live in Paducah, the quilt city capital of the world"); Dale declared a hug from statuesque Padma "the goal of the whole season"; and Nicole openly flirted with the butcher at Fortnum & Mason. "Amazing!" she gasped upon looking at their display case. "What, me or the meat?" the butcher joked, to which she heartily replied: "Both!"
Speaking of Nicole, that $10,000 win is going toward a life-changing purpose. "That is my last and final installment of my adoption now. I'm fully paid up," the chef said. "I applied for adoption and I just got approved this year and there's a child waiting for me in Hanoi, Vietnam." The chef emotionally revealed that she's always wanted to be a mom but is not able to have children naturally. "It's crazy to think that I'm gonna do that now on my own but I'm crying right now because I'm so grateful. I'm lucky."