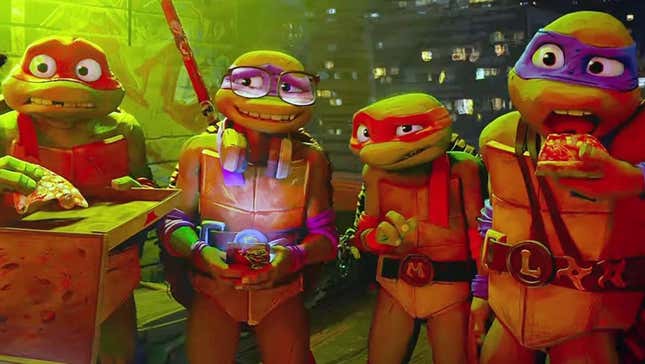 With its ridiculous-sounding premise spelled out in its title, Teenage Mutant Ninja Turtles has long been a franchise that's at its best when it embraces the absurdity of its own world-building. Their latest big screen outing (subtitled Mutant Mayhem and directed by Jeff Rowe, with Kyler Spears co-directing) understands this from the very first frame when a nebbishy scientist coos at the mutated fly he keeps in a crib and now fears will be taken away by a corporation intent on using his bioengineering talents (and attendant neon sludge) to create all sorts of animal soldiers-turned-weapons. The cheeky, earnest tone of that first scene, which extends to the way this reimagined classic takes on our four fearless martial arts-trained heroes and their rodent father figure, immediately assures you that you're in good hands.

Here's Patrick Stewart's biggest regret, according to Patrick Stewart
Those hands include not just Rowe (also a co-writer) and Spears, but two screenwriting teams that include the minds behind Superbad (Seth Rogen and Evan Goldberg) and Pokémon: Detective Pikachu (Dan Hernandez and Benji Samit). In a way, those two films work well as templates with which to understand what this creative team has done with Leonardo, Donatello, Raphael, and Michelangelo. For starters, part of the joy of this recent reboot is the way these walking, talking, ninja-weapon-wielding turtles truly feel like teenage boys. Indeed, when we first meet them they're nudging one another to break some rules and enjoy their time above ground away from their sewer life and enjoy some of what New York City has to offer. Namely, an outdoor movie screening in Brooklyn. In voicing them, Nicolas Cantu (a frazzled Leonardo), Micah Abbey (a nerdy Donatello), Brady Noon (an anger-prone Raphael), and Shamon Brown Jr (a charming Michelangelo) bring a welcome youthful energy to these siblings that makes getting lost in their shenanigans all the more fun.
Because, yes, on paper Teenage Mutant Ninja Turtles: Mutant Mayhem plays with a number of well-worn TMNT tropes and beats. But everything around it—the voice work! the textured, play-doh-like animation! the sight gags! the Trent Reznor and Atticus Ross score (!!!)—is so winning that you can't help but go along for this gloriously bonkers ride. Thankfully sparing us from being a full-blown origin story (how and why these four teens became ninja fighters with the help of a Jackie Chan-voiced rat named Splinter is breezed over in a perfectly efficient flashback), TMNT: MM centers instead on a pretty relatable teenage narrative: how to get that cute girl to like you and how to fit in with those unlike you.
The plot really kicks off when our foursome accidentally hit unsuspecting would-be student journalist April O'Neill (Ayo Edebiri, truly having the best and most deserving 2023 around). With a ninja star, no less. As she curses them out without noticing who (or what) they are, her bike is stolen—which leads by-the-rules Leonardo to propose the unthinkable: follow the perp and restore the bike to the young woman that, as one of his brothers puts it, activated all of his hormones at the same time. It's in that kerfuffle with a bunch of petty criminals that April finds yet another clue for her ongoing investigation. Like everyone else in New York City, she's keen on solving a series of high-profile heists perpetrated by one "Superfly" (Ice Cube, having a ball). Egged on by his own desire to impress April, Leonardo recruits himself and his brothers to the cause.

The plot that follows, which brings the turtles head-to-head with a slew of other mutants (voiced by the likes of Seth Rogen, Rose Byrne, and Hannibal Buress), will find them trying to leverage their ninja skills and brotherly chemistry to become heroes. Maybe that way they can earn the acceptance needed to attend high school like "normal kids" and, in the process, help April save her high school's prom. And maybe that way they won't have to sneak out of the sewers and into Madison Square Garden to watch Adele. Or, you know, make good on their training not to fend off scary humans but defend them instead from the vengeful wrath of Superfly. That intersection of playful teenage angst and kick-ass action (one fight scene is set to Blackstreet's "No Diggity"; a chase sequence to 4 Non-Blonde's "What's' Goin On") is arguably the reason fans new and old alike will cherish this latest TMNT adventure.
The film is also an audiovisual treat. With character and background designs that stress the plastic tactility of these creations (every frame has a gritty hand-drawn feel), the film has the look of notebook sketches, the kind you'd draw in class while bored. It's yet another reminder that this is ultimately a story of four awkward teenage boys who've only had each other for 15 years. Their overlapping banter is a joy to witness, making the dialogue-heavy scenes as engaging as the inventive action set-pieces (including a final one in bustling, neon-tinged Times Square).
An obvious franchise starter (a sequel and a television series are already in the works), Teenage Mutant Ninja Turtles: Mutant Mayhem is nevertheless an endlessly delightful proposition. Quippy, zippy, and punchy, this teen-focused take on everyone's favorite pizza-loving vigilantes is a refreshing reappraisal of a property that could very well have felt stale in 2023. And yes, I cannot wait to see what misadventures these boys will embark on next!
Teenage Mutant Ninja Turtles: Mutant Mayhem opens in theaters August 2