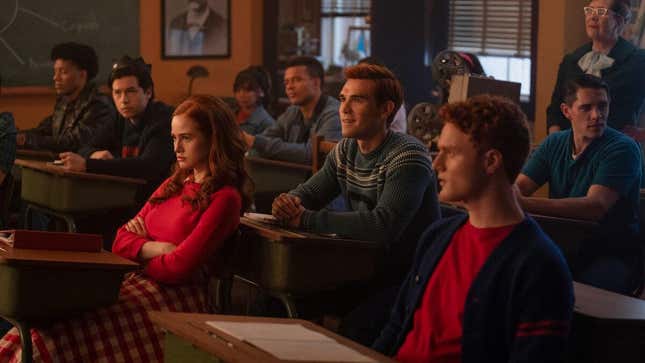 It's almost time to pack up and move out of Riverdale, but not before one last beautifully bonkers adventure with Archie (KJ Apa) and the gang. The final season of the beloved CW series premieres on March 29, 2023 (in an episode perfectly and hilariously titled "Don't Worry Darling"), but unfortunately for Jughead (Cole Sprouse), the town is trapped in the year 1955.
For anyone who may be confused: Yes, Riverdale is typically set in the present day. But (spoiler alert), last season a multiversal splintering resulted in the town's residents developing supernatural powers in order to battle the immortal evil wizard Percival Pickens (Chris O'Shea), who, upon his defeat, magically re-directed a comet to crash into the town, a plot thwarted at the last minute by the combined force of all the friends' superpowers bestowed upon Cheryl Blossom (Madelaine Petsch), who destroyed the incoming projectile but in doing so transported the town and its residents back to the twentieth century and somehow reverted our adult heroes back into teenagers. Does that clear things up for you?
In the new trailer, Jughead—the only person who remembers life B.C. (before the comet)—tries to convince his friends that things are amiss. "We need to get back 67 years ago. But in the future," he tries to explain to his skeptical comrades. Unfortunately, Archie and co. are too busy enjoying their reinstated youth, not to mention the fabulous '50s aesthetic. There are poodle skirts! Big bouffant hairdos! Jughead's comics-accurate crown! Riverdale's back, and it's more Riverdale than ever.
Roberto Aguirre-Sacasa and his team of writers have never been afraid to take a big swing, and this reverse time jump is the perfect opportunity to totally reset Riverdale's established dynamics. Betty (Lili Reinhart) is after Kevin (Casey Cott), who is gay. Archie is getting married (!) to Cheryl, who is also gay. Veronica (Camila Mendes) is a "celebrity from Hollywood," and she's also making out with Jughead, for some reason. It's complete anarchy, and as usual, it's delicious.
The reset is also an opportunity to bring back characters we haven't seen in a while, like Ethel Muggs (Shannon Purser), who appears covered in blood. Then there's Julian Blossom (Nicholas Barasch), Cheryl's twin brother. Not her original twin brother Jason, whose murder was the inciting incident for Riverdale as a series, but the heretofore unseen triplet that Cheryl supposedly consumed in utero and previously haunted the Blossom mansion in the form of a creepy doll. We don't see much of him in the trailer, but according to TVLine Julian is "your classic high school red-headed bully": "Handsome, athletic, and cocky, he always gets his way, but in the rare times he doesn't—like with Veronica—he makes life miserable for everyone around him. He often butts heads with his twin sister, but is also an antagonist to all of our teen characters, most especially Archie."
Juggling the supernatural with the mundane? That's just another average day in Riverdale, the murder capital of the world. The seventh and final season promises to be a typically wild ride. Start placing your bets now as to what this year's retro time travel musical episode will be!