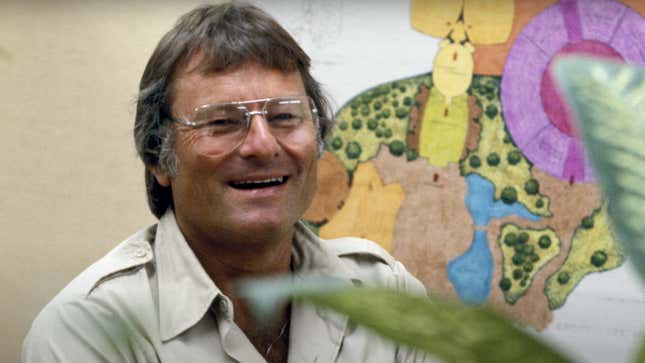 Roland "Rolly" Crump, a longtime Disneyland Imagineer who was instrumental in the designs of fan-favorite attractions such as the Haunted Mansion, Enchanted Tiki Room, and It's A Small World, has died. The announcement comes via the Facebook page for his autobiography, It's Kind Of A Cute Story. Crump was 93.
Anthony Hopkins has figured out what we all knew about Marvel movies
Crump's Disney career spanned over 40 years and began in 1952—when he was just 22 years old—as an animation assistant on films such as Peter Pan, Lady And The Tramp, Sleeping Beauty, and 101 Dalmatians.
Crump's style was mod, bold, and whimsical. Per The Hollywood Reporter, he was obsessed with propellers and created a number of spinning mobiles to hang in the animation department while he was working as an assistant, which eventually caught the attention of Walt Disney himself. As a result, Walt moved Crump into the newly formed Imagineering department in 1959.
As an Imagineer, Crump contributed to designs for It's A Small World (specifically the iconic clock that sends puppet children on a parade every 15 minutes, which he first built for the 1964 World's Fair), the Haunted Mansion, and the Enchanted Tiki Room, which continues to directly influence tropical art that appears throughout the parks worldwide, including the beloved interactive bar Trader Sam's.
Crump designed for the Disney Parks until 1970, when he left to contribute to other theme parks including Knott's Berry Farm and Busch Gardens. He returned a few years later to design Epcot's The Land and Wonders Of Life pavilions, and later left and returned again to be named Executive Designer in 1992. Crump officially retired in 1996 and was named a Disney Legend—a hall of fame for the company's especially distinguished contributors—in 2004. His autobiography, Kind Of A Cute Story, was published in 2012.
Crump is survived by his wife, three children, and three grandchildren. In their announcement, his family said that "his entire life was filled with one 'kind of a cute story' after the next, and he will be remembered with lots of love."