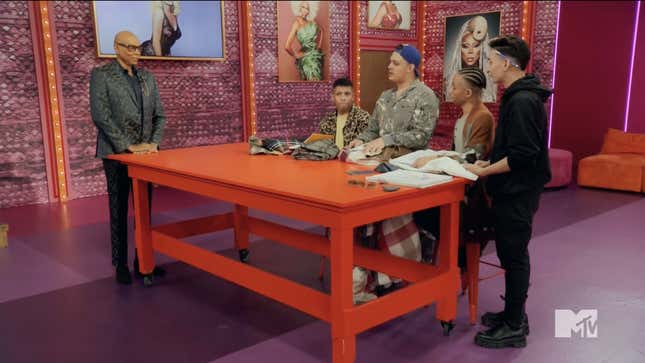 The fifth episode of RuPaul's Drag Race's 15th season makes for good reality television. It's mostly thanks to how Sugar's exit affects Spice, who is emotional about the win/loss, and the other queens who seem supportive of her. The brewing tension between Mistress and Marcia over who placed second and third last week is less supportive. After gaining sympathy from the other queens, Spice manages to stir some drama by suggesting they're the ones who deserved to be sent home over Sugar. Aura brings up the issue the next day, but Spice is saved by RuPaul's entrance.

Danny and Lucy Devito on Little Demon, The Penguin, and more
RuPaul announces that the library is open for the franchise's fundamental mini-challenge. As with Snatch Game last week, the reading challenge comes too early in the season. The cast is too large and the episode runtime is too less for most of them to get in more than a single read. By this installment, the queens have really only known each other for a little over a week, which leaves them little material to work with, so their reads lack depth.
The reading commences with Malaysia taking aim at Sasha. She offers a solid read, mocking Sasha's distinguished career in terms of age and comparing her Continental crown with a continental breakfast. As a self-professed comedy queen, Amethyst's mute read of Spice was fairly bland. The simplicity and repetition of Luxx's read of Marcia's fashion coming from Marshalls were perfect. On the opposite side, Salina and Jax fumbled their reads without precision. Salina's read of Amethyst and Robin—"another bottom you've been inside of"—did not feel sharp enough. Likewise, Jax attempted to read Luxx's three names and then said "Shut the fuck up," not realizing it was four words. They are minor mistakes but demonstrate the artistry behind reading.
Mistress does well, landing a laugh from the season's catchphrase, "Walk that duck," with Anetra's nose, and a dig at Loosey's talent show performance. Spice gets points for a crude remark at Loosey, but it felt like only half a read. Ironically, Marcia's read of Spice being left with only half a brain fares better. Robin succeeds with a read of Malaysia as an overgrown baby.
Last week, RuPaul shut down Aura when she attempted a Snatch Game answer in Tagalog. Jax shuts down her read in this episode by claiming Aura has been trying to "fuck" her. Apparently, even if you're watching Untucked, you are still only getting half the story. Sasha excels with a great misdirection of Mistress' initials being MIB before landing a double-read of Anetra and Loosey. Sadly, Anetra's "swipe left" read of Robin is unspecific and weak. Loosey gets three reads against Malaysia, Salina, and Mistress. The edit clearly confirms that Loosey would be with the mini-challenge winner.

RuPaul's Drag Race's main challenge
After the library's closure, RuPaul announces this week's challenge: The queens must design outfits as part of a fashion house. Blurring the line between individual and team challenge, the queens are divided into three fashion houses: The House of Visage, The House of Kressley, and the House of Matthews. Using rooms decorated in the corresponding "house styles," the queens must construct their outfits out of those materials. What's more? Their well-constructed garments should reflect their unique styles while maintaining cohesion with their assigned house style.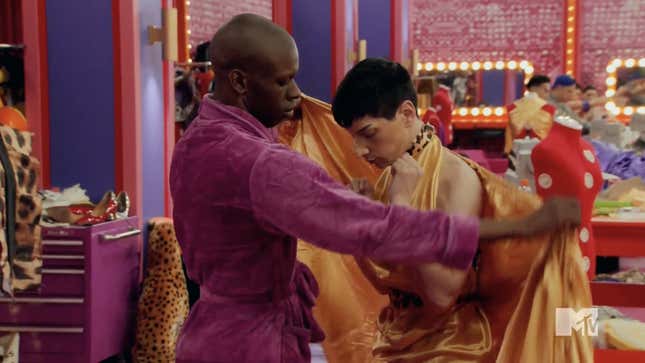 The "Werkroom"
Each team gets to a decorated room matching their respective house, evoking the style of judges Michelle Visage, Carson Kressley, and Ross Matthews. The queens get decent time to scavenge the rooms, which is pointless considering each team can only take supplies from their own room. The edit should've spent more time on the queens crafting their looks over procuring their materials.
Back in the werkroom, House of Visage's Luxx takes the reins, suggesting they embrace royalty as a theme. Meanwhile, House of Kressley's Jax and Salina split the role of leader as they vague themes, inspirations, and prompts to take "stylish risks." Finally, House of Matthews's Marcia wants to unite around palm print. They have the most tension as a group. In a classic Drag Race moment, Marcia reveals she can't sew, and Loosey inadvertently criticizes Sasha's intended design.
This episode triumphantly provides the sorely missing RuPaul walkthrough. During their meeting, House of Kressley refines their idea to be "school girls," miraculously revealing the entire team knows how to sew (or so they say). Anetra, as always, understands that making RuPaul laugh at any moment is equally important to winning challenges when she presents a superb Carson impression. As a result of the walkthrough, House of Visage decides to change themes, forcing Luxx to redesign her entire outfit after RuPaul questions their "royalty" concept. Interestingly, and potentially a bad omen, RuPaul takes a moment to sort of read both Salina and Amethyst during the walkthrough.
As the queens return to work, some interesting issues come to the service. Loosey pinpoints the distinct difference between constructing an outfit for a dark club versus the bright lights of the main stage. This is connected to Malaysia and Amethyst, who struggle with their looks. Amethyst, in particular, doubts every decision and admits she simply does not have an eye for design. It's an interesting point, as recent years of Drag Race and a litany of look queens have made a false assumption that queens are inherently gifted in design and aesthetics. Luxx finds herself at a crossroads debating risk versus reward when it comes to redesigning her concept.
While the workday ends with Jax and Spice discussing the earlier drama of who should've gone home, elimination day finds both queens at the center of the episode's emotional release. Jax discusses her childhood in Connecticut and her experience as an adopted child. She laments how she was made to feel like an outsider by her community, and the acceptance and diversity she found moving to New York City. Similar to societal exclusion, Spice discusses her and Sugar's love of dolls. It may seem superficial, but the moment gets at the heart of Sugar and Spice's journey from feeling shame to celebrating themselves and their love of drag. The edit perfectly capstones the emotional moments with Luxx looking in the mirror remarking on her beauty.
The Drag Race runway
The runway is baked into the challenge this week, making the edit slightly less compressed than before. The three houses present impressive collections for the category Drag Race Fashion Week. The one complaint is an incessant voice-over of the queens discussing the materials they used (cue the Michelle Visage "it's a piece of fabric" clip).
Mistress sets a high precedent as House of Visage goes first with an expertly fitted, elevated leopard mini dress that felt like early Michelle Visage, including the breastplate. Exchanging leopard for zebra, Aura presents a look that, while well-styled, is messily constructed. It's perplexing why she claimed to be a seamstress in front of RuPaul to claim later this was only the second outfit she had made. Amethyst, who was very upfront about her design failures, manages to make something presentable within her limited skill set. It lies between not and horrendously bad. Similar to Aura, Spice presents a styled look that fails in construction. House of Visage saves the best for last with Luxx presenting a regal, impactful, and beautifully constructed garment. The contrast between the crisply tailored zebra pants and fluid purple top accented with gold details is the best look she has presented on the runway so far. Furthermore, she shows no signs of delusion, which only makes the look that much better.
Robin leads the House of Kressley, which had the greatest obstacle in terms of material. When was the last time RuPaul and Michelle gagged over brown leather and plaid fabric? Despite that, Robin presents a superbly constructed look that evokes a Highland gladiator. Jax's wig, combined with her look and accessories, recalls Heathers with a punk edge. But the proportions are off despite the impressive ambition. As soon as Anetra arrives, there's a sense that Jax is out of place. More connected to Robin's Scottish warrior look, Anetra's is equally well constructed. It feels like if Jax and Salina had been more cohesive with Robin and Anetra, the team may have fared better. Unfortunately, Salina's look makes you long for Utica's sleeping bag from the Bag Ball of season 13. Salina's look's color story, combined with the ill-fitting shape, leaves a lot to be desired. It's not the dramatic finale look she and her team imagined it to be.
While the previous team lacked a sense of cohesion (which was part of the challenge), the House of Matthews unites their looks based on four different rich women going on a Palm Springs vacation. Sasha—who must have overheard RuPaul's advice about replicating what works for you—dons palm print swimwear and a flamingo robe. She looks great, but she could've been more ambitious with the challenge. After presenting a darker incarnation last week, Loosey is back to being Loosey in a solid, summery '70s-inspired. Malaysia channels "church lady meets business executive" in a highly detailed outfit with impressive attention to detail. Finally, Marcia closes the fashion show with a clean and elegant look that fits her brand. The pop of orange against the blue-green palm print is a simple punch, portraying a substantial improvement over her runway last week.




The judging
RuPaul greets the judges—Michelle, Ross, and special guest Janelle Monáe—in a voluminous and textured canary yellow cocktail dress. Thankfully, the judging is fair and constructive. Monáe, who would make an expert judge in musical or acting challenges, has authority given her carefully curated design aesthetic. Mistress, Aura, Spice, Anetra, Loosey, and Marcia are quickly announced safe. Amethyst, Luxx, Robin, Jax, Salina, Sasha, and Malaysia remain for critique.
Michelle begins by complementing Amethyst on her nose contouring while questioning some of her design choices. Ross nails it with a remark about noticing her limited to no sewing skills. It's easy to imagine Amethyst getting by with her look on a different season if it weren't for a strong cast of seamstresses. Luxx, on the other hand, is showered with praise. Michelle calls it Versace meets Cavalli, complimenting the pattern and construction of the pants. Furthermore, the judges remark about how her attitude made the look even better. Luxx is absolutely right to salute herself.
Robin is deservedly celebrated for her Westwood-inspired look that the judges call equestrian, punk rock, sexy, and regal. Sadly, her teammates do not fare as well. While the judges respect the effort that went into Jax's look, they question the fit. RuPaul says it needed to be "elongated." Salina is also brought to task for her fit and the design that went wrong along the way.
The judges are more receptive to the House of Matthews' Sasha and Malaysia They are struck by Sasha's glamor, and Michelle is quick to point out that the robe elevates the look from just a bathing suit. Monáe notes that Sasha struggled with the coverup during the runway, but Sasha expertly deflects the critique with a joke, earning extra points from the judges as a result. Malaysia is fêted by the panel, all of whom are shocked to learn that she has no real sewing experience. The success of Malaysia's look was slightly inflated, but it was a nice departure from the standard "I don't sew" narrative that dominates many of the Drag Race design challenges. Malaysia might be the exception that proves the rule. Luxx is declared the winner while Robin, Malaysia, Sasha, and Jax are safe, which leaves Amethyst and Salina in the bottom two.
The lip sync
Amethyst and Salina's face-off finds them coming from opposite states of mind. Amethyst, who has already lip-synced three out of the four times, is bruised and defeated. Salina, while momentarily knocked down, is emotional but very determined to avoid elimination. As Monáe's "Q.U.E.E.N." starts, both queens start by shedding their questionable outerwear and eventually land a split in unison. However, between these two moments, a clear winner emerges. Amethyst's lip-syncing remains competent if not stellar. The problem is that she just has less fight in her this time around.
Salina has a fire in her that propels her to victory. The key moment when Salina clinches is when her skirt falls to the floor. Like Yvie's wig mishap in All Stars 7, it looks like a wardrobe malfunction that will cost her the win. But, just as the skirt hits the floor, the lyrics confirm that it was a strategically planned moment that earns her victory. As Untucked reveals, Amethyst knew the writing was on the wall. She was not giving up, and recognized that she is competing with extremely talented queens. She just needs more time to refine her drag. Despite often placing low, she made an impact as a delightful narrator. Although the judges often critique her comic timing, Amethyst proves to be an affable and laughable queen.
Stray Observations:
Amethyst for the ultimate All Stars glow-up.

Bob The Drag Queen's tweet about the queen's arguing about the second and third place in each episode is very true.

Did Luxx get that painter's palette from Princess Poppy?

House of Visage is purple, gold, and animal print, of course. House of Matthews being palm tree prints and flamingos? Sure. House of Kressley being town and country with hunting lodge vibes? Really?

After Loosey's story of hometown bullies and Jax's revelation of racism, the Connecticut Tourism Board must dread what else could come up this season.

I like to think that Michelle Visage's Chicago reference was in support of Jinkx Monsoon's Broadway debut.

Did Aura straight up lie to RuPaul about being a sewer? She raised her hand when RuPaul asked if anyone was a seamstress, but also said it was only the second time she ever made a garment.

Malaysia and Aura's results really prove that it's better to undersell talents if you aren't 100% sure of your ability.

Conspiracy theory: Luxx Noir London makes a comment about the Sunday Riley product placement, and then wins the challenge and $5,000 for Sunday Riley!?!
Personal runway ranking: Luxx, Robin, Anetra, Mistress, Marcia, Loosey, Sasha, Malaysia, Jax, Aura, Spice, Amethyst, Salina.
Again, not watching Untucked this season means you only get a quarter of the story. They are really making Untucked more serious with stories about family trauma. When will we get a fun Untucked fight and a memorable quote?