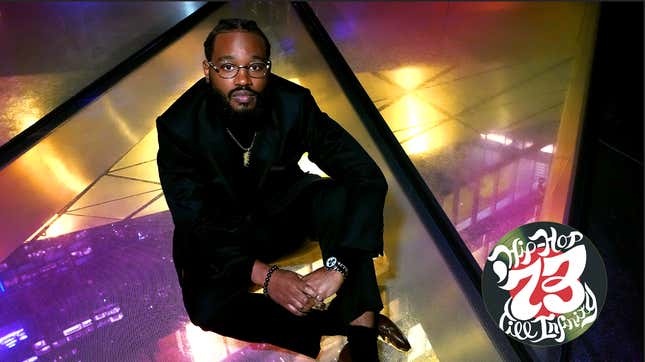 This story is part of our Hip-Hop: '73 Till Infinity series, a celebration of the genre's 50th anniversary.

"Wakanda Forever" director Ryan Coogler on Chadwick Boseman's legacy
In the 50 years since hip-hop rolled out of the Bronx—after DJ Kool Herc mastered the art of looping breaks, and the great Grand Wizard Theodore invented a thing called scratching—hip-hop has penetrated the movies. From the early days of hip-hop in cinema when low-budget films like Breaking, Rappin', and Wild Style were literally about these new things called rapping, breaking, and wild n'out, to today's $200 million films featuring hip-hop anthems heard by moviegoers worldwide, the form has grown up in the movies.
On this golden anniversary of rap music and hip-hop culture, director Ryan Coogler ponders the concept of cinema without hip-hop and finds the idea fairly inconceivable, a reasonable notion considering the genre is 13 years older than the 37-year-old Oakland-born and raised filmmaker. The director of Fruitvale Station, Creed, Black Panther, and Black Panther: Wakanda Forever, as well as a producer on several projects via his company, Proximity Films—including the documentaries Anthem on Hulu, and Stephen Curry: Underrated on Apple TV+—has only ever known a world where hip-hop was present in the culture and ubiquitous on-screen.
The A.V. Club spoke with Coogler about his youthful memories of hip-hop in cinema, including those films where a single track became synonymous with the movie it was in. He also discusses the artists and songs he chose to populate his own films, from The Jacka, who informed the soundtrack of Fruitvale Station, to Childish Gambino and Philly rapper Meek Mill on the soundtrack for Creed, to Kendrick Lamar and Senegalese musician Baaba Maal's melding of hip-hop and African traditions for the soundtracks of the Black Panther films.
---
The A.V. Club: In the early '80s, the first movies to show hip-hop were movies about hip-hop, like Wild Style, Krush Groove, and Beat Street. Well before your time. When did you begin to connect hip-hop to movies?
RC: I was born in 1986, so hip-hop was such a part of my life that I don't remember a world without it, you know. I remember asking my mom one day—I think Will Smith had done a video for Wild Wild West—why Will Smith always was doing videos. I was like, he's always rapping, why he don't just stick to acting? And my mom was like, it's because he was a rapper first. I was like, what?!
AVC: (laughing) This was new information for the six-year-old Ryan.
RC: Yeah, man! I knew he was in Fresh Prince. I knew he rapped in the intro but I thought he was an actor messing around. I didn't understand that he was a full-blown rapper—that's how young I am.
AVC: So hip-hop was always present for you so far as cinema is concerned?
RC: Yeah. Boyz N The Hood was the first movie I ever saw in a theater; not only was hip-hop in the film, one of the most influential rappers of that or any era [Ice Cube] was in the movie. It was a present thing in life for me. But the music came to me before the movies. The music was already there, and the movies of our generation gravitated to include the music naturally. We were trying to write rhymes in kindergarten and first grade. Like I said, we were watching Boyz N The Hood, Poetic Justice—John Singleton movies. And Spike Lee movies. Those movies are full-blown hip-hop movies. Do The Right Thing, with Radio Raheem, the whole beatbox, and the sneaker culture. Singleton would put rappers in the movie, like Tupac [Shakur] in Poetic Justice. Janet Jackson is in the movie, so I can't remember [hip-hop] not being a full-blown part of my life and the movies in my life.
AVC: In the middle '80s to the early '90s, Black films weren't necessarily about rap anymore—they were more the soundtrack to much of Black cinema. 

RC: In the '90s, the early 2000s, it was over with. All the movies had hip-hop soundtracks. The music informed the film. It was dialogue. It was mood. It would tell you where you are in the world. What city. What part of what city. It was down to the block, it was so precise. For me, movies are very much about that sense of place; before I got a passport when I was finishing film school, movies were the way I traveled. Music is a great tool to evoke a sense of place in a movie.
AVC: You mentioned Do The Right Thing. When Radio Raheem goes into Sal's pizza joint banging "Fight The Power," the track informs the audience about the place, the time, the problem, and it almost speaks for the characters.
RC: Yeah, Bra! They shot the video for it and everything. The music video was part of the film, like it was part of the script, in a way.
AVC: "Fight The Power" is indispensable for that scene. Can you think of tracks where a scene, if not a whole film, would not be the same without them together? 
RC: That's a great question. It's hard to think of a moment as big as that Public Enemy song because it was so bespoke for the time, for what the movie was about. A few that don't get talked about enough; the year was 1998 and Hype Williams made a movie called Belly. And the opening of that—the a cappella Soul II Soul opening …
AVC: (Singing) ♪However do you want it ... however do you need it ...♪
RC: Like that! I remember being in the theater. I think I was in the eighth grade, and I'm watching Belly at the Grand Lake Theater, the same place I saw Malcolm X and Boyz N the Hood. And I remember just being in there, man; I should not have been in there watching that movie, bro, I was way too young. But I was just in there—mind blown.
AVC: Any other films come to mind?
RC: This is later—and this is not a Black filmmaker—it's another opening, similar to Belly, the stark opening in that club in Miami Vice, Michael Mann's film. It starts with Linkin Park and Jay-Z's "Encore." To start the movie like that, man, holy shit, you know! And Abel Ferrara's King Of New York. It's got this rapper named Schoolly D. I had never heard of his music, but it was all over that movie. If you look him up, you realize the Larry Fishburne character was based on him; his look and aesthetic are all Schoolly D. Another one would be Office Space—it's not a Black movie, but it uses rap as satire in a way that makes sense. Like when they mess up that computer with the baseball bats to the Geto Boys' "Still."
AVC: In slow motion, too! Give me a couple of instances of hip-hop music informing your films. Let's start with Fruitvale Station.

RC: There's The Jacka; rest in peace. He ended up passing away while we were in Philly making Creed. He was crucial. It was essential to capture the Bay Area and the time. So we have Too Short and Pac, and all that. As I said, a sense of place is very important to me. So, Jacka, Cellski, Mistah, and Johnny Ca$h, all place the film in a specific place and time.

AVC: Creed ...

RC: Philly is the place, so Meek Mill, right—but for Creed, the bigger concern was to find the right music for Tessa (Thompson). What would her character be listening to? She is the only one who's entirely new; you know what I'm saying. Adonis is the son of a character you know from the Rocky franchise. For Tessa, we wanted to reflect on who she was—a character in full control of her sexuality, represented by artists like SZA, FKA Twigs, and Khelani, that spoke to a new kind of adult.

AVC: Black Panther?

RC: Previously I'd only worked on movies set in real places, Oakland and Philly. For Black Panther, we were trying to ground it because that's the kind of movies I like: Malcolm X, A Prophet, City Of God. If you have a movie and it's grounded in place, you've got 75 percent of my attention.
AVC: How'd you create a sense of place for Black Panther?
RC: I was nervous about Panther because it's a fictional place. We had to build everything from the ground up. So when we were in a real place—say in South Korea or South Africa—I used that to create a sense of a real place for the movie. It was important for me to ground it with the real music of actual places. So for the voice of the film, we ended up working with Top Dawg and Kendrick [Lamar]. Kendrick was representing themes we were looking for, themes that existed between African and American hip-hop culture at that time. The movie was an exploration of that, and he was in that zone as an artist.

AVC: And for Wakanda Forever?

RC: For Wakanda Forever, we looked at what cultures we were pulling from and pulled our artists from that. That's how you get your Tobe Nwigwe and Fat Nwigwe, and DBN Gogo, Sino Msolo, Kamo Mphela, Young Stunna, and Busiswa. That's diaspora music. And we had South African hip-hop artists, South African house music—these are hip-hop artists—it's all a part of that same conversation.
AVC: Wakanda Forever has a number of anthems. Songs that mean to lift us up.

RC: Rihanna.
AVC: Indeed, which is my segue to ask you about Anthem, your and Peter Nicks' documentary about our national anthem, where it comes from, what it means, and who it represents. And the possibility of adopting a new American anthem that is more inclusive.

RC: Pete has an incredibly unique background. His mom was white. Father was African-American. His biological mom was forced to give him up for adoption, because of the racism of her parents. He ended up being adopted by a middle-class black family in Boston. Went to Howard University for college, got into some trouble there, ended up serving some time, came home, got sober, and then went to journalism school in Berkeley. He has such a unique view of what it means to be an American. And he had this thought about what an anthem would sound like if it was written by a group that actually reflected American society and all of its diverse ways.
AVC: You also produced Stephen Curry: Underrated on Apple TV+. Underrated is not a word that one would associate with the four-time NBA champion.
RC: I've been a [Golden State] Warriors fan for as long as I can remember. I gotta lot of love for Steph. But what I liked the most was that the producers who brought us the project had thought about a [unique] narrative attack. Rather than, we wanna do a doc about Steph, because he's great.
AVC: As if that alone is the story of Steph Curry—or any person who achieves a measure of greatness.

RC: It was really provocative to think about someone who is undoubtedly as good as Steph being underrated nearly his whole young life until he proved them wrong. And we had elements from when he was a child through his time at Davidson [College], where he began to emerge as the Steph Curry we all know.

AVC: How has the reception to Underrated been so far?

RC: I showed the movie to my mom last night. It was my first time showing it to her. And she was just overwhelmed with tears at the end. It was nice to show her something triumphant. Like fully triumphant and not a fictional story. But a story of somebody achieving something that's unlikely, somebody coming through for people that came through for them. I'm so honored to be a part of putting this story out there. We need this kind of stuff.
AVC: Finally, given how important hip-hop is to your work and to you as a person, is there a moment when hip-hop culture seemed to be the culture of the country—when it seemed to inform everything? 
RC: I mean, hip-hop was life, man. It was everywhere. Athletes wanted to be known for rapping. There wasn't a form of entertainment that it didn't touch. So if a movie didn't have a hip-hop element, we questioned it. You had your summer blockbusters, back in the day—Jurassic Park, Terminator 2, The Fugitive—we were feeling those movies where I'm from. They were entertaining, but they didn't have anything to do with the world or the culture that I was from. Theirs was grunge, with the flannel shirts and Nirvana, and that was their culture. But hip-hop and that culture were ours.