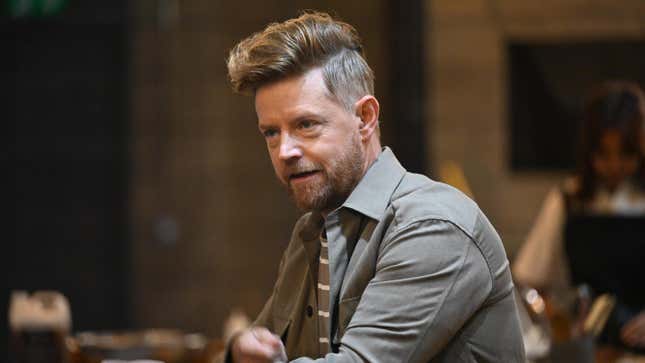 Reality shows, even the ones that are all about a specific kind of competition, almost always emphasize big, confident personalities; The kind of person who either says out loud or keeps it in the back of their head that they think they could (and maybe should) be the main character. That kind of person makes for better TV, after all, because who would want to watch a TV show about someone who doesn't want to be on TV? Well, to answer that, we just have to look at chef Richard Blais, who is now a judge on Fox's Next Level Chef—the show's season two premiere aired right after the Super Bowl before moving to its regular Thursday night time slot starting this week—but first made his TV debut being very uncomfortable and unhappy on season four of Top Chef.

In the Chicago-based season of Top Chef, it never seemed like Blais didn't want to be there, but nearly every episode featured a moment where it seemed like he was convinced that he didn't deserve to be there. It wasn't being a perfectionist, it wasn't even humility. It just truly seemed like real and relatable anxiety, like he always had that voice in the back of his head telling him that he wouldn't be good enough or that there was always something he should've done better.
Blais ended up making it to the finale, because he's actually a talented chef, but he and fellow runner-up Lisa Fernandes lost to winner Stephanie Izard. Controversially, Blais repeatedly noted on that show that he had "choked" on the final challenge, that his worst fears had come true and he actually fucked up the way he always assumed he was going to fuck up. It was a pretty shitty take, honestly, because it completely dismissed the efforts and accomplishments of Izard—with Blais framing it like he lost rather than she won. But at the same time, who hasn't felt like that? Maybe it wasn't how you want to see someone act, but that didn't make it any less relatable.
Blais returned to Top Chef a few years later for All-Stars, which he did win, but he was no easier on himself during the regular competition. This highlight reel of his Top Chef journey features a moment where he gives the judges a dish that they're immediately obsessed with (roasted lamb with … some kind of fancy foam?), but back in the kitchen he can't stop himself from muttering "my food is fucking disgusting"—and he's surprised when he realizes other people can hear him. The other chefs seem to get tired of it pretty quickly, but again, that might even make it more relatable.
These days, it would be a little more obnoxious to see Blais being that hard on himself. He's a famous chef now, not just a guy who was on TV a few years ago, and he's paid it forward by regularly appearing on cooking shows like MasterChef, Sugar Rush, and Cutthroat Kitchen (in addition to returning to Top Chef as a judge). But for fans of the old days, it's nice to see him being a regular person on Next Level Chef, especially alongside main host/judge Gordon Ramsay, who seems to be trying as hard as he possibly can to seem like a regular person.
The show is a weird one, too complicated in some ways but not complicated enough in others. It involves three teams assigned to one of three floors, each with a different chef mentor (Ramsay, Blais, and fellow Top Chef contestant Nyesha Arrington). The chefs on the top floor get first dibs on ingredients and the nicest equipment, the middle floor gets second choice and standard kitchen stuff, and the bottom floor gets the stuff nobody wants (in terms of ingredients and equipment).
Teams can move up and down based on how they do in challenges, but it seems like there should be some element of breaking a class structure. Maybe high-level professional chefs start on the top and have to prove that they deserve to stay there, while up-and-coming amateur chefs have an opportunity to start from the bottom and prove they can hang with the proverbial big dogs. The mentor angle would also be more important there, because it means different things if you're deploying Gordon Ramsay on the ostensible good chefs or the ostensible rookie chefs (who would you rather see him scream at, in other words). As it stands, the judging trio just kind of fit into the classic American Idol archetypes: One is mean, one is supportive, the other is kind of neutral but leans toward overly positive.
Blais, for as oddly compelling as he was when he was kicking himself during Top Chef, is kind of the boring third one. In the show, he's supportive and pushes his team, but he also seems to recognize that what they're asking of these contestants is hard. Ramsay is more restrained in this show than in some others (though he really tries hard to bite his tongue in the premiere episode when someone on his team starts a bad fire), but he's still going to yell at someone to get moving if he's not happy with their performance. Blais, meanwhile, is all positive words of encouragement—possibly because he knows that's what he would've liked to hear when he was on a cooking show.
At the risk of coddling a presumably wealthy chef who gets to be on TV all the time and nobody criticizes what his hair looks like, it's nice. For viewers who related to how hard Blais was on himself all those years ago, who maybe think that the stuff they make is fucking disgusting sometimes, it's nice to see him just being okay on a weird cooking show that is somehow less exciting than "three kitchens stacked on top of each other, sending ingredients from floor to floor" should be.