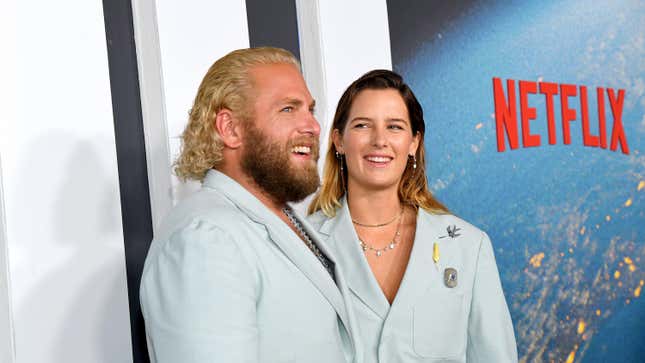 Professional surfer Sarah Brady posted a video on her Instagram Stories earlier this weekend, alleging that her former boyfriend, actor Jonah Hill, was a "misogynist narcissist" who had acted in an "emotionally abusive" manner toward her during the course of their relationship. Brady included in her video several screenshots that were alleged to have been sent by Hill, including one where he appears to tell her that if she surfs with other men, or post pictures of herself in swimsuits, "I am not the right partner for you."
Jay Baruchel says he genuinely hated Jonah Hill while filming "This Is The End"
Per People, neither Brady nor Hill has made any official comments about her posts as of yet. (We've reached out to Hill's reps, and will update if they get back to us.) Brady's point of view is pretty clear; in another portion of the Instagram video, she writes that, "If your partner is talking to you like this, make an exit plan." She also updated a caption on a public photo of her and Hill at the premiere of his 2021 film Don't Look Up, writing, "Misogynist in plain sight."
At another point, she writes that, "I too struggle with mental health but I do not use it to control ppl like he did to me." Hill has talked extensively about anxiety in recent years, including making a documentary about his therapist, Dr. Phil Stutz, that Netflix released last year. In her video, Brady has some negative words for Stutz, and includes the phrase "Boycott Stutz" more than once. There are also multiple times where she accuses Hill of using language adopted from therapy for the purposes of gaslighting.
Brady writes that she was "Sharing this publicly now because keeping it to myself was causing more damage to my mental health than sharing it could ever do." Although none of the posts appear to explicitly name Hill, several of the texts are labeled as being from "Jonah," and the pair's relationship became public knowledge in 2021. Hill recently had a child with partner Olivia Millar; in her Stories video, Brady wrote, "I hope my ex has a daughter; maybe she'll turn him into a real feminist."