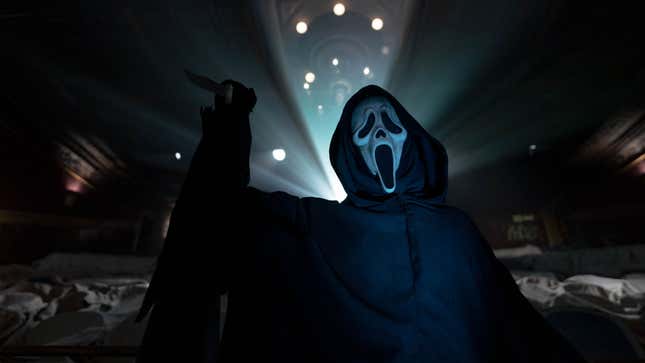 NOTE: This article contains spoilers for Scream (2021) and Scream VI (2023). Read on with caution!
Six movies in, die-hard fans of the Scream franchise—thanks largely to the clued-in commentary of the series' protagonists—know the hallmarks of any well-respecting Ghostface: they're someone you know, there's (more often than not) a few of them, and if they look dead... that doesn't mean much.
Or maybe, now that the franchise has firmly placed itself in a new generation of final guys and girls, it does. In a new interview with Variety, Scream VI directors Matt Bettinelli-Olpin and Tyler Gillett dive into some of the film's plot points, and talk that one specific death scene with a direct tie to the original Scream's Stu Macher (Matthew Lillard).
Let's back up a bit (and dish on a few major spoilers while we do so): in the original 1996 Scream, original Ghostface Stu finally bites the dust after Sidney Prescott (Neve Campbell) crushes his head with a TV set. Although the blow appears pretty fateful, Stu's possible return to the franchise has long been a hot topic on Scream message boards and fan wikis alike.
G/O Media may get a commission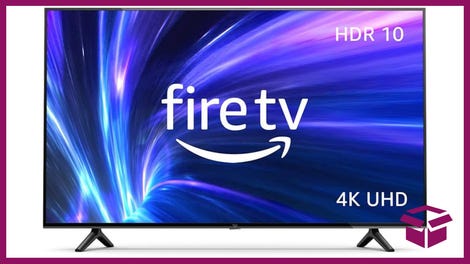 42% Off
Amazon Fire TV 50" 4K Smart TV
At the end of Scream VI, mild-mannered collegiate Ethan (Jack Champion) is revealed to be at least one of the people behind the Ghostface mask, and the younger brother of the late Richie Kirsch (Jack Quaid). Revealed to have magically survived after taking a knife directly to the gullet via Tara Carpenter (Jenna Ortega), Ethan has one last run at slicing up his targets—until franchise veteran Kirby Reed (Hayden Panettiere) crushes his skull with a TV. "I saw that in a scary movie once," she says, a knowing nod to Stu's death by the same murder weapon in 1996's Scream.
So was Ethan's death meant to prove to viewers that Stu is, to put it gently, dead as a doornail and never coming back to wreak murderous havoc again? Gillet answers simply: "Yes."

"That is scripted, specifically, as a brutal and definitive kill," Gillett shares. For his own part, Bettinelli-Olpin wasn't as pressed about quieting those Scream-heads hell-bent on the idea that Stu can't be dead, not really—he just loved having the chance to allude to a classic trope in the Scream universe, the "one last pop up."
Once we got the idea of [Kirby] saying, 'I saw that in a scary movie once,' we had to do it," Bettinelli-Olpin shares. "It was more about that than saying anything about all of the Stu truthers out there."
Scream VI is in theaters now.