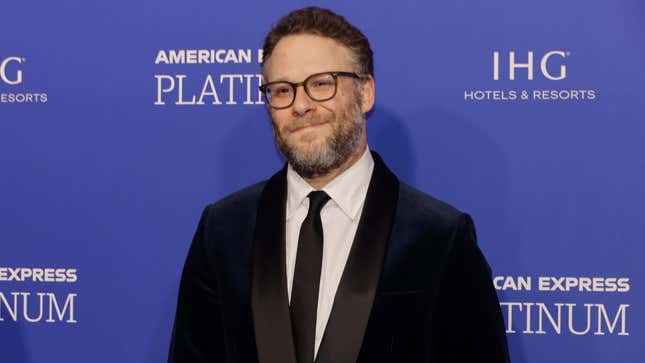 Abandon all hope ye who enter here: there is no safe way to wade into Marvel vs. Cinema discourse. The topic is designed to ruffle feathers and provoke outrage. All of this, ironically, over a bunch of kids movies—at least that's how Seth Rogen sees them.
Seth Rogen: Why theaters still matter—unless it's for comedies
"I think that Kevin Feige is a brilliant guy, and I think a lot of the filmmakers he's hired to make these movies are great filmmakers," Rogen tells Total Film magazine. "But as someone who doesn't have children… It is [all] kind of geared toward kids, you know? There are times where I will forget. I'll watch one of these things, as an adult with no kids, and be like, 'Oh, this is just not for me.'"
Rogen is far from a snob; his contributions to culture, while beloved, are not what you'd call high-brow. He's also a self-professed comics fan, and has produced some comic book properties himself, including the adult-geared Preacher and The Boys. (And then there's The Green Hornet.) He obviously has no real beef with superheroes, nor ultimately with the MCU.
"I think just as naturally to us as The Boys fell into the comic-book-store landscape as a comic, we thought it would fall well into the media landscape as a TV show," he says in Total Film. "But truthfully, without Marvel, The Boys wouldn't exist or be interesting. I'm aware of that. I think if it was only Marvel, it would be bad. But I think it isn't—clearly."
There's nothing wrong with making movies for children, though some more, ahem, mature Marvel fans may argue about the franchise's appeal to adults. The real issue for cinema purists is the genre's perceived monopolization of the movies. Yet Rogen cites a familiar argument to explain the fad: "An example I'm always quoting is, there's a point in history where a bunch of filmmakers would have been sitting around, being like, 'Do you think we'll ever make a movie that's not a western again? Everything's a western! Westerns dominate the fucking movies. If it doesn't have a hat and a gun and a carriage, people aren't going to go see it any more.'"
In other words, this too shall hopefully pass. Meanwhile, The Boys certainly benefits from having something to satirize. Whether Rogen makes it out of this Marvel discourse unscathed is another story!