Here's what's up in the world of TV for Monday, October 26. All times are Eastern.
Top pick
Supergirl (CBS, 8:30 p.m.): CBS don't give a damn about your scheduling conventions, which is why it's debuting a much-anticipated, hour-long series at the "special time" of 8:30 (or 8:31, depending on your sources) p.m. Yes, it's Supergirl time, and she is ready to charm her way into your hearts just like Barry Allen did over on The Flash. Sure, the last time network television really tried a superheroine show—David E. Kelly's Wonder Woman pilot at NBC—it failed miserably. But Supergirl has all the tools to actually succeed, with its creative pedigree in the brains behind Arrow and The Flash, a knowledge of the source material, and an actual series order. (Sorry, Adrianne Palicki.) Tim O'Neil's pre-air review calls tonight's pilot "soggy" and "dangerously overstuffed," but we'll see if Caroline Siede's review and subsequent weekly reviews line up with those declarations.
Also noted
Crazy Ex-Girlfriend (The CW, 8 p.m.): In"I Hope Josh Comes To My Party!," Rebecca throws a party for the purpose of impressing Josh. And also because she's the more honest, musically-inclined version of Ted Mosby. Allison Shoemaker once threw a party. Was it for a crush? You'll just have to wait for it—
G/O Media may get a commission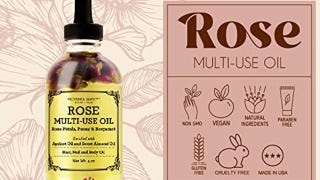 Provence Beauty Rose Multi-Use Oil
Gotham (Fox, 8 p.m.): Do you ever read Gotham synopses and think: "Well, this is happening on television." This week in that: "After Bridgit Pike (guest star Michelle Veintimilla) rejoins her brothers, a new spark of courage ignites within her, as she chooses to take control of her future. Meanwhile, Kringle and Nygma's relationship will take a new step and Penguin and Galavan continue to battle for control of Gotham City's underworld." Hey, if this synopsis actually means that Ben McKenzie and Donal Logue have found a way to bring back Southland and Terriers, respectively, then so be it. Right, Kyle Fowle?
WWE Monday Night RAW (USA, 8 p.m.): Last night, WWE put on its Hell In A Cell pay-per-view, a place where feuds get settled, careers are shortened, and everyone talks about how much better the Attitude Era was. Tonight, be on the lookout for rematches of at least 60% of the matches on that card. Kyle Fowle is returning to RAW duty, and he'll be happy to know it was like he never left.
Follow The Rules (MTV, 10 p.m.): We're going to be straight with you: If not for the amount of outrage it would probably cause, we would have probably made Follow The Rules the Top pick. It's a reality show. About Ja Rule. In 2015. And the first episode is titled "Ja-Fooled." Your friendly neighborhood What's On Tonight contributor might even bang out a non-sanctioned review to celebrate the occasion. Don't tell Erik Adams.
Regular coverage
Red Oaks (Amazon, 1 p.m.)
Gravity Falls (DisneyXD, 8 p.m.)
Jane The Virgin (The CW, 9 p.m.)

Fargo (FX, 10 p.m.)
Blindspot (NBC, 10 pm.)
Elsewhere in TV Club
Thanks (?) to Jack Black, Goosebumps is part of the pop cultural conversation again. Obviously, the books and TV show had the goal of scaring youths, but according to Ryan Vlastelica in the latest Memory Wipe piece, the monsters of Goosebumps weren't even the scariest part of Goosebumps. What?!?
What else is on?
Uncle Grandpa (Cartoon Network, 6:30 p.m.): A certain What's On Tonight contributor's only exposure to Uncle Grandpa was that crossover episode with Steven Universe, and she found that episode to be… something else. With tonight's episode being a Halloween special, one can only assume it will fall under that "something else" banner as well.
Be Cool, Scooby-Doo! (Cartoon Network, 7 p.m.): That same certain What's On Tonight contributor from before has seen every single episode of Be Cool, Scooby-Doo!, and she's willing to say that you should too. Tonight's episode, "Kitchen Frightmare," is all about cheese and stand-up comedy. You're sold, right?
Fear: Buried Alive (A&E, 8 p.m.): Watch as A&E dedicates two hours to torturing three "willing" participants by sealing them in underground coffins, all for the sake of "science" and Eli Roth (who is present). Two. Hours.
Dancing With The Stars (ABC, 8 p.m.): "Leah Remini returns to guest co-host," so you might as well stop everything you're doing and watch this"thrilling 'spooktacular'." Trust us, there are even worse puns in the press release for this episode. For tonight's team dances, the final eight couples have been split into two teams: Team #Nightmare and Team #WhoYouGonnaCall. And yes, the hashtags are actually part of the "frightening" team names.
Switched At Birth (ABC Family, 8 p.m.): Switched At Birth's fourth season finale, "And Always Searching For Beauty," is on tonight, and we hear that "secrets are revealed and lines are drawn." Somewhere in between all of that, Bay "has her first art showing." Actually, maybe those are the lines that are drawn. Get it? Because art.
The Big Bang Theory (CBS, 8 p.m.): In "The Helium Insufficiency," "Leonard and Sheldon are forced to make a black market purchase in order to complete an experiment." A purchase on the black market, you say? Surely there will be a black market dealer then! Yes, there will be, and said dealer is played by Michael Rapaport. In fact, the sentence "Michael Rapaport Guest Stars as Kenny, a Black Market Dealer" feels as typical as any other thing that appears in this synopsis. (Penny and Bernadette also download a dating app for Amy this week, by the way.)
The Voice (NBC, 8 p.m.): It's time for this season's knockout rounds to begin!
The Real Housewives Of Orange County (Bravo, 9 p.m.): Part two of the reunion special is tonight, and we're wondering if anyone would be able to tell the difference if Real Hotwives characters just swapped out Housewives throughout the whole event. If not tonight, there's still next week. (These reunions are always in endless parts.)

Halloween Baking Championship (Food Network, 9 p.m.): The first season finale of Halloween Baking Championship—a show we've all been watching, right?—is tonight! Days before Halloween! Who will be the champion of Halloween baking? Definitely one of the baking contestants, that's for sure!
Minority Report (Fox, 9 p.m.): In case you were thinking all the future technology in Minority Report made life so much easier, "Fiddler's Neck" is here to prove you wrong. This week, the life of "a young girl in poor health" is in danger, and said future technology is the one thing that could save her—but "the community in which she lives prohibits the use of such equipment." Also, the pairings in this episode synopsis are "Arthur and Dash" and "Vega and Agatha," which means it's time for everyone to team up and save the day! Minority Report!
Roanoke: Search For The Lost Colony (History, 9 p.m.): If you want to kill two hours on one special but don't want that to be Fear: Buried Alive, might we suggest you choose this one? "Expert stonemasons Jim and Bill Vieira team up with maverick archaeologist Fred Willard to investigate the mystery and find out what happened to the lost colony." If nothing else, that's a pretty dope way to introduce stonemasons and archaeologists.
Awkward (MTV, 9 p.m.): This week on Awkward: "Jenna must overcome many obstacles in order to have a dream prom." Next week on Awkward: "Jenna must overcome many obstacles in order to justify Awkward still being on the air."
Scorpion (CBS, 9:30 p.m.): Hey Scorpion gang? Maybe don't try to act like real people. Oh, you think we're being tough on them, huh? "Walter's attempt to 'normalize' goes horribly wrong when a nefarious virus is uploaded to his computer, turning Team Scorpion's new 'smart' building project into a burning death trap with people locked inside." Yeah, try to defend that in the 90 minutes it takes to solve this problem.
Faking It (MTV, 9:30 p.m.): We're not quite sure what "Karma reinvents herself" means, but we'll welcome anything that means a change in Karma. Unless it's a terrible change. Then we're back to the drawing board, we guess.
Ladies Of London (Bravo, 10 p.m.): Can you believe there have been two seasons of Ladies Of London already?!? Say goodbye to season two, with ladies like… You know! The Ladies Of London!
Girl Code Live (MTV, 10:30 p.m.): Back in our day, Girl Codes weren't live! Sigh. Becomers.
Watch What Happens: Live (Bravo, 11 p.m.): Wendi McLendon-Covey and Alexis Bellino are the guests tonight. Yes, tonight's guests are a woman who plays a real housewife on a great show and a woman who is a "real" "housewife" on… a show.
The Talented Mr. Ripley (HBO Zone, 6:35 p.m.): Back when Matt Damon never said anything that would upset anyone, he starred as a "social-climbing psychopath" in this 1999 film, alongside Jude Law, Cate Blanchett, Philip Seymour Hoffman, and a pre-Goop Gwyneth Paltrow. Ah, the good old days.
Footloose (CMT, 9 p.m.): It's a day that ends in "y," so Footloose is on CMT, y'all.
Man On Fire (WGN America, 10 p.m.): We always likes to inform the Denzealots when there's a Denzel Washington movie on television, so here you go.
Sports, sports, all type of sports (but not really)
Monday Night Football: Ravens at Cardinals (ESPN, 8:15 p.m.)
In case you missed it
The Simpsons: So there's this treehouse, you see…