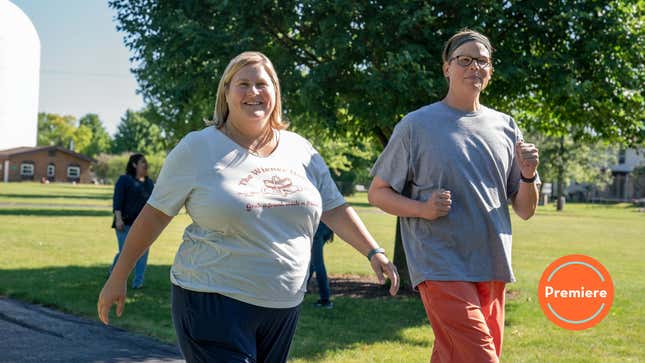 The unassuming (and thus disarming) charm of HBO's Somebody Somewhere is baked right into its title. Here is universality found through specificity: Sam (the brilliant Bridget Everett) could be somebody, somewhere—New York City, say, where her singing talents would be celebrated. But, if season one of this Hannah Bos- and Paul Thureen-created series stood for anything, it was the conviction that sometimes the mere act of being somebody somewhere (a sister in Manhattan, Kansas, say) is and should be enough. Sam's truncated journey to finding her people in her small hometown operates at an intentionally low-key register. There's a mundanity and a universality to her grief and frustrations—but also to her joys and gifts.

Dwayne Johnson reveals how he transformed into Black Adam
If season one was about Sam finding parts of herself in Manhattan, season two begins by showing us what she's gained. And the scene is just as unassuming and as hilarious and tender as any of the best moments from season one: As Sam and Joel (Jeff Hiller) get their steps in, we witness how close they've become and what their shorthand has evolved into. But even in such closeness, Somebody Somewhere starts revealing how far Sam still has to go. It may be a blink-and-you'll-miss-it moment, but her commitment to NNP ("no new people") should give us pause—as it does Joel, whose gregarious openness has done so much for Sam's social life. But there's still a whiles to go. (Side note: I love the way they've both turned showing affection for one another into a hilarious punchline. Such a moment shows how nimbly Somebody Somewhere straddles the line between Sam's cynicism and Joel's sincerity.)
As we learn, Sam has been tasked with dealing with her father's farm and so her desire to limit her social circle remains a defensive move. She struggles as it is to stay on good terms with her sister Tricia (Mary Catherine Garrison), who herself is going through it. After all, last season ended with her finding out her husband had been cheating on her with her BFF/business partner. That's a lot to take in; add in the fact that her daughter is now headed to college (with a "DREAM" sign begrudgingly in tow, no less!) and you sort of feel for Tricia and her perma-exasperated vibe. Still, that she's caught up in her own drama means Tricia leaves Sam alone to deal with readying up their family farm to be sold, which is what their father wants now that he's headed for some quiet time away from dealing with their ailing (and apparently, now chain-smoking!) mother.
Tricia and Sam are, each in their own way, trying to move on. Or being forced to do so. And at a broader level with their storylines, Somebody Somewhere seems to be asking a crucial questions many of us have grappled with at some point in our lives: How do we move on without losing what we had? How do we move forward without leaving behind that which makes us who we are? Namely: How do we grow?
Watching Sam clean out the barn (and silently break down with Joel on the phone) is heartbreaking precisely because it captures how hard it is to do the painful work of shedding the old to usher in the new. Good then that the show, rather than merely wallow in such thorny and melancholy feelings, whisks us eventually to a "lit" night in between Joel, Sam, and Tricia(!) which turns out to be a lot more fun than any of them would have anticipated. Thank the pencil test!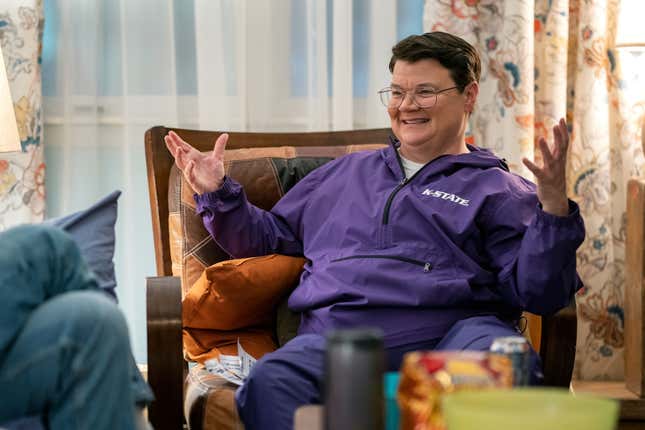 Such a blend, between quiet moments of introspection and riotiously funny scenes (Joel and Sam laughing hysterically after a shaker mishap, for instance, is a moment I have to imagine wasn't scripted) is a hallmark of why Somebody Somewhere is such a welcome gem in today's television landscape. To break down even in its plot in a recap like this one reveals just how attentive the show is about the moments in between—in between life changing decisions, in between family crises, in between the points in our lived experiences that otherwise make up the bulk of television shows. Instead, Somebody Somewhere values mundane visits, late-night chats and, yes, even walks to get one's steps in. Because it understands that's where the bulk of life happens.
Stray observations
Going into season two, we knew Somebody Somewhere would have to address the loss of Mike Hagerty, who played Sam's father. The actor passed away in May last year. Given the way season one was structured around the grief surrounding Sam's sister and the desire, perhaps, to buoy its sophomore entry into brighter, sunnier territory, it makes sense Ed would become an unseen character who remains alive just… elsewhere, communicating via letters and proxies. I will say this, though, we'll surely miss his presence this season; so much of the familial tenderness came from Ed that I am curious how his absence (if not his death) will ripple through Sam and Tricia's lives. Especially as they're forced to now deal with their mother on their own.
"Pound It Or Pass It" is my new favorite game/the alternate name for a game I already like to play which is basically to go "Yes!" (sometimes to myself, often to those beside me) whenever I pass a guy I would like to pound while I'm out and about.
I have to single out that real-estate sign that made Tricia's blood boil because it is so incoherent and hilarious I had to go back and reread it to make sure I wasn't somehow scrambling words in my own brain: "Thanks 'Manhappiness' for putting your Faith and Hope in Charity."
Tricia (Mary Catherine Garrison) skirts the line of being a cartoonish suburban Live Laugh Love kinda gal but hearing her utter a line like "I don't want to be a divorced person" was heartbreaking in its simplicity—a reminder that what Somebody Somewhere does best is to highlight the humanity of its characters, no matter how absurd or cliché or stereotypical they may at first appear.
"It's like an Ewok's on your lap" will have me laughing in stitches for weeks to come, I can assure you.