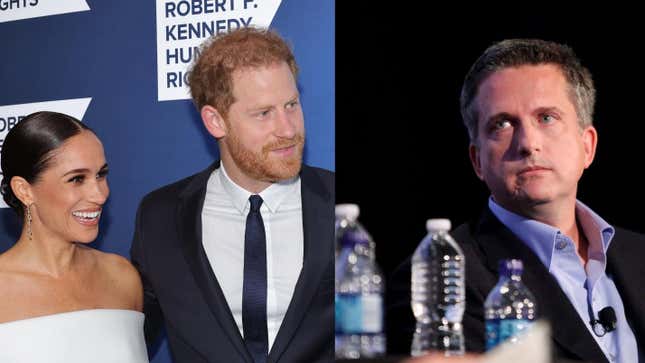 Earlier this week, news broke that former Suits star Meghan Markle and the guy she's hitched to (Harry, last name apparently "of Sussex") were breaking up with Spotify, ending an agreement with the podcasting company that dated back to 2020. As we reported on Friday, this news was accompanied by some banal but friendly language on the surface, and what's sounding like a whole lot of more contentious feelings under the surface—including accusations that people at Spotify were not happy that the duo's contributions to the platform, which cost $20 million, amounted to exactly 12 episodes of content over three long years. Loudest (and most public) among those complaining was Spotify head of global sports content Bill Simmons, who has now denounced the pair as "fucking grifters" this weekend.
Mick Jagger says The Rolling Stones could give $500 million to charity
Simmons made these comments on his own The Bill Simmons Podcast, which, say what you like about it, certainly outpaced Markle's Archetypes podcast in terms of content. (Archetypes did score a number of big name guests, including Serena Williams and Judd Apatow, over its run—but still, Spotify doesn't seem terribly happy to have wound up paying more than a million bucks per episode for the 12-episode show.) 
Complaining about the semi-royal duo isn't necessarily anything new for Simmons, either: The long-time sports writer/media mogul previously expressed his annoyance about having to "share" Spotify with Prince Harry. (Simmons also joined Spotify back in 2020, when the audio company bought his media outfit The Ringer.) In the podcast, Simmons also suggested he might, at some point, describe a Zoom call he had with Harry, in which they apparently tried to brainstorm podcast ideas. Which does, in fact, sound like a story we'd like to hear. (In Simmons' words: "I gotta get drunk one night and tell the story… it's one of my best stories.")
Simmons is a guy who's never been afraid to speak his mind. But his official position at Spotify adds an extra dimension to his comments; at the very least, it would seem to put the company in a position to need to address the situation more formally—lest they be seen to endorse Simmons' 'fucking grifters" assessment.