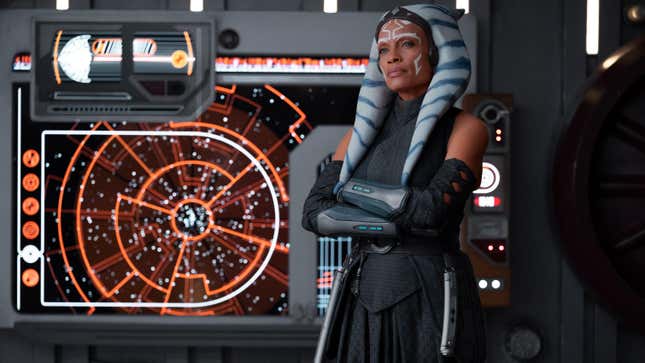 Disney has finally announced a release date for its next installment in the seemingly endless string of Star Wars TV shows. Star Wars: Ahsoka will land on Disney+ on August 23, giving fans the live-action Clone Wars sequel they crave. Ahsoka stars Rosario Dawson as the titular Jedi. Dawson stepped into the role during season two of The Mandalorian when she finally ruined everyone's fun and told Mando Baby Yoda's real name was "Grogu." It was a dark day.
How a drag queen inspired Melissa McCarthy's Ursula
To make everyone feel better about that, Disney released a new TV spot for the series premiere, allowing us to see Dawson in action. Additionally, the trailer lets us gaze upon the flesh and blood visage of some other formerly animated characters, including Sabine Wren (Natasha Liu Bordizzo) and Hera Syndulla (Mary Elizabeth Winstead), and, of course, the return of Mon Mothma (Genevieve O'Reilly), who's becoming a regular familiar face in the Star Wars universe—not bad for a character mostly known for letting us know that "many Bothans died" to make Rogue One a movie. The trailer also teases the return of Grand Admiral Thrawn (Lars Mikkelsen), a blue-faced baddie who first made his appearance in the early 90s via Star Wars books and was resurrected by George Lucas' Padawan Dave Filoni for Star Wars: Rebels.
As hard as it is to believe, it's been almost two months since Disney+ had a new Star Wars offering. 60 days without someone saying, "I've got a bad feeling about this," has us reminiscing about the 15 years between Return Of The Jedi and The Phantom Menace. A chilling thought if there ever was one. And thankfully, the near-constant pain and agony of not having a Star Wars TV show on the air is about to end.
Star Wars: Ahsoka premieres on August 23 on Disney+