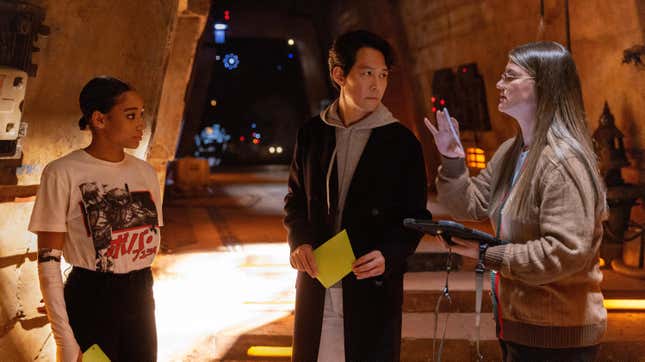 Of all the Star Wars TV shows Disney is constantly cooking up to keep space nerds focused firmly on Disney+, none are more mysterious than The Acolyte, the upcoming series from Russian Doll creator Leslye Headland. Set a century or so before the normal Star Wars continuity (during the relatively unexplored High Republic era of the franchise's continuity), the Amandla Stenberg-starring series is, after all, a literal mystery—"former padawan teams up with Jedi Master to solve crimes" is the basic logline. But now its production has gotten a mystery of its own: Why did prospective executive producer Karyn McCarthy get removed from the series just 11 days after supposedly joining it, causing her to launch a big lawsuit targeting Lucasfilm this week?
The A.V. Club's weekly film round up
Quick background: McCarthy came up as a production manager, before breaking into producing outright; her credits include House Of Cards, Insecure, and, most prominently, Ballers, which she served on for the entire series run. But not The Acolyte: THR reports that, per the new lawsuit, McCarthy was removed from the series a week and a half after Headland reportedly approached her to executive produce the series—exactly long enough to turn down a competing (and apparently extremely lucrative) offer to fulfil a similar role on Apple's new Colin Farrell show Sugar.
Which is why McCarthy is now suing Lucasfilm for several million dollars, stating that she was let go from the project "without reasons" and "without justification." (And after she'd already planned to uproot her life to move to Europe for filming.) McCarthy is pursuing damages based both on lost revenue from becoming ensconced in the bosom of Star Wars, as well as extra damages for missing out on the Apple show.
We'll be honest: Despite the big-digit money potentially changing hands, we're mostly interested in this case for what it might say about The Acolyte. (Including the reveal that McCarthy was operating on the assumption that the series was likely to be a multi-year gig for her, suggesting the series is currently intended to extend well past its initial eight-episode order.) We're also just curious as to how the relationship between McCarthy and the studio deteriorated so quickly; 11 days seems like a very short time to go from "Please drop everything and come help run our TV show" to "Whoops, no deal for you." (For what it's worth, Lucasfilm claims it never had a formal deal in place with McCarthy, despite engaging in discussions with her about the show; there's legal precedent for enforcing such handshake deals, so it's not clear how it'll all shake out.)
The Acolyte ultimately began filming back in October of 2022; no word yet on when the series, which co-stars Squid Game's Lee Jung-Jae, will land at Disney+.