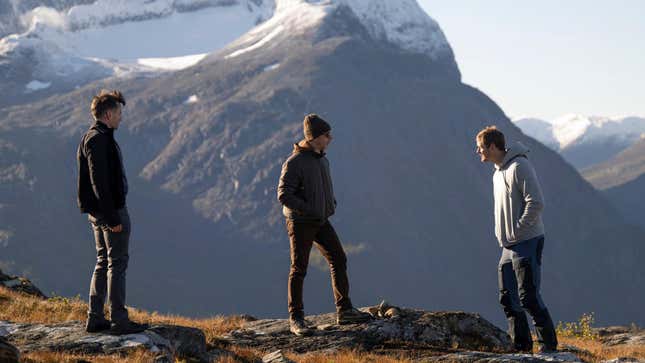 How much does a liter of human blood weigh?

It's not the kind of question you expect to look up while reviewing an episode of prestige TV, but, hey, here we are. (About 4.6 pounds per liter, apparently; thanks, the internet!) By my back-of-envelope math, that means there are at least 10 pounds of Lukas Matsson sitting in a freezer somewhere— because you don't throw it away, right? If your boss/former lover sends you his blood, collected and frozen a half a liter at a time, as a "nasty-friendly joke"? It's a grisly, logistically daunting testament to the lengths that Alexander Skarsgård's tech ogre will go to to win, to own something…or someone. What's a measly $192 per share, compared to that?
The A.V. Club's weekly film round up
Season four of Succession has wisely held Skarsgåard back so far, confining him to a single FaceTime call back in "Rehearsal" and some dicking-around-by-proxy last week. Tonight, "Kill List" finally unleashes the GoJo founder on the over-prepared (but also woefully unprepared) Roy Boys, who have no real defense against a guy who operates from the Logan Roy Alpha Male Playbook instinctually, rather than via cribs notes like the old man's two wayward sons. Kendall can pump the Jay-Z all he wants, while Roman makes his acidic little comments. But in the presence of a genuine predator? They're kibble.
"Predator" in multiple senses of the word, as becomes clear in the most riveting of tonight's scenes: a late night assignation between Matsson and Shiv that looks—at least at first—like it could break bedroom-ward at any moment. But, no: Matsson is looking for a different sort of intimacy, confessing to a hilariously horrified Shiv re: the whole "sending my ex-girlfriend/employee bricks of my frozen blood" thing. As with last week, when Ken and Roman cut her out of the CEO position, the sexual politics of this all are both fraught and fascinating: Shiv doesn't ping Matsson's threat radar the way her brothers do, allowing her the paradoxical power of forging a backdoor with Waystar Royco's new owner. (See also the fact that Karolina and Gerri are both absent from the titular "Kill List" at the end of the episode, while all the non-Tom Waystar men get the boot; from one angle, this is an entire episode about male insecurity writ large.) Shiv also scores the role of comedy MVP during this after hours rendesvous, delivering the funniest lines of the episodes—including the reminder that, "Deniability is difficult, given she has…so much of your blood."
Honestly: Has Shiv Roy ever been this cool before, in her entire life? The easiest takedown on Shiv, typically, is that a lifetime of being the smartest Roy kid—not an exceptionally high bar to clear—has given her an over-inflated sense of her own savvy. But she works Matsson perfectly as she perches, calmness personified, on the arm of a chair, withholding the dreaded judgment, playing along with both his jokes and his "jokes." She might hate the fact that her well-being has yet again devolved into managing and riding the waves of insecurity of yet another rich, emotionally broken man, but Sarah Snook makes it look as easy, and as practiced, as it unfortunately is.
Meanwhile, on the far other side of the flop sweat spectrum: Let's check back in with the Kenny And Rome Show, huh? Both brothers are spiraling tonight, in complementary fashions: One (Roman) toward slavish recreation of their father's last wishes and the other (Kendall) toward trying to cosplay as him. Together, it leads them to ultimately try to tank the deal with GoJo—which is, ironically (and with a little nudging from Shiv) exactly what's required to save it, since what Matsson really wants, at the end of the day, is to win. If that means taking back ATN from a dead man's grieving sons, so be it; if it means, in the words of one Kendall Roy, "stuffing their mouths with so much money that they shit gold figurines," well, that works, too. As long as Matsson can see the looks on their faces in the end; as long as he, and they, both know that they lost, and he won. It's the most Logan Roy move we've seen since the old man took that fatal trip to the toilet; meanwhile, "Failing Upward Into Infinity" might as well be the Roy kid motto, as the boys accidentally take on the aura of conquering heroes from their complete fucking up of their quest to fuck things up.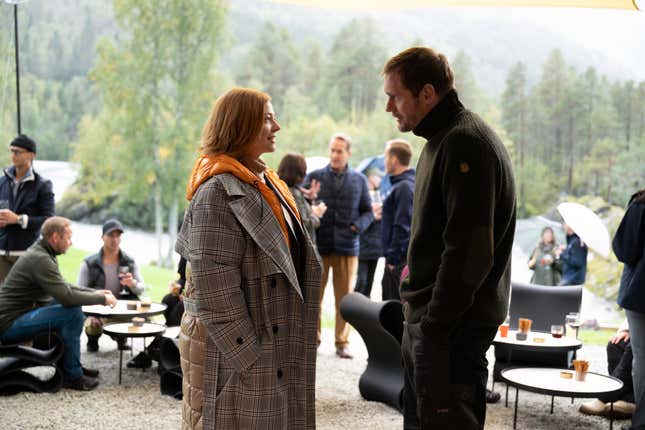 Speaking of callbacks to Succession's very first episode: "Kill List" begins with a feint toward recreating it, complete with an opening that sees Kendall once again psyching himself up with rap in his company car before making a big entrance. (Also: Inappropriate urination, this show's favorite blunt illustraion of power dynamics.) But even more than "Celebration," "Kill List" feels like a determined riff on season two's "Tern Haven," the episode where the Roys visit their mirror universe counterparts over in the Pierce family. Rather than U.S. liberals, though, this time the Waystar bunch find themselves having genital-measuring competitions with a crew of hyper-confident, hyper-competent Swedes. That includes an increasingly harried comic performance from Fisher Stevens, whose Hugo—rightly, as it turns out—suspects he's about to get fired in favor of Matsson's in-house Olympian.
All of this is played primarily for comedy, with Frank and Karl, both happily on their way out, gleefully enjoying the sight of their younger colleagues melting slowly in a sauna. Matsson, meanwhile, briefly amuses himself by asking Tom, flailing yet again as it becomes clear ATN might be folded into the GoJo deal, to weigh in on French politics. (To be fair, M. Wambsgans' defiant "I don't know, and I don't need to know" response is a remarkably confident assertion of the ATN brand, coming off at least a bit better than Greg's efforts to convince anyone he reads The Economist.) Skarsgård demonstrated his gift for comedy last year, channeling a sitcom-loving take on Werner Herzog for Documentary Now!. But he might be even funnier here, whether dickishly needling Kendall and Roman with every power play in the book, or straight-facedly explaining that his blood-mail scheme "Became not a joke…and then a joke again. And now, it's…apparently not a joke." Matsson isn't an especially complex monster, but he is a fascinating one. Outside of that one scene with Shiv, Skarsgård consistently plays him as that rarest of things in Succession Land: a person that no member of the Roy family has any capacity to hurt.
So they hurt each other, instead. The emotional damage of "Kill List" works mostly at the margins: The pissy little looks Kendall gets every time Roman reminds them they should fold Shiv in on decision-making; the anguish every time Connor calls or texts to remind them that their father's body is still lying in a box somewhere (and may, or may not, now be in a kilt). Succession's "one day, one episode" approach to its fourth season has frequently felt more like an exercise in formalism than anything else, but the steadily building pressure of the three kids' unprocessed grief is starting to take its toll—most notably when Roman explodes at Matsson in the episode's climax, Kieran Culkin giving another raw, emotionally affecting performance in a season that's been steadily racking them up.. Each kid is clinging to a different life raft right now to keep themselves emotionally afloat, and it's drifting them in three very different directions as the days pile on.
Honestly, "Kill List" is exactly what I was hoping for last week, as I called for Matsson to come crashing back into the show: A disruptive, aggressively funny hour of TV that leaves no one in an especially secure position. Waystar Royco is all but sold. Pretty much everybody is out of a job. The election is coming. So: What do these last five hours look like, with nothing left to squabble over except a lifetime of traumas and betrayals? How bad is this going to get?
Stray observations
There's a massive video screen showing Logan's face in the Waystar Royco lobby; meanwhile, seeing Brian Cox's back in the opening credits feels poignant—especially as it cuts to the footage of a younger Logan walking away from his kids.

This is a good episode for terrible Waystar Studios movie titles: Kalispitron: Hibernation (which is a three-hour movie about a sleepy robot) gets pride of place, obviously, but I'm also fascinated by Eric Is A Sinner and Dirty River.
A funny, quiet moment as Tom walks in on Frank and Karl both very deliberately putting on their compression socks on the plane; nobody wants a repeat showing of Logan's grand finale.
"Shiv, we're death-wrestling with ogres."
"You're reading documents, is what you're doing, Ken."
Great speech from J. Smith-Cameron tonight, propping up the Waystar drones by reminding them that they were "raised by wolves, exposed to a pathogen that goes by the name Logan Roy." Bullshit, but beautifully delivered.
The pills Roman pulls out while unpacking are in a different bottle from the ones he found and downed in Logan's office last week; I don't think Succession is building to something there, but it's hard not to get fixated on details.
In his first minute on screen, Matsson emasculates the boys, goads them into a game of "Who's got the biggest grief?" and flashes his abs. A really amazing shitheel performance. "No sorrys for Lukas?"
Roman wants to hold on to ATN for sentimental reasons, but he's also been working some kind of eldritch deal with Republican hate machine Jaryd Mencken for access at the network; with the election looming over everything, it feels like this part might get really dark.
Shiv, on not holding on to Logan's "pride and joy" news network: "Well, let's just keep one of his old sweaters; less racist."
The Alliance might be breaking down, but at least Roman, Shiv, and Kendall are united in their horror at Greg trying to float "The Quad Squad."
The pity in Shiv's eyes as she watches Tom try to ingratiate himself with the Swedes.
I don't speak Swedish; I assume saying "incest" while making a blowjob motion is actually a great compliment. (The line about the Hapsburgs, not so much.)
"I just think, fundamentally, you're wrong."
"Well, I don't care what you think. You're a tribute band."
Kendall does some low-key loathsome stuff in this episode, but nothing worse than asking "Can Pinky dance?"
Roman, just now noticing how his brother is: "Why is that making you smile? That shouldn't make you smile. Who likes tightrope walking a straight razor?"
"Well, obviously, first of all: good one." I've already gushed about Snook's performance in her big scene with Skarsgård, but that line read keeps killing me every time I hear it.
Jess Watch: For half a second, I worried Jess was hooking up with Greg. But no: It's just Kendall shenanigans.
Tom and Shiv do a complicated little dance tonight, including some literal playground fighting. Shiv has all the power, but Tom gets the best line: "Your earlobes are thick and chewy. They're like barnacle meat."
For half a second, I kind of thought they might throw Matsson off the mountain.
Karl, on the kill list: "Tom? Tom must be on the list!"
So, uh... What's the timeline on Shiv getting a brick of blood in the mail?