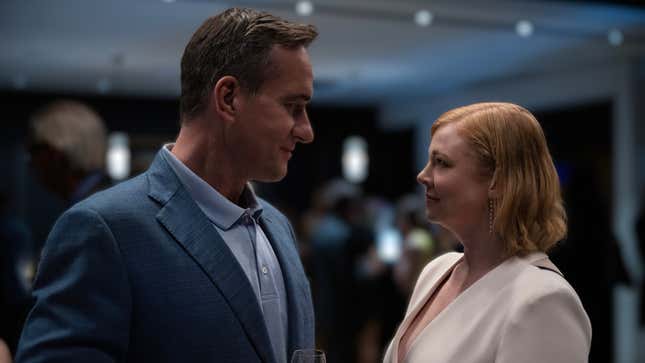 "Shiv and Tom sitting in a tree, k-i-s-s-i-n-g, but that's not enough, so they also play a ridiculous game of Bitey."

It sounds unhinged, but let's embrace Bitey for what it is because Succession just invented a cursed way to flirt and connect with someone. It's a game Shiv introduces during a party where the married couple, apparently on the brink of divorce, come alive—in public—as they bite into each other's arms to see who will back off with pain first. It's Shiv, after Tom sinks his teeth into her flesh so hard that she has no choice but to stumble and say: "Motherfucker. Tom Wambsgans, finally making me feel something." Sorry to Roman and Gerri—who face their own version of an ending in the same outing—but another couple claimed the sick and twisted rom-com vibes in season four's sixth episode.
Directed by Lorene Scafaria, "Living+" is dedicated to the Roy brothers tackling their first investor announcement as co-CEOs. While promoting their dead dad's latest drivel, a technologically advanced real estate project, Kendall (Jeremy Strong) embarrassingly converses with Logan (Brian Cox) on the screen. Roman (Kieran Culkin) goes on a deluded firing spree. Shiv engages in complex mind games by advising Lukas Mattson (Alexander Skarsgård) on handling her brothers after realizing her sibs have lied to her. More importantly, she navigates a minefield of romantic scheming and corporate shenanigans, thanks to Tom. Which is all to say: Sarah Snook and Matthew Macfadyen, take a bow.
The duo emerges as the episode's standouts because of the frankly deranged material they're given to play with. They deftly balance their characters' tensions, humor, and aching for each other, giving into lingering feelings once Tom catches and comforts Shiv during her scheduled grief time. (Side note: Slotting 15 minutes to cry is as human as she's ever been.) When they bump into each other again at the party, they're delicately dancing with their words. It's jaw-droppingly entertaining. The stares, the smirks, the silliness—Scafaria's camera angles capture each exchange smoothly. The pair exudes intense chemistry, something Shiv and Tom haven't delivered to this extent before, despite being a couple ever since the show started. What gives?
By allowing them to air their issues in the season four premiere, Succession gave Shiv and Tom a certain freedom for the latest episodes. Instead of putting up a facade of tenderness, they're weirdly experiencing intimacy. A thinly veiled curtain has dropped. The pair is no longer limited to Shiv saying, "I don't love you" and "I don't deserve you," while hooking up, with Tom quietly accepting the barb. The situation evolves even beyond the season two finale, when a vulnerable Tom reveals his issues on the beach, venting about how she asked for an open marriage on their wedding night. "I wonder if the sad I'd be without you would be less than the sad I get being with you" is a bit of dialogue for the ages.
And then, nothing except slowly simmering resentment.
Shiv and Tom carried on for a whole season after this conversation, with one planning to potentially go to prison and the other not giving a damn about it until he betrayed her and took Logan's side. They need each other until they don't. They also can't let go. So they're closer than ever after airing their problems and agreeing to split up. It's simultaneously funny and hot as they act toxic and ridiculous. Shiv is attracted to this aspect of Tom's personality, which explains why she's also drawn to Lukas and, previously, to Nate (Ashley Zukerman), as they all manipulate each other. The woman does not like having it easy.
Tom is hurling open insults ("barnacle meat!") now because he isn't taking her orders blindly anymore. He's reveling in his douchiness—not that she wasn't familiar with it before, but Tom molded into a yes man for her and, later, for Logan. Reminder: In season one's second episode, he proposed while her dad was in the hospital to do a "nice thing." However, he doesn't have to be nice to her, and she's not letting him either. Hence, Bitey.
Shiv and Tom engage in this bizarre, captivating foreplay as if they're in their early dating days. But they're just a married couple realizing how fucked up their dynamic is. There's no other way around it. He admits he likes the wealth and the finer things, inviting Shiv to leave it all behind for a trailer park residence, knowing she won't give up the comforts she's used to either. A cozy domestic future isn't in their cards, but maniacally chortling at the mere thought of it is.
Shiv and Tom do it all in "Living+," the full-fledged laughter, toying with emotions, chomping on each other's arms, and yes, literally doing it. I proudly wrote that everyone on Succession is terrible at sex a few weeks ago. My theory still holds up in their case, okay? They only proclaimed to each other it was good because it probably finally was. They were horny and acted on it without ulterior motives for a change (no banking for a baby before prison, no Caroline dissing motherhood, etc.). Or each one is trying to make the other feel better. Those motives immediately come rushing back when Tom realizes his wife's got Lukas on the hook. "Still keeping all your options open, honey?" he asks her, slightly emphasizing that last word. She calls him a "phony man" for choosing Logan and essentially rejects his appeal to be together. The emotional tug-of-war continues.
You may think the most seductive scene of "Living+" was Bitey, or perhaps when Tom tells Shiv in the closing moments in the car that strategizing is sexy (which is fair). But the sexiest moment is the day after the party when Tom casually strolls into Shiv's office as she takes a video call with Lukas. She doesn't bat an eye before calling him "Sweetie" over the phone, knowing full well her new partner-in-crime sits across from her, his legs comfortably perched on her desk. That intimacy isn't confined to the bedroom; it's taken over their relationship—whatever stage it's in at the moment. With four episodes left, Succession is sure to twist a knife in their gut, but for now, the show has crafted a beautifully effed-up rom-com that's somehow got us rooting for Shiv and Tom.