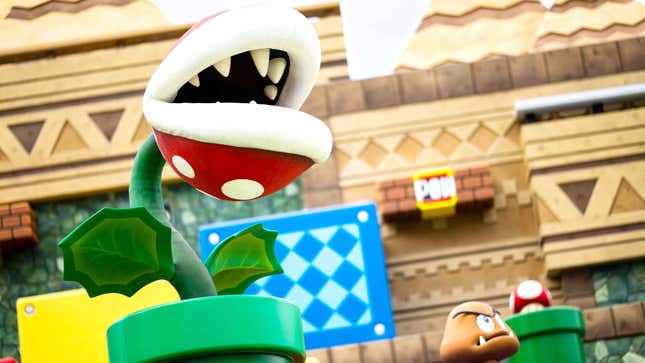 Universal Studios Hollywood is finally opening its Super Nintendo World warp pipe to the public, and this week The A.V. Club got a chance to preview its new offerings, including a Mario Kart ride, themed food at the Toadstool Cafe, and an interactive experience that makes use of a Power-Up band (which guests will have to purchase for an additional fee). Although the land itself is rather small—the accessible areas are about the size of a football field—it's packed with references from every corner of the Mushroom Kingdom.
Mortal Kombat's director tells us how much gameplay went into making the movie
After entering through a familiar green warp pipe, you find yourself smack dab in the middle of a Mario video game (Which one? Take your pick). You're surrounded by tall green hills decorated with three-dimensional characters and objects that pop up, spin, and glide, blocking your view of anything that doesn't fit into this world. There's plenty of seating in the form of short toadstool mushrooms, and shade provided by taller ones. You're immediately bombarded with electronic music and authentic sound effects as other guests participate in interactive games along the perimeter. It's like kiddie Las Vegas, where everyone wins.

Test your Mario Kart skills
The main attraction for most visitors is going to be the land's only ride (at least so far), Mario Kart: Bowser's Challenge. Located inside Bowser's Castle, this attraction lets you get behind the wheel of a Kart (as long as you're not too big to fit into the seat) and race through some of the most iconic tracks in the game (yes, even Rainbow Road). Before getting on the ride you have to pick up a visor, which attaches to a headset connected to the steering wheel. As you go through the different themed areas you can shoot turtle shells at the other racers who pop up on your display. The virtual game aspect is a bit complicated at first, which could be frustrating for competitive types who really want to get a high score. Once you settle into it, though, there's fun to be had. You can also just enjoy the scenery if you don't care about racking up coins.
G/O Media may get a commission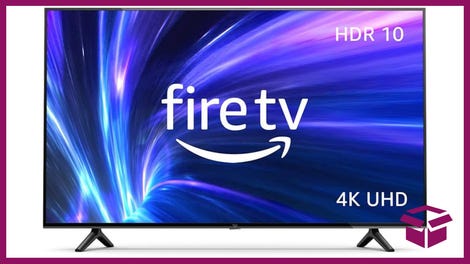 42% Off
Amazon Fire TV 50" 4K Smart TV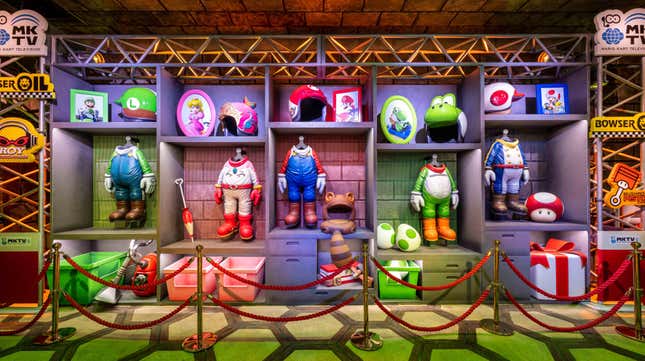 Exit through the gift shop (and more ways to spend your money)
Every ride these days seems to dump you out into some kind of retail establishment, and Mario Kart: Bowser's Challenge is no different. The store here, called 1-UP Factory, isn't very big, but it's got the expected assortment of character apparel, toys, plushies, and other knick-knacks featuring Mario and friends. Oh, and you can buy a Mario Kart popcorn bucket for $42.99 if you're so inclined, minus the popcorn (though you can get it filled at kiosks throughout Universal Studios on the day of purchase).

The land also has its own restaurant, Toadstool Cafe, where Chef Toad has created a variety of clever meal options. If you're a fan of The Last Of Us you may want to steer clear of the menu items featuring mushrooms, including the Mario Burger—which features bacon, mushroom, and cheese—and Super Mushroom Soup. The desserts are especially attractive, like Mt. Beanpole Cake (which comes with a little Mario flag on top) and ? Block Tiramisu. We tried the tiramisu and found it to be tasty, though lacking most of the elements of a traditional tiramisu. There are fancy beverages too, like Super Star Lemon Squash, a sparkling lemon soda with mango stars and popping boba.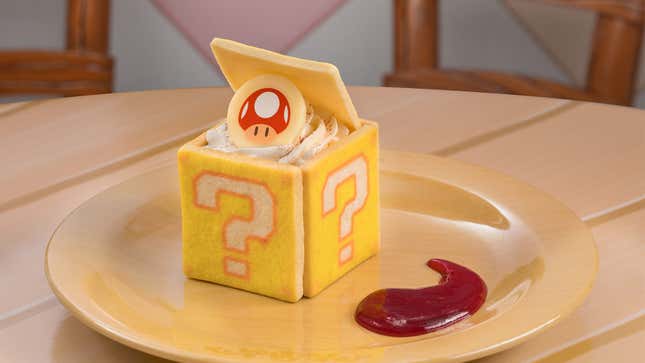 Full interactivity is gonna to cost you
Getting the most out of the land will require you to, ahem, shell out more money for special Power-Up bands, available in a variety of character motifs. The bands are available at kiosks inside the land and other locations around the park for $40 each. That adds up if you have a big party.

For those who decide to invest in a Power-Up band, a series of interactive challenges await. There are four mini games to play, which will reward you with a key when you complete them. If you finish at least three it opens a new, exclusive experience called Bowser Jr.'s Shadow Showdown, probably the most videogame-y experience in the entire land. The bands do other things too, like linking to the official park app to keep track of points as you earn them. The characters will also say different things to you if you're wearing the bands while taking pics at the two meet-and-greet locations.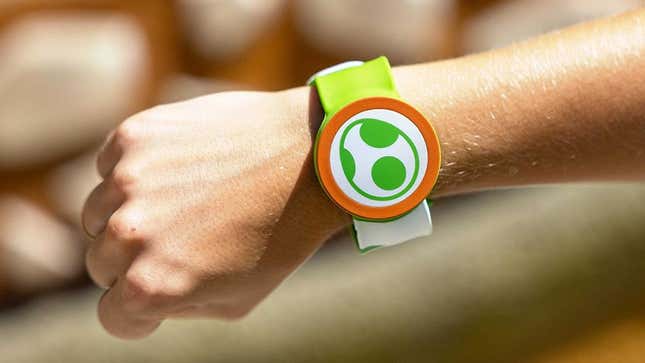 If you don't want to buy a band, there are still some objects you can activate without them, like question blocks that light up when you punch them. You'll miss out on some of the cooler aspects of Super Nintendo World, though. Universal really makes that extra expense hard to pass up, especially if you have kids.

Does it all add up to a win?
Should you bother making the trip out to Hollywood and paying admission just to experience this immersive world first hand? That depends on several factors, including how much you love the games; your comfort level with crowds; and the entertainment value you're likely to get out of the rest of the park. On a less busy day you could probably get through everything in Super Nintendo World in an hour or two—maybe more if you stop for a meal. But let's be real, the novelty of the new land isn't going to wear off anytime soon, and with spring break and summer vacation on the horizon, it's only going to get more crowded. For the truly devoted Mario fan, though, the chance to step into the classic video-game world in real life might indeed be worth it.

Super Nintendo World is now officially open at Universal Studios Hollywood, just in time to tie into next month's release of The Super Mario Bros. Movie.