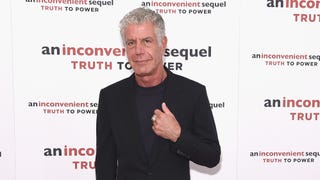 During a recent Q&A session, celebrity chef Anthony Bourdain casually dropped a reference to Quentin Tarantino as an example of why it can be bad to value money too much, explaining that he once turned down a lucrative merchandising deal because he and his producing partners weren't "comfortable" with the person…
In a recent episode of Anthony Bourdain: Parts Unknown, writer/director/actress Asia Argento spoke of her love of her hometown of Rome, its back alleys and bawdy songs and the simple pleasure of a plate of pasta. But ever since Argento spoke out about being sexually assaulted by Harvey Weinstein in the New Yorker's exposé
In The Overlook, A.V. Club film critic Ignatiy Vishnevetsky examines the misfits, underappreciated gems, and underseen classics of film history.
The young heroine of Asia Argento's third feature Misunderstood is named Aria. It's a moniker that at once keeps her in close autobiographical proximity to her director and signifies outwards toward the exaggerated dramaturgy of opera. This tension between privacy and over-the-top performance runs all through the…
Every day, Watch This offers staff recommendations inspired by the week's new releases or premieres. This week: About a year ago, we singled out some of our favorite unloved summer blockbusters. With the event-movie season upon us again, it's time for the sequel.