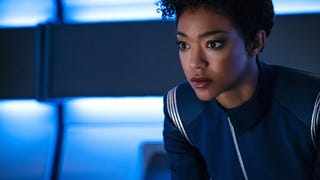 The road to CBS All Access was rocky for Star Trek: Discovery, which arrived nine months behind schedule when it debuted in September. The latest entry in the Star Trek franchise was supposed to launch CBS' standalone streaming service, but ended up ceding that spot to The Good Fight after losing Bryan Fuller as its…
Visiting the set of Star Trek: Discovery on the day of a total solar eclipse seems like a serendipitous meeting of geeky and nerdy interests. (I even credit the event as being the reason why I'm able to sit in the captain's chair at one point). But the show films in Toronto, which is well out of the path of totality,…
With A History Of Violence, Tom Breihan picks the most important action movie of every year, starting with the genre's birth and moving right up to whatever Vin Diesel's doing this very minute.
Coming Soon is reporting on a recent conversation with Star Trek: Discovery producer Nicholas Meyer, in which Meyer revealed that Crouching Tiger, Hidden Dragon star Michelle Yeoh has joined the cast of the CBS series. Meyer—who's directed three Star Trek films, including The Wrath Of Khan—was in the middle of a…
If you're excited for the upcoming sophomore season of the Netflix original series Marco Polo, you're not alone—well, probably not. It's hard to say, since the streaming network refuses to divulge how many, if any, people are watching it (or any of its other shows). But since it opted to pour a lot more money into…
Welcome back to AVQ&A, where we throw out a question for discussion among the staff and readers. Consider this a prompt to compare notes on your interface with pop culture, to reveal your embarrassing tastes and experiences, and to ponder how our diverse lives all led us to convene here together. Got a question you'd…
With Run The Series, The A.V. Club examines film franchises, studying how they change and evolve with each new installment.
There was a time when "the year 2000" sounded incredibly futuristic. It didn't take long for that to become the distant past. When Crouching Tiger, Hidden Dragon became a sensation, introducing wuxia films to a wide American audience, virtually all movies of any note still premiered in theaters (where they were…
At several points during the first few episodes of the final season of Cinemax's Strike Back, the various criminal elements arrayed against British intelligence agency Section 20 scramble to pull together more resources, terrified of what harm the operatives heading their way might do. Those fears are justified, as…
Netflix has been going on quite the shopping spree lately, setting up production deals and acquiring all sorts of original films. It's easy to suspect the company's desire to burn through so much cash so quickly is some sort of stunt à la Brewster's Millions in which Netflix only gets more subscribers if it spends all…
Strike Back—Cinemax's military TV show/live-action video game—may be getting an injection of martial arts. According to Variety, actor and martial artist Michelle Yeoh (Crouching Tiger, Hidden Dragon) is joining the show for its fourth and final season (having just wrapped up Crouching Tiger, Hidden Dragon II). The…
Get ready to see Lea Michele do some wire fighting, as kung fu meets Broadway in the sequel to the top-grossing foreign language film of all… okay, just kidding. It's actually Harry Shum Jr., who plays football player-turned-dancer Mike Chang on Glee, who will be joining the follow-up to Crouching Tiger, Hidden Dragon…