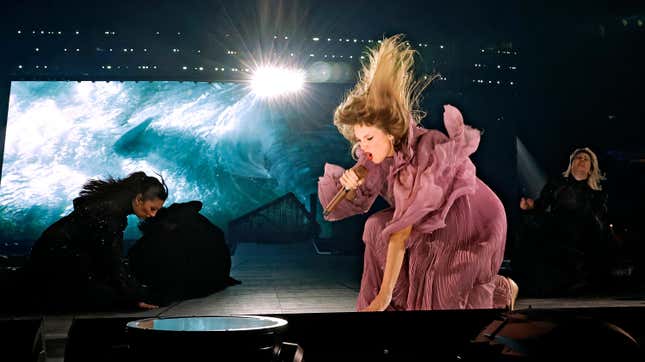 Taylor Swift really can't stop breaking records, can she? Not content with her simple conquest of the music industry, the pop star/destroyer of worlds moved to shake up not only the Seattle football scene, but the very earth itself this past weekend. Literally. Guess the city planners should have known she would be trouble when she walked in! (Sorry.)
The FBI wants Swifties to know snitching is actually cool
Okay, but we're actually being serious. According to a Tweet from local seismologist Jackie Caplan-Auerbach, Taylor Swift's Seattle Eras Tour performances on July 22 and 23 caused a small, localized earthquake of approximately 2.3 magnitude on the Richter scale, per The Guardian.
While all that sinks in, here's a look at the data:
So... what exactly is going on here? For those of you who aren't tuned into either seismology Twitter or the history of the NFL (two things we never thought we'd put together in a sentence), this is not the first time excited fans have shaken the earth at Seattle's Lumen Field (previously known as Qwest field).
In 2011, Seattle Seahawks fans lost their damn minds—to use a technical term—in response to a game-turning touchdown scored by running back Marshawn "Beast Mode" Lynch against the New Orleans Saints. That celebration registered on a nearby seismograph—the same that just captured the Swifties' thunder—and became known as the "Beast Quake" forever after.
This was a phenomenon that had never been explicitly beaten—until now. As The Guardian notes, other specific performances have caused seismic activity—such as a 2011 Foo Fighters show in New Zealand and a 2022 Garth Brooks concert at Louisiana State University—but specific Richter scale magnitudes were not provided. As for the battle of Beast vs. Blondie, Caplan-Auerbach said that Swift won out by 0.3 magnitude, although this could be due to the sound system as much as the fans.
Still, while the Beast Quake lasted just a moment, what we're calling the Earthquake (Swifties' Version) provided around 10 hours of data across both shows (the readings for which are almost identical, according to Caplan-Auerbach). Extrapolating from this, it's pretty easy to assume that Taylor has been causing this sort of seismic activity everywhere she goes—this is just the first time a Swiftie scientist has been close enough to capture it.
So please be careful out there this weekend, Santa Clara! Taylor Swift is coming to town.