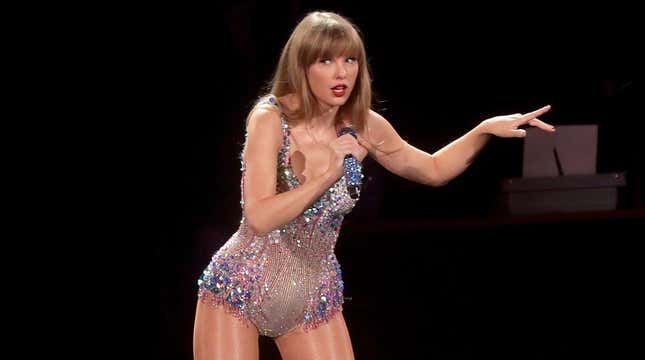 Let's get this out of the way first: Taylor Swift herself did not fire a security guard for singing along to a song at her concert. In fact, that's the kind of thing she probably gives out big cash bonuses for. But a security guard did get fired for his conduct at the Eras Tour—not so much for the singing along but for the viral video of him doing it.
The FBI wants Swifties to know snitching is actually cool
The security guard in question is one Calvin Denker, who has said he only applied for the gig so that he could attend the tour without paying for tickets (via NBC News). The problem with that plan was that security isn't there to watch the concert, and his employer, BEST Crowd Management, has strict rules about security taking photos of the show. "After night one, I was realizing how close Taylor Swift was getting to me, so I really wanted to get a photo to document it," Denker said in a TikTok video. "So I handed down these little pieces of paper that said I wasn't allowed to have my phone out, but if Taylor Swift comes right behind me, please take a photo of me and text it to my number. And I handed this out to a couple of people in the front row for night two and they were really kind and really sweet about it."
@calvindenker My security job for Taylor Swift #theerastour #taylorswift #minneapoliserastour #greenscreen ♬ original sound - Calvin Denker
It's a pretty clever ploy, you have to admit, and Denker ended up going viral for singing along to Swift's track "Cruel Summer" with his back to the stage. "Every photo of me from that night was from behind the barricade like any other photo from a fan would be. I never took my own phone out," he maintained in a follow-up TikTok. "And above all else, I made sure that Taylor Swift was safe and all the fans had a good time. As long as I was at that concert, I was doing my job."
Unfortunately, getting other people to take photos of him did not end up being the loophole Denker thought it was. "Long story short: I was fired for it," he said in his TikTok, noting that "the main issue they had was with my follow-up video where I said I handed out pieces of paper to the people in front of me to ask to be sent any photos that I made my way into." He added, "Beyond that, the HR woman who called me wasn't able to articulate exactly what I did wrong, because I didn't do anything beyond asking for photos, which is what happens at any other concert, with the only exception being that I made sure I got any that I was included in."

There was apparently some confusion over whether this really was a fireable offense—Denker offered to take down his video, and he was scheduled for more shifts before the company ultimately gave him the boot. But "Please don't go sending any hate to this company," he said in his video. "I just wanted to update all of you because it was a very popular TikTok for me, so I wanted to let all of you know what had happened. I still got to work one of the coolest concerts ever, and I got to work it twice, so that is fantastic, and I hold no grudges against my employer." If video evidence of singing along to "Cruel Summer" is wrong, then this writer doesn't want to be right.