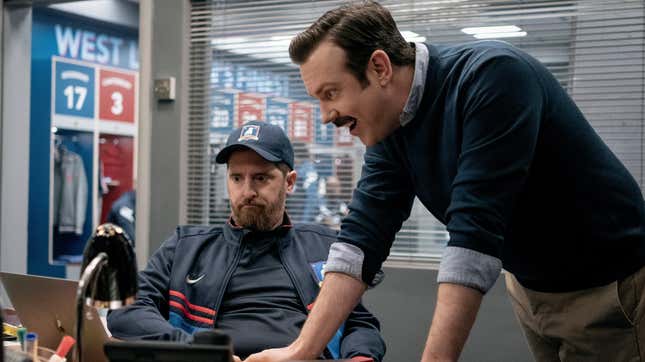 Do I sound like too much of an old geezer (I'm not even 40!) when I say things like, in my day, sitcoms were half-hour shows? By which I mean comedy series of the situation kind were roughly 22 to 24 minutes, give or take how many commercial breaks broadcast networks were selling on any given season. Of course, the arrival of streaming giants like Netflix, Hulu, and now Apple TV+ slowly gave way for a way of making sitcom TV that needn't adhere to such arbitrary breaks (and runtime limits). Tina Fey was quite vocal about how different she felt writing for Unbreakable Kimmy Schmidt once she was producing it for Netflix and not for NBC (as she'd originally done). And while the Emmys keep flirting with the idea that a comedy is a half hour show, a series like Ted Lasso feels like a perfect example of why that may be a dying concept.

Netflix plans to make you freeloaders finally cough up the dough
We'd already seen episodes ballooning past the 40 minute mark last season; this one doesn't seem to want to break from that: "(I Don't Want To Go To) Chelsea" is a whopping 48 minutes. (For context: the Emmy-nominated Ted Lasso pilot runs a swift 31 minutes.) And listen, I'm not saying such length is a detriment to the quippy Lasso sensibility. But also…I could have done with a tighter sophomore season three episode.
Perhaps if we were stuck within the confines of a half hour, we could have dispensed with one (or two) plot-lines and saved them for their own standalone episode. Instead, "(I Don't Want To Go To) Chelsea" has us follow: Keeley (Juno Temple in full ditzy-but-generous-and-wise mode) as she adjusts to a rather boring office life; Rebecca (Hannah Waddingham in full rancorous ex-wife mode, still) as she jockeys to nab a new star player for Richmond; Roy (Brett Goldstein still gruffing his way through every other scene) as he adjusts to a post-Keeley life; and all of Richmond as they struggle with being the center of an upcoming Trent Crimm (James Lance) book. Any one of those could've been an A storyline. And, in the way they're written here, they all get that treatment— for better and worse.
But maybe I'm selling this episode short. Season threes, I find, are always a struggle and while I was charmed by the opener, "(I Don't Want To Go To) Chelsea" shows where Ted Lasso may struggle as it tries to build on what's come before without, alas, merely rehashing its fave bits. (Honestly, I get that Roy is a curmudgeon, but I thought we'd grown past his grunts-as-response era.) To be fair, at least that bit seemed to pay off as he and Trent had a tender moment where, in true Lasso form, we got to see the series' writers preaching the idea that we all deserve second chances. And that such chances should come only (especially!) if you're committed to doing better for yourself and those around them. Indeed, hearing Roy speak both about why Trent's words so wounded him and how he wishes he could've let himself enjoy his time in Chelsea without getting in his head about how he was already finished was the kind of moment this series has become well-known for. Here is kindness again being presented as an asset, particularly when it's kindness to oneself.
Ditto Keeley's story, which found her clashing with her CFO once again though ultimately a snow globe collection (and a commitment to seeing the potential in others and in ourselves) got them through what was, arguably, one of the most horrendous job interviews we'll ever encounter. Keeley is best when she's underestimated, and her company is now proof that such expectations are ultimately what fuel her to do better. It's lovely to see her paying that forward. (Jury's out on whether recruiting a model friend will turn out to be a savvy move. But it's a generous one, at least.)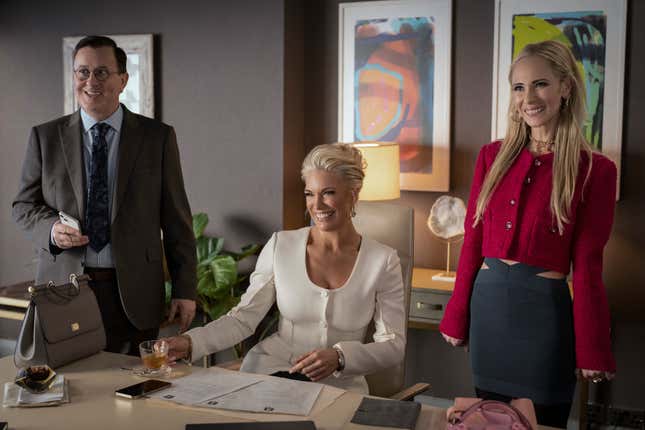 If the episode was tied around any one thing it was the conviction that we should all learn from our past (mistakes) and move forward with grace. Roy is ready to put his feud with Trent behind him, and Keeley is eager to bet on herself once again. As for Rebecca, well, it was lovely seeing her try to wrestle with her past with Rupert with some much needed hindsight. And it it led her to unwittingly win over the hot new footballer on the scene (at a urinal stall, no less, after feeling utterly humiliated by her ex!) and nab herself a thrilling coup for the team. Sure, you'd think that after offering us an insightful line like "It's a fine line between romance and stalking," we wouldn't get a scene with Rebecca basically negging Zava into joining Richmond. But it did, at least, give Waddingham yet another chance to shine.
Speaking of, I'm very excited to see what Maximilian Osinski will bring to Zava, and what Zava, in turn, will bring to AFC Richmond. Ted suffers no fools but can he truly coach someone of that caliber who may not want to be boxed in by Lasso's Americanisms? We shall see!
Stray observations
Last week we got a Ned Flanders joke and this week we got a Coach Beard screech that had me thinking of that very same Springfield neighbor. Which perhaps just goes to show where Ted Lasso's loyalties lie when it comes to that long-running animated sitcom.
"So inoffensive you may as well be a Hallmark christmas movie." The line alone is pretty great (and a lot more Lasso-y than the Twin Peaks one we got last week) though I do worry the Hallmark bit ("They suck but they're great…") went on a tad too long. Similarly, I can believe Ted not knowing Steve Carrell's The Office wasn't a remake but calling the OG U.K. version of The Office a "premake" felt a tad too online a phrase for god ol' Ted, no?
Also very Ted? Having a break-up mix (leading to one of the funniest lines of the episode: "What is a CD?")
Costume designer Jacky Levy's decision to put Rebecca in a gray hat that makes her look like some corporate Carmen Sandiego (with a coat to match!) is but yet another reason to celebrate the work of contemporary costume design. See also: AFC Richmond's new orange jerseys and any and all of Keeley's girlboss outfits.
Speaking of costume choices: On top of having a villain's lair of an office, it seems Rupert is shopping at the villain clothes shop what with his billowing black trench coat. Here's hoping he soon also acquires, I dunno, a pipe? an evil siamese cat? Something to complete the look.
Zava getting a whole scene to himself as he pees (hands off!) is kind of genius; a lovely little character detail that tells you a lot about this footballer diva.
Speaking of small details; I'm going to continue to voice my discomfort at Dani Rojas being so one-note. (And that's before he uttered that El Chapo joke!) We deserve more than him being relegated to being a wide-eyed pup of a player/person.