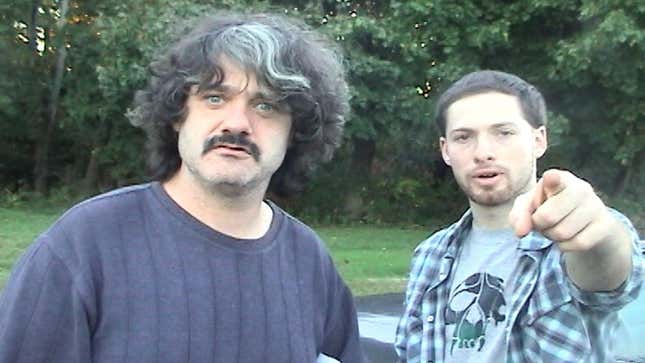 Surviving at the nexus of seemingly every homegrown American problem, including opioid addiction, charity fraud, and predatory capitalism, HBO's Telemarketers shrugs its shoulders at the deluge of cheap and easy true-crime documentaries that flooded streamers over the last decade. Executive produced by Danny McBride and Josh and Benny Safdie, Telemarketers, which ended its three-episode run on August 27, turns their knack for casting McDonald's patrons using free WiFi into a three-part documentary wonder, putting the camera in the hands of the working-class obsessives that typically populate the edges of their work. Co-director Sam Lipman-Stern, who shares duties with his cousin-in-law, Adam Bhala Lough, and lead investigator Patrick Pespas aren't John Oliver or Michael Moore, but their amateur charm and naive bravery create something even more rewarding: a passionate example of citizen journalism at its very best.

HBO really doesn't want to talk about J.K. Rowling
Unlike Class Action Park or LuLaRich, which take a professional view of various scams and amusement-park controversies, Telemarketers is an evolving project for Lipman-Stern, who entered the telemarketing firm Civic Development Group as a teenage high-school dropout. Readers probably recognize CDG without even knowing the name. These are the cop-sounding callers "fundraising on behalf" of organizations like the Fraternal Order Of Police that hound people for money, though most of it never leaves the call center.
CDG was a place that, as Pespas says, would hire anyone who could pronounce "benevolent." Set in the post-apocalyptic office parks of New Brunswick, New Jersey, Lipman-Stern began filming the mayhem of CDG's offices in the mid-2000s as a teen. He should not have been there. The callers were comprised of the formerly incarcerated, active drug addicts, high-school dropouts, and anyone desperate enough to separate old ladies from their social security stipends (in other words, a large swath of American labor deemed unemployable). Acting on behalf of the police, or so they carefully say, CDG gave its staff free rein to turn the office into the Thunder Dome as long as calls were made. That's how Sam met his best friend Pat.
Introduced as a "telemarketing legend," the early scenes of Pat Pespas are as heartbreaking as they are hilarious. Sam's camera gazes on Pat as he takes a nose full of heroin, and Pat gazes back through his high, saying with a smirk, "Now we smash the list." The non-judgmental eyes of Pat's CDG cohorts make these scenes powerful, with the series accumulating a steady current of empathy for callers that made dinner time hell for those on the list.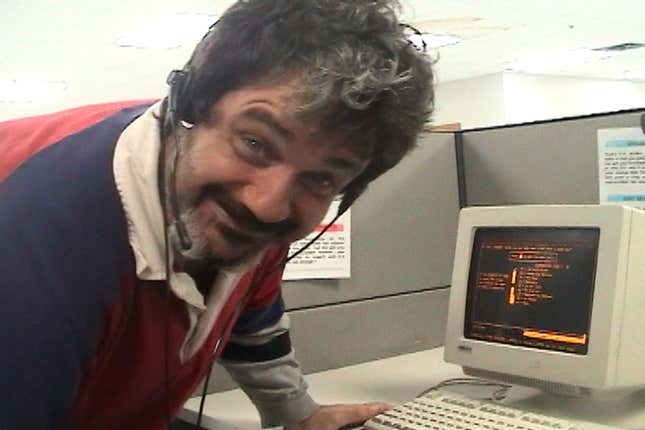 Pat's addiction, a running thread throughout the show's two-decade gestation, exemplifies the dire straits a company like CDG exploits. Knowing its employees were living on the edge of legality themselves, CDG could lie on behalf of the police without fear of whistleblowers, ignoring the overt hypocrisy of a police union relying on people crushed by incarceration to make them millions. But the shaggy-haired, mustachioed call-center prodigy has an open heart and a keen observational eye. The reality of the situation never escapes Pat, who vows to take the company down from the inside.
Telemarketers doesn't treat Pat like Tiger King's Joe Exotic, the meme-ready punchline of Netflix's true-crime sensation. Instead, the show recalls Tiger King executive producer Chris Smith's early breakthrough American Movie, a true story of determination despite inexperience and a lack of financial backing. Their naivety and their ignorance make their reactions relatable and cathartic. The filmmakers are as shocked as we are when they discover the limits of their knowledge and the breadth of the scam. It's this unpretentiousness that makes the journey all the more endearing.
That Sam and Pat remain committed to the project over years of setbacks and disappearances is crucial to the show's narrative. Telemarketers takes on a Boyhood quality as we watch Sam and Pat age from episodes one to three, showing us what life on the phone does to people. As they reconnect with old co-workers, it becomes clear how pervasive this industry is, exploiting people for life and trapping them in cycles of poverty. At the same time, we watch Lipman-Stern's camera shake off the digital video grain of his CDG days and grasp the systems at play. The show's evolution becomes even more sharply pronounced when, in episode three, we're introduced to his co-director, a professional filmmaker who brings a steady hand to fill in some gaps. But they're still the same amateurs, doing their best to expose these fraudsters, as Pat's tenacity becomes the show's fuel.
And Pat does get the goods despite his shortcomings, creating a frantic back and forth between comedy of errors and journalistic drama. Getting the drop on fundraising honchos in his rectangular sunglasses and a checkered blazer, he's trying to play the role of undercover reporter but doesn't have the chops. Still, it doesn't preclude his subjects from exposing themselves when the cameras are on. When he fucks up, which happens often, either due to nerves or simple lack of experience, it somehow remains just as charming and satisfying.
Telemarketers is a messy, energetic, and thoughtful piece of work that sits aside the post-recession stress-dream comedies that McBride and the Safdies are known for. Throughout its three episodes, Lipman-Stern and Bhala Lough weave together disparate and evolving tones to create a docuseries that actually feels like reality instead of just saying it is, making stars out of people like Pat, obsessives working within their means to make the world even slightly better. This is one call you do not want to miss.