Now that new streaming services debut with the same regularity as half-hour comedies, attempting to cover the year's TV premieres in a single preview has become a nearly impossible endeavor. Still, The A.V. Club, in its infinite wisdom and desire to take on Herculean tasks, has once again combed through all the new and returning series—including several focused on the end of the world, a trend that doesn't seem to be going anywhere—to present our readers with our most anticipated TV of 2019. There's a fair number of series with a fantastic angle, but for every uneasy alliance between a demon and an angel or a vampire and a witch, there's a charming family comedy or exceptional character study, proving that the field remains as broad (and therefore daunting) as ever.

---
True Detective, season three (HBO, returns Sunday, January 13 at 9 p.m.)
It's been a few years, but the mystery remains unsolved: What the hell happened to True Detective in season two? The star-studded murder drama tumbled down one rabbit hole too many out in Vinci, California, but the third installment could very well clear the show's name. Season one's Southern gothic setting has been restored, as has the whole "world-weary cop revisits a cold case" setup, as Arkansas lawman Wayne Hays (Mahershala Ali) investigates the disappearance of a brother and sister in 1980—and then again in 1990, and then again in 2015. Time's flat circle traces a more unpredictable path in the third season, with Wayne's faulty memory feeding the show's penchant for unreliable narration (and creator Nic Pizzolatto's ever-present literary pretensions). But it wouldn't be True Detective without a little backstage drama, so the comeback also continues the show's tradition of shedding directors, with Green Room's Jeremy Saulnier departing after completing two of three scheduled episodes. At least Pizzolatto managed to get along with the notoriously cooperative David Milch long enough to write the season's fourth episode together. [Erik Adams]
---
Deadly Class (Syfy, premieres Wednesday, January 16 at 10 p.m.)
If Syfy's new adaptation of Rick Remender and Wes Craig's comic maintains even a decent percentage of the source material's hot-button storytelling, it should make for one of the more provocative debuts of the year. (The pilot episode is already available online, for those who don't want to wait.) Released into an America where school killings have become horribly commonplace, the show uses the heightened reality of a secret school for young assassins to explore all-too-familiar topics of identity and morality in a world that has lost its bearings. The '80s-set tale follows Marcus Arguello (Benjamin Wadsworth), a street kid with a reputation for violence, as he gets recruited by the dean (Doctor Strange's Benedict Wong) to attend Kings Dominion, an elite private academy where the students learn to excel—but at killing, not glee club. With cliques often determined by racial affiliation and an established power base intent on controlling the school for its own ends (leading to definitely-not-at-all timely issues like, uh, the acceptance of neo-Nazis in the school), Deadly Class looks to be a bold new series, and could well become one of the valedictorians of TV's class of 2019. [Alex McLevy]
---
A Discovery Of Witches (Sundance Now, complete first season available Thursday, January 17)
With its exclusive setting, mix of supernatural creatures, and literary source material, A Discovery Of Witches feels a lot like a grown-up Harry Potter or snootier True Blood. Based on the first book in Deborah Harkness' All Souls trilogy, the series follows Dr. Diana Bishop (Teresa Palmer), a history professor, rising star at Oxford, and reluctant witch. Although alchemy is her life's work, Diana keeps her feet planted firmly on the ground—that is, until she "discovers" a long-lost manuscript that deals in vampires and witches (who brood equally here) and puts out a beacon for all kinds of extraordinary beings. The premise is fairly straightforward, but Harkness, who co-produces the series with Doctor Who and Torchwood's Jane Tranter and Julie Gardner (among others), expertly juggles historical and scientific references with paranormal flourishes—some of it's gobbledygook, but it's convincing gobbledygook. The first season is spooky and playful, but it also develops a memorable if forbidden romance between vampire (Matthew Goode, who puts his preternatural charm to good use) and witch (Palmer). [Danette Chavez]
---
Star Trek: Discovery, season two (CBS All Access, returns Thursday, January 17 at 8:30 p.m.)
The behind-the-scenes tensions that led to another round of swapping out Star Trek: Discovery's showrunners have done nothing to knock the series off course. Season two is moving forward with several new faces, including Captain Christopher Pike (Anson Mount), who assumes command of the eponymous starship, a despondent Spock (Ethan Peck), and the mysterious Red Angel, an entity that plagues our favorite Vulcan with visions of extinction-level events. But we're just as keen to see Commander Michael Burnham (Sonequa Martin-Green, who's done a wonderful job of stewarding the series) and Captain Philippa Georgiou (the regal Michelle Yeoh) team up once more, especially given that the Discovery will once more be "riding into danger." [Danette Chavez]
---
Marvel's The Punisher, season two (Netflix, returns Friday, January 18)
Season one of Netflix's The Punisher was an unexpectedly intimate delight, if "delight" is the right word to use about a series that follows an unstable gun-toting vigilante hell-bent on murdering as many criminals as he sees fit. But the surprise was just how successful it was at unearthing evocative displays of masculine identity, as the story followed Frank Castle (the excellent Jon Bernthal) from kidnappee to kidnapper, turning the tables on a man (Girls' Ebon Moss-Bachrach) who hoped to use him to get revenge for threats against his own family, only to see the two men slowly and warily accept an uneasy friendship. Of course, this makes it sound like a David Mamet play—there's still plenty of bloody shoot-outs, bone-crunching action, and continuing storylines from other Marvel Netflix series, in particular the odd friendship Castle formed with Daredevil's Karen Page (Deborah Ann Woll). As the last Marvel man standing with his own Netflix show, Bernthal's brawny shoulders should again be able to hold up this moody and intense series for another season. [Alex McLevy]
---
Carmen Sandiego (Netflix, complete first season available Friday, January 18)
Trying to track down the glamorous criminal mastermind Carmen Sandiego was one of many pop culture obsessions for '90s kids, but in this new animated series starring Jane The Virgin's Gina Rodriguez, the real mystery is her motives. Rodriguez voices a younger version of Carmen, who we see training in deception and elegant heists at V.I.L.E. (whose arch-rival ACME Detective Agency once enlisted viewers at home to help nab the wily thief) with some help from "guy in the chair" Player (Stranger Things' Finn Wolfhard). The series totally upends Carmen's established background—instead of absconding with international monuments for the thrill of it, she's running interference against other, worse criminals. We'll have to wait to see just how well this "Robin Hood meets Ocean's Eleven" origin story works, but at the very least, Carmen Sandiego is already bucking the "gritty" reboot trend (it is an educational kids' program). [Danette Chavez]
---
Black Monday (Showtime, premieres Sunday, January 20 at 10 p.m.)  
After racking up four consecutive Emmy nominations as fourth-wall-breaking consultant Marty Kaan on House Of Lies, Don Cheadle returns to playing a fast-talking bullshitter in expensive threads for Showtime. This time around, he's Maurice "Mo" Monroe, a self-made Wall Street hotshot who rides around Manhattan in a stretch Lamborghini and heads up a team of insurgent traders known as the Jammer Group. Mo only has one problem: Blair Pfaff (Andrew Rannells), computers and algorithms rather than swagger and cocaine. Well, really, Mo has two problems, because Black Monday begins a year out from the global stock market crash of the show's title, the fiery end of an economic roller coaster that David Caspe and Jordan Cahan's period comedy depicts in a highly stylized fashion that finds the Venn diagram overlap between The Wolf Of Wall Street and The Big Short's financial hijinks and the gonzo TV stylings of Maniac and Preacher. (As with the last of those series, Seth Rogen and Evan Goldberg serve as executive producers and pilot directors here.) Add to that a cast of heavy hitters and comedy ringers that includes Regina Hall, Paul Scheer, and Ken Marino (as identical twins!), and you've got a blue chip with a tremendous potential for volatility and Tears For Fears needle drops. [Erik Adams]
---
gen:LOCK (Rooster Teeth, premieres Saturday, January 26)
Rooster Teeth continues to branch out from live-action shorts and Let's Play videos with gen:LOCK, an animated series from the site's own head of animation, Gray Haddock. There's a decidedly dystopian bent to gen:LOCK, which sees scrappy resistance fighters Chase (Michael B. Jordan, a self-professed anime nerd) and Miranda (Dakota Fanning) engage in a last-ditch effort to end a global war that's raged on for years. Along with Cammie (Maisie Williams) and Kazu (Koichi Yamadera), they enter the eponymous, highly dangerous mecha program run by Dr. Rufus Weller (David Tennant, as yet another endearing eccentric). Julian and company may be humanity's last, best hope, but gen:LOCK is definitely Rooster Teeth's most ambitious and realized series yet. The show's design isn't exactly unique—it borrows heavily from RWBY, another Rooster Teeth series—but it's beautiful and fluid, and 3D animated sequences help show off incredibly detailed mecha suits in titanic fights. But it's the cast that sells this increasingly familiar story of a doomed future: Jordan has a "leading man with a conscience" quality that lends itself well to playing a soldier who feels obligated to end war, while Fanning and Williams show plenty of their own mettle and humor. [Danette Chavez]
---
I Am The Night (TNT, premieres Monday, January 28 at 9 p.m.)
After collaborating on the big-budget superhero smash Wonder Woman, director Patty Jenkins and actor Chris Pine reunite for this moody L.A. noir, based on the stranger-than-fiction autobiography One Day She'll Darken by Fauna Hodel. How strange is it? Jenkins and her writing partner (and spouse) Sam Sheridan had to inject some traditional noir beats into the narrative to make it more plausible. It sounds like a high-concept hook a chain-smoking screenwriter might pitch: A teen girl (Hodel, played by India Eisley) learns the story she's been told all her life—that she's the daughter of an interracial couple outside Reno, Nevada—is false, and her real bloodline is a wealthy white SoCal family, one linked to the notorious Black Dahlia murder. With the aid of a downtrodden reporter (Pine, whose interest in the story helped get the project off the ground), she sets out to uncover the secret of her past. With only six episodes, the twisty '60s-set story looks to be another winning creative achievement for Pine and Jenkins. [Alex McLevy]
---
Siempre Bruja (Netflix, complete first season available Friday, February 1)
Netflix has acquired a slate of increasingly addictive Spanish-language series, from the high drama of the teen-centered Elite to the supernatural shenanigans of Diablero. The upcoming Siempre Bruja, from Caracol Televisión, looks like an exciting fusion of those sensibilities. Angely Gaviria stars as Carmen, a teen witch who's ordered to be burned at the sake but somehow washes ashore in contemporary Cartagena. The series then follows Carmen as she navigates the modern world, only to find that 21st-century folks aren't much more accepting of powerful women (especially if they're black). The promos have teased sexy (mis)adventures for Carmen, but it's likely some misdirection—Siempre Bruja is adapted from Isidora Chacón's Yo, Bruja, which is steeped in the history of Colombia's own witch trials. [Danette Chavez]
---
One Day At A Time, season three (Netflix, returns Friday, February 8)
Gloria Calderón Kellett and Mike Royce's winning remake of Norman Lear's One Day At A Time remains one of the brightest spots of the winter, thanks to its newly announced premiere date. After a season-two finale that was equal parts heart-stopping and transformative, the new season will introduce a few more branches of the Alvarez family tree, including Gloria Estefan as Lydia's (Rita Moreno) sister, Danny Pino as Penelope's (Justina Machado) brother, and Brooklyn Nine-Nine's Stephanie Beatriz and Melissa Fumero as a couple of cousins. [Danette Chavez]
---
Miracle Workers (TBS, premieres Tuesday, February 12 at 10 p.m.)
"Steve Buscemi is God" is probably enough of a pitch to land you a meeting with at least one development executive, but Simon Rich's Miracle Workers is actually based on his novel, What In God's Name. The high-concept series envisions heaven as a large, stagnant corporation, with Buscemi as an all-powerful deity who can't remember if he lost his passion for his work before his ability to do it, or vice versa. But rather than reinvest in his creation, God decides he's just going to start over—this time, with a restaurant idea so bad that even the sycophantic Sanjay (Karan Soni) can't play along. Enter Craig (Daniel Radcliffe, who also executive-produces) and Eliza (Blockers breakout Geraldine Viswanathan), two angels in the Answered Prayers department who try to stave off the end of the world by betting God they can make a couple of socially inept humans (Sasha Compére and Jon Bass) fall in love. It's a thoroughly absurd premise, and one that might struggle to connect with viewers. But just as he did with Man Seeking Woman, Rich uses these far-fetched notions to make witty and moving observations about love and devotion. [Danette Chavez]
---
At Home With Amy Sedaris, season two (truTV, returns Tuesday, February 19 at 10 p.m.)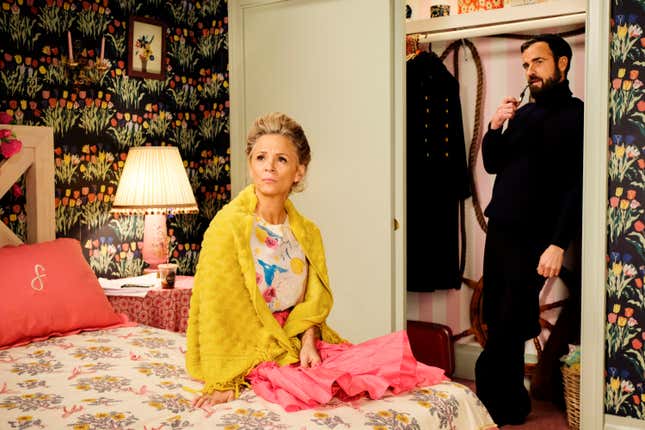 Break out the mod podge: At Home With Amy Sedaris returns this February for a second season of cheerily deranged dinner parties, crafting sessions, and self-care tips. Sedaris, TV's hostess with the most hilariously unsettling interpretation of hospitality, will once more open up her home, i.e., soundstage, to high-profile guests like Matthew Broderick, Gillian Jacobs, Justin Theroux, Susan Sarandon, Rose Byrne, and more. [Danette Chavez]
---
Documentary Now!, season three (IFC, returns Wednesday, February 20 at 10 p.m.)
The third episode of Documentary Now!'s third season lampoons the Marina Abramovic profile The Artist Is Present, with Cate Blanchett stepping into the role of a performance artist who makes her first splash in the art world by not being seen. But what you're also not seeing in the season's earliest episodes are the two faces that have thus far been the primary subjects of Documentary Now!: Fred Armisen and Bill Hader. Call it an expansion of the show's universe, blame it on Hader's leap to Emmy-winning star of his own genre-bending HBO series—whatever it is, it's a challenge to the notion of what Documentary Now! is and can be, as contributors from the show's past (Seth Meyers, John Mulaney in the most John Mulaney episode of Documentary Now! to date) and newcomers (Detroiters' Tim Robinson) step up to the video store shelf and pull down titles that spoof the likes of Wild, Wild Country and Let's Get Lost with a rotating cast boasting the extremely visible talents of Blanchett, Michael Keaton, Owen Wilson, and more. [Erik Adams]
---
Better Things, season three (FX, returns Thursday, February 28 at 10 p.m.)
Better Things pulled off the seemingly impossible in 2017—it got even better in its second season, which continued Pamela Adlon's exceptionally funny and poignant exploration of family life. Season two took a closer look at the mother-daughter bond, weighing Sam's (Adlon) choices as both the head of a household and the adult child of an aging parent (the majestic Celia Imrie). Adlon also took greater creative control of the series she co-created, directing all 10 episodes and co-writing half. And in the wake of Louis CK admitting to sexual misconduct, Adlon cast off shitty men both on and off screen. We don't know what lies ahead for the Fox family in season three, but Adlon is more than ready to steer the show all on her own. [Danette Chavez]
---
Shrill (Hulu, premieres Friday, March 15)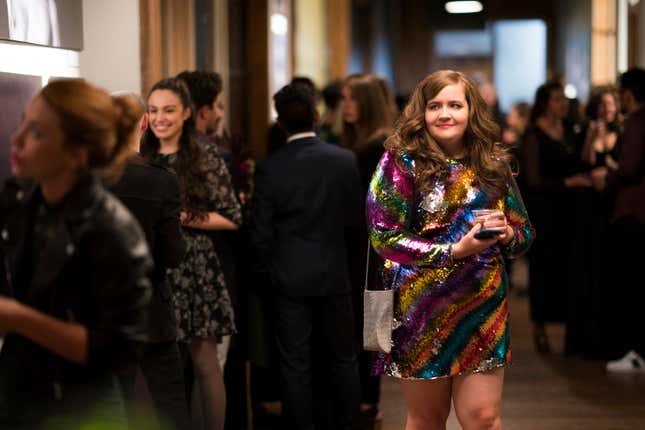 Lindy West's best-selling memoir, Shrill: Notes From A Loud Woman, is a joyous and shrewd reflection on a life lived in predestined defiance—a talented, hilarious, outspoken woman, who yes, is also fat, and who refuses to make herself smaller, quieter, or "less than" for anyone. The TV adaptation of Shrill is poised to be just as cathartic and incisive. Aidy Bryant stars as Annie, a journalist and "fat young woman who wants to change her life, but not her body." West's pointed humor and emotionally resonant storytelling have found their way into the Shrill series, which is an ideal starring vehicle for Bryant, who displays all the confidence and curiosity she has on Saturday Night Live. Throw in Jesse Peretz and Carrie Brownstein as directors on the series, and we can't stay quiet about our excitement for this premiere. [Danette Chavez]
---
American Gods, season two (Starz, returns Sunday, March 10 at 8 p.m.)
The behind-the-scenes conflicts over schedules, skyrocketing budgets, and dearly departed showrunners may have delayed the premiere of American Gods season two, but they couldn't quite quell our eagerness for new episodes. We'll admit, the loss of Bryan Fuller and Michael Green, who absolutely nailed the look and urgency of Neil Gaiman's fantasy road novel, places us squarely in the "cautiously optimistic" camp—and we're still reeling from Gillian Anderson's and Kristin Chenoweth's respective exits from the show. But the remaining cast members, especially Ian McShane as a pitch-perfect Mr. Wednesday, as well as the promising showdown between gods new and old give us plenty of reason to keep hope alive. [Danette Chavez]
---
Winter has come, the wall has fallen, and the ultimate battle between the living and the dead reportedly stretched across 55 consecutive nights. If any of the rumors and speculation swirling around Game Of Thrones' final season are to be believed, that climactic clash might not be as far off as previously assumed, but there are still plenty of burning questions for these six episodes to answer, like "How's Jon Snow going to react to the news of his parentage?" and "Is George R.R. Martin ever going to finish The Winds Of Winter?" Also, the whole issue of who winds up on the Iron Throne remains very much up in the air, and taking the show's well-documented bloodlust into account, what's to stop, say, Hot Pie from seizing control of the Seven Kingdoms? Noted tough person Lady Brienne Of Tarth declares, "You're going to need therapy," at the end of the season—though the folks likeliest to be left questioning what it all means are the HBO execs and other linear-TV soldiers who'll be left without a world-beating, audience-uniting phenomenon once Game Of Thrones takes its final bow. [Erik Adams]
---
Although the solstice special did little more than establish the uncanny resemblance between Kiernan Shipka and McKenna Grace, we're still looking forward to what Chilling Adventures lie ahead for Sabrina (Shipka), Hilda (Lucy Davis), Zelda (Miranda Otto), Ms. Wardwell (Michelle Gomez), Ambrose (Chance Perdomo), and Prudence (Tati Gabrielle)—basically, everyone in the magical realm. With any luck, the second half of season one will give us more reasons to care about Sabrina's Baxter High pals, but the real draw will be finding out whether platinum blonds who've recently pledged their allegiance to Satan really do have more fun. [Danette Chavez]
---
Killing Eve, season two (BBC America, returns Thursday, April 7)
Sandra Oh just won a Golden Globe for her portrayal of the title character on Killing Eve, a show so good that Netflix is encouraging you to watch it on its competitor Hulu. So anticipation is understandably high for the show's second season. Season one ended with Eve invading the home of assassin Villanelle (Jodie Comer), with Eve stabbing her, only to have the villain escape in her usual confounding manner. "The story picks up right from where we left off," Comer revealed to Elle on the Golden Globes red carpet. "But what's going to be really interesting for the audience is how Villanelle reacts to that. It may not be as they suspect it will be." It's not a lot to go on, but we'll be glued to BBC when the show returns in April. Super-busy creator Phoebe Waller-Bridge is handing the reins over to new writer Emerald Fennell this season, as well as new directors Lisa Brühlmann and Francesca Gregorini, continuing the female-forward battalion both in front of and behind the cameras. If you haven't caught up on season one, listen to Netflix, and check it out on Hulu ASAP. [Gwen Ihnat]
---
Fosse/Verdon (FX, April)
You can spread your star power across multiple high-profile projects—as Apple and Disney+ are doing with their initial programming slates—or you can just pack it all into one backstage biography whose cast could fill a trophy case and whose logline seems to say "Ryan Murphy who?" And certainly nobody knew the value of a little razzle-dazzle like the team of Bob Fosse and Gwen Verdon, played here by Sam Rockwell and Michelle Williams, in a limited series with Dear Evan Hansen playwright Steven Levenson serving as showrunner, Hamilton director Thomas Kail helming the pilot, and Hamilton himself, Lin-Manuel Miranda, on board as executive producer. [Erik Adams]
---
Stranger Things, season three (Netflix, returns Thursday, July 4)
Love it, hate it, grudgingly tolerate it: Stranger Things is one of the last TV blockbusters standing, so anything new from the Duffer brothers' supernatural exploits in VHS mining is worth noting. Like Game Of Thrones, it can stir anticipation and speculation with a handful of episode titles; unlike that fantasy epic, sounds like Stranger Things' next high-stakes skirmish is taking place just a hop, skip, and a jump away from Waldenbooks. Season three invites you to Hawkins, Indiana's own Starcourt Mall, where a redeemed local douchebag is serving up scoops, smiles, and a nail-studded baseball bat for any creepy crawlies that fall out of the Upside Down and into The Gap. [Erik Adams]
---
Coming in 2019
The Twilight Zone (CBS All Access)
Not since Steven Spielberg, George Miller, John Landis, and Joe Dante teamed up for Twilight Zone: The Movie has a version of Rod Serling's beloved and influential genre anthology boasted such a pedigree. Academy Award winner Jordan Peele adds to his jam-packed 2019 by stepping into Serling's shoes as host, narrator, and executive producer, overseeing a reboot (the series' third) that already counts Kumail Nanjiani, John Cho, Steven Yeun, Allison Tolman, Sanaa Lathan, Greg Kinnear, and Jacob Tremblay among its cast. The Twilight Zone is always best when it can retain some sense of surprise, but while a handful of episode titles have already been announced, the most intriguing is one with a whiff of familiarity: "Nightmare At 30,000 Feet," which adds Adam Scott and 10,000 feet of altitude to the Richard Donner-directed, Richard Matheson-scripted classic in which… there's a man! A man out there! On the wing! [Erik Adams]
---
Veronica Mars revival (Hulu)
It took a record-setting Kickstarter to re-open the doors of Mars Investigations in 2014; this time around, devoted Marshmallows can thank a sweet deal from Hulu and a bunch of dead, fictional spring breakers. Kristen Bell returns to buttonholing the entitled and the errant of Neptune, California, joined by the whodunit's creator, Rob Thomas, and returning castmates, including Enrico Colantoni, Ryan Hansen, Max Greenfield, Francis Capra, Percy Daggs III, and bad-news boyfriend Jason Dohring. Whither Piz? We hear he's got a pretty sweet setup with a women's wrestling outfit. [Erik Adams]
---
What We Do In Shadows (FX, March)
In their 2015 film, What We Do In The Shadows, Taika Waititi and Jemaine Clement took a group of vampires and dropped them into the decidedly inelegant environs of Wellington, New Zealand. The absurd mockumentary revealed just how human (and petty) these centuries-old "children of the night" remained. The TV adaptation of their film, which they executive-produce along with writers Paul Simms and Stefani Robinson, introduces a new, equally ridiculous trio, while also raising the stakes on these somewhat vile creatures. Kayvan Novak, Matt Berry, and Natasha Demetriou star as the (sort of) immortal beings who have utterly failed to conquer "the new world"—instead, they're languishing in Staten Island. It certainly helps that Waititi and Clement are so hands-on (the former directs a couple of episodes) with the series, but then, the premise has always seemed adaptable, expansive—it started off as a short, after all. The pilot is a great mix of the Flight Of The Conchords collaborators' humor, and the unrepentant narcissism that passes for most reality TV programming. [Danette Chavez]
---
Watchmen (HBO)
Once somebody finally figured out how to pack Watchmen's fractured narrative, multiple points of view, and interdimensional curveball of an ending into a feature film, who would've thought that fidelity to the source material would be the most common knock against it? Zack Snyder's dud of an adaptation may have been the last time anyone treats Alan Moore and Dave Gibbon's seminal Cold War allegory so preciously: DC has been monkeying with the Watchmen mythology ever since Snyder detonated his cinematic SQUID; in 2019, Damon Lindelof returns to HBO to tell an original story set in the world of Watchmen—just not the story told within Watchmen. It's laid out in an Instagram preamble that, even at five pages, doesn't scratch the surface of an ensemble that reunites Lindelof and The Leftovers' Regina King, casts Jeremy Irons as Adrian Veidt/Ozymandias, and thrusts the costumed adventurer mantle of Looking Glass upon Tim Blake Nelson. Alan Moore always wanted the ultraviolent, superheroes-are-fascists saga to remain in the funny pages, Snyder treated the books like a sacred text, and Terry Gilliam insisted the only screen it was suited for was television. Now Lindelof and crew get to see which one of them was right. (Hint: It wasn't Snyder.) [Erik Adams]
---
Good Omens (Amazon)
It's not lost on us that multiple entries on this list center on some kind of impending cataclysm—see gen:LOCK's "war to end all wars," God's surrender in Miracle Workers, or American Gods' "Ragnarok at the House On The Rock." Neil Gaiman is responsible for another looming apocalypse, that of Good Omens, an adaptation of the popular fantasy novel he co-wrote with Terry Pratchett. Gaiman oversees the Amazon series, which stars David Tennant as the demon Crowley and Michael Sheen as his angelic frenemy, Aziraphale. Crowley and Aziraphale have had a cheerfully antagonistic relationship for millennia, but when word comes down from on high that the end of the world is nigh, they set aside their differences to stop the apocalypse. Aside from the unflappable chemistry between Tennant and Frost, Good Omens also boasts great source material (this road trip novel is a jauntier read than American Gods) and a heavenly supporting cast, including Jon Hamm, Frances McDormand, and Nick Offerman. [Danette Chavez]
---
Many thought that Big Little Lies' first (and at that point, only) season wrapped up in spectacular fashion, with a murder mystery revealed and all the Monterey moms who had been swiping at each other over seven episodes irrevocably bonded. But the success of the show and its closetful of awards (including eight Emmys) led HBO to believe that a second season was warranted, drafting author of the original novel Liane Moriarty to come up with material. American Honey director Andrea Arnold will take over for Jean Marc-Vallée, with David E. Kelley returning as writer. On the one hand, we'll be glad to see characters like Reese Witherspoon's Madeline, Nicole Kidman's Celeste, and especially Laura Dern's Renata again; on the other, the original Big Little Lies was a perfectly self-contained package. But the addition of Meryl Streep to the cast—as the mother of Alexander Skarsgård's Perry, who wants to find out what happened to her son—adds even more possible award fodder to the now-series (so far, we know that Madeline throws an ice cream cone at her). And a recently released promo photo of the moms in a flashback police lineup suggests that there's more epic domestic intrigue and fun to be had. [Gwen Ihnat]
---
Undone (Amazon)
Between its "hero"'s tendency toward blackout drinking, and its own indulgence in era-shifting formal exercises like the fourth-season masterpiece "Time's Arrow," few shows on TV have played around with time more effectively than Netflix's BoJack Horseman. Now, series creator Raphael Bob-Waksberg is taking that obsession even further with Undone, a new show he's debuting this year on Amazon Prime. The animated series, which Bob-Waksberg co-created with BoJack writer-producer Kate Purdy, stars Rosa Salazar (Man Seeking Woman) as Alma, a young woman who begins bouncing around in time after a car accident, hoping to figure out the circumstances of her father's death. After five seasons of BoJack, Bob-Waksberg pretty much has a blank check from us at this point; it'll be interesting to see what his big sophomore project can do. [William Hughes]
---
Tuca & Bertie (Netflix)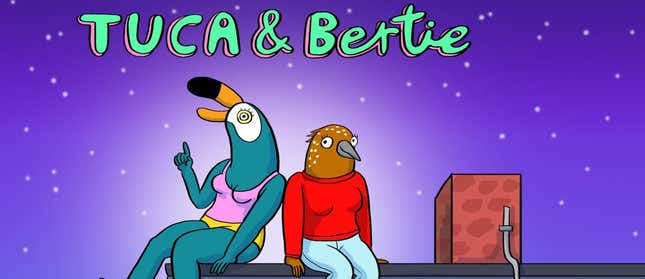 The pedigree on Netflix's latest "animals are (fucked-up) people too" animation project is already borderline impeccable. Created by Lisa Hanawalt—whose designs breathe life into BoJack Horseman's colorful, chaotic Hollywoo—and with voice acting from ascendant comedy stars Tiffany Haddish and Ali Wong, Tuca & Bertie has all the necessary ingredients to be a new critical darling. Haddish stars as Tuca, a free-spirit toucan, while Wong plays anxious songbird Bertie. Details about the show are still sparse, but it apparently follows the friendship between the two birdwomen, both in their mid-30s and living in the same apartment building. (Also, we have to assume it'll be a little less Laverne & Shirley than it initially sounds.) [William Hughes]
---
Deadwood movie (HBO)
After 13 years of empty promises and teasing soundbites, you would've had to have been a goddamn hooplehead to believe that Deadwood would get a proper conclusion. But here we are: Not only did David Milch write a script that reunited the residents of his frontier town on the occasion of South Dakota's statehood, but they actually made the fucking thing—there are even pictures to prove it. There's Al Swearengen, probably gearing up to eloquently cuss somebody out; there's Timothy Olyphant with Bullock's mustache back on his upper lip. And if seeing such beloved figures from the show's (and the United States') past makes you feel a little wistful, well, that's kind of the point, as producer Carolyn Strauss says the movie is about the passage of time. No one gets out alive, Doc—certainly not in life, and maybe not in Deadwood either. [Erik Adams]
---
Warrior (Cinemax)
In addition to being a world-famous martial artist and movie star, the late Bruce Lee was also a prolific writer, filling journals with poems, philosophical musings (which inform daughter Shannon Lee's podcast about her charismatic father), and, apparently, TV show ideas. Cinemax's Warrior is the result of the latter; series creators Justin Lin (he of the Fast And Furious franchise) and Jonathan Tropper (of the quietly great Banshee) adapted one of Lee's stories for Warrior, a historical action-drama set in late 19th-century San Francisco. Warrior stars Andrew Koji as Ah Sahm, an immigrant and martial arts prodigy who falls in league with one of the most powerful tongs in the city. The teasers haven't given away much else about the plot, but the pedigree speaks for itself—Lin and Tropper know how to get at the hearts and motives of good and bad men alike. Shannon Lee also executive-produces the series, which is expected to debut in the first half of 2019. [Danette Chavez]
---
Snowpiercer (summer)
The surreal railroad ride of Bong Joon-ho's Snowpiercer, the South Korean sci-fi film loosely adapted from a French graphic novel, continues into TV. Production delayed after the original showrunner dropped out, and upon his replacement the pilot director also dropped out, disputing the altered creative direction of the show. The new showrunner is Orphan Black creator and former showrunner Graeme Manson, someone who knows his way around a group of people coming together to take power from their oppressors. Daveed Diggs stars as a member of the lowest caste living on a continuously moving train, holding the future's tiny population of surviving humans after a climate change-induced planetary freeze. [Caitlin PenzeyMoog]
---
Ending in 2019
You're The Worst prepares for Jimmy and Gretchen's wobbly walk down the aisle (FX, January 9 at 10 p.m.)… It's impossible to imagine Ilana saying goodbye to Abbi, or Abbi saying goodbye to Ilana, but we must all bid farewell to Broad City (Comedy Central, January 24 at 10 p.m.)… In other comedic tales of the Big Apple (it's a fruit that's bigger than people), Unbreakable Kimmy Schmidt gets to the exciting conclusion to The Legends Of Greenmulax and reveals who was on the other side of that ominous cliffhanger camera in the second part of its final season (Netflix, January 25)… The CW loses a good chunk of its character—and two of its few remaining non-comic book shows—when Crazy Ex-Girlfriend sings its last tune, Jane The Virgin pens its last story, and iZombie chows down on its last brain… You can tell that American politics has been taking its cues from Veep in recent years, but the thing about the clowns in Selina Meyer's orbit is that their time in Washington has an end date: this spring, on HBO. Now if only their real-world counterparts could follow suit.
---
Returning series with new network/streaming homes
After a "noice" run on Fox, Brooklyn Nine Nine will air its sixth season on NBC beginning January 10. On February 21, late-night talk show Desus & Mero moves to Showtime with a slightly less rigorous schedule (it'll be on weekly), but the same pithy political and pop culture commentary from hosts Desus Nice and The Kid Mero. Psychological thriller You has also picked up stakes, and will debut its second season on Netflix; there's no release date yet, but that just means you have plenty of time to watch season one, which Netflix started streaming in late December.