Katie Rife: Well, we've reached the pinnacle of awards season: The 2018 Oscar nominations were announced this morning. Watching the live stream, there were two films that exceeded my admittedly cynical expectations: Get Out defied the Academy's historical bias against genre films with four major nominations—Best Picture, Best Actor, Best Director, and Best Screenplay—while Mudbound, which has been more low-key this awards season than distributor Netflix probably would have liked, picked up four nominations, including a historic nod for Rachel Morrison for Best Cinematography.
One thing I was expecting, but which failed to materialize, was a slew of nominations for The Post, which early on I pegged as a Best Picture front-runner (there's that Oscars cynicism again). Instead, it was eclipsed by The Shape Of Water (13 nominations), Dunkirk (eight nominations), and the controversial Three Billboards Outside Ebbing, Missouri (Sdeven nominations). How have your early awards-season predictions panned out, Ignatiy? Any pleasant surprises among this year's nominees?
Ignatiy Vishnevetsky: Considering that awards season has become a months-long, survival-of-the-fittest death march, there aren't many surprises left. But, once you take into account the collective stodginess of the Academy, there are a lot of good and deserving nominations here.
I'm very happy to see Radiohead's Jonny Greenwood finally earn an Oscar nomination, for his creepy, romantic score for Phantom Thread. And of course it's good to see Willem Dafoe getting a nod for his warm, humanistic turn as the paternal motel manager in The Florida Project. But then that was almost a given, as were Jordan Peele's and Greta Gerwig's Best Director and Best Original Screenplay nominations for Get Out and Lady Bird, respectively. I'm glad Daniel Kaluuya got nominated for the former, too—a terrifically reactive performance that's mostly in the eyes. Like you said, how often does a horror lead get nominated for an Oscar?
There are still some bafflers here. The Boss Baby? Denzel Washington for Roman J. Israel, Esq.? Christopher Plummer for All The Money In The World? (Well, we know about that one: The Academy gets all gooey at the knees for a good behind-the-scenes narrative.) Which nomination were you most confused by this year?
G/O Media may get a commission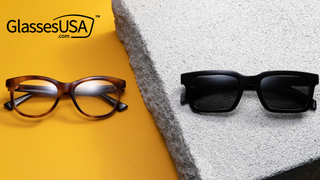 60% off frames
GlassesUSA.com Back to School Sales
Katie Rife: I agree with you on Denzel Washington; his nomination is the most baffling in the bunch. (While I dinged The Boss Baby for its narrative in my review, I will admit that the animation was quite good. And Coco's just going to win that one anyway, right?) For me, the most confusing things this year were the omissions, namely: Where's Michael Stuhlbarg's nod? His moving turn as Timothée Chalamet's archaeology professor father in Call Me By Your Name would have been my preference for a Best Supporting Actor nomination, but he was in three nominated films this year.
Also confusing was the complete lack of technical nods for Wonder Woman, which received a full Oscars campaign from Warner Bros. and just this summer was being hailed as a triumphant, redemptive victory for both women and superhero filmmaking. In fact, not a single MCU or DC superhero film outside of Guardians Of The Galaxy, Vol. 2 got a nomination, which is interesting given that they often score a makeup nod, as well as one for visual effects. I guess Academy voters weren't impressed by Justice League's intensive upper-lip CGI.
But there's one omission from this year's nominations immediately noted by both Deadline and Variety that I, personally, wouldn't consider a "snub" at all: the fact that James Franco wasn't nominated for Best Actor for The Disaster Artist. While Franco's imitation of Tommy Wiseau in that film was skillful, in the end it wasn't anything more than a collection of carefully studied quirks, and a soulless one at that. And if there has to be a wild card nomination in a Best Actor race that, in the end, will probably come down to Daniel Day-Lewis vs. Gary Oldman, I'll take Denzel Washington over James Franco.
Any notable snubs in your book this year, Ignatiy?
Ignatiy Vishnevetsky: Leaving out pure fantasy-football picks (e.g., my favorite film of last year, Nocturama), I'm disappointed to see that Logan, one of the finest films to come out of our ongoing cycle of superhero movies, is only nominated for its script. The acting is some of the finest and subtlest in the genre, with Hugh Jackman and Patrick Stewart giving some of their best performances in seemingly worn-out roles. (Dafne Keen, the tween newcomer, is also formidable in a role that's mostly silent.) But that's nothing compared to the Academy's continued snubbing of James Gray, one of my favorite contemporary American filmmakers.
There are so many categories in which Gray's lyrical epic The Lost City Of Z should have earned at least a nomination: for Darius Khondji's gorgeous, mystical cinematography; for Gray's adapted screenplay, an operatic reworking of David Gann's nonfiction book of the same title; for the performances, especially Sienna Miller's complex supporting turn as Nina Fawcett, the wife of Z's protagonist, the adventurer Percy Fawcett (a shockingly good Charlie Hunnam). It's a masterfully put-together vision of alienation and consuming, self-destructive obsession at the start of the 20th century—of people retreating from the horrors of colonialism and trench warfare to search for a lost civilization in the Amazon. But Gray just isn't on the Academy's radar.
One thing we haven't really touched on yet is Guillermo Del Toro's The Shape Of Water, which is nominated in a whopping 13 categories. I generally like Del Toro, but though I appreciated some of the sweeter and weirder touches of his Cold War janitor-fishman love story (dig that black-and-white musical number!), it struck me as one of the more limited efforts. What's your take?
Katie Rife: I've had a conflicted relationship with Del Toro and his work for a few years now. I just adore the idea of him as a director who does for monster movies what Quentin Tarantino did for exploitation films, and I respect him immensely as a craftsman. (The costume design in his movies is always stellar, for one.) But there just hasn't been a Del Toro film since Pan's Labyrinth that, in my opinion, really had the thematic heft to back up the richness of his visual style. Like you said, Ignatiy, The Shape Of Water is sweet, but in a year that had several strong love stories competing in awards season, I think our colleague A.A. Dowd was on to something when he said that the real romantic center of The Shape Of Water is Del Toro's love of movies. As far as lush period romances about women in love with uncommunicative god-monsters go, Phantom Thread would be my first choice.
Any final thoughts on this year's nominations, Ignatiy? Who are you rooting for for Best Picture? I'm equally invested in Lady Bird, Phantom Thread, and Get Out, all of which placed quite high on my Best Films of 2017 ballot.
Ignatiy Vishnevetsky: Actually, my favorite of the Best Picture nominees is a more "traditional," technically dazzling awards magnet: Christopher Nolan's maximalist-minimalist 70mm war movie Dunkirk, a succession of goose-bumps-inducing do-or-die suspense set pieces that I'd rank as one of his major accomplishments as a filmmaker. It's Nolan's most elemental and metaphysical film, and an elegant refinement of Inception's nesting-doll chronological structure. But I like quite a few of the Best Picture front-runners—a more ambiguous term in the increasingly indie-friendly Oscar-verse.