The queasy fear at the heart of The Americans is that it was always going to come down to this: Spy versus spy, husband versus wife, Philip versus Elizabeth. The arc of the series occasionally pulled away from such concerns, but the specter of this inevitable conflict remained, in wavering loyalties to country and beliefs in the mission, to the showrunners' reminders that this is first and foremost a story about a marriage. And in "Dead Hand," we get a glimpse at something that could truly, irreversibly rupture that union.

Inertia's already doing a pretty good job at it, though. The Americans' final season premiere finds Philip and Elizabeth living separate lives in the autumn of 1987, his marked by favorite American indulgences (fancy car, line dancing, motivational speaking), hers a slog of assignments and covers. In their script, Joe Weisberg and Joel Fields indicate that the Centre hasn't done much to pick up the slack created by Philip's absence in the field, and we see Elizabeth worn to a nub in "Dead Hand," dulling the fatigue with nicotine and in dire need of the only Americans resource scarcer and more valuable than trust: sleep. She and Philip are always missing one another in the their comings and goings, leading to that closing confrontation in which he's waited up until 1 a.m. for an urgent discussion, and Elizabeth's irritated that he's still awake at that hour. On the basis of title alone, the opening needle drop is apt for a series beginning its final act, but the lyrics of Crowded House's "Don't Dream It's Over" is especially fitting for this series beginning this final act:
"They come, they come
To build a wall between us
We know they won't win"
Following a fifth season that pushed The Americans' slow burn to its limits, "Dead Hand" restores much of its power. It's full of sequences like that Crowded House prelude, long-fuse suspense pieces backed by some of the show's favorite acts: Peter Gabriel during the fateful Dead Hand meeting, Fleetwood Mac as Philip picks up Oleg's signal and Elizabeth's team runs surveillance on state-department negotiator Glenn Haskard (Scott Cohen, a.k.a. Gilmore Girls' Max Medina). Gabriel's "We Do What We're Told (Milgram's 37)" is used to chilling effect in that conversation on the Mexican patio, not instantly recognizable as a soundtrack cue (I'd mistaken it for part of the instrumental score until the vocals kicked in) and unfurling in such a way that it winds up occupying most of the audio mix and drowning out the Strategic Rocket Forces general. Keri Russell must maintain Elizabeth's composure as this information comes down, so the show conveys the terror and the severity of the situation through three Americans signatures: '80s pop, subtitled Russian, and the slow burn. It's a sterling partnership of acting, direction, and picture and sound editing.
This crisis point in the Jennings marriage both reflects the state of affairs in the Soviet Union in 1987 and informs The Americans' depiction of that moment. The policies of Mikhail Gorbachev were creating a USSR different from the one that Elizabeth, Philip, or Claudia ever knew, partially glimpsed in the modern-day scenes of Moscow Does Not Believe In Tears, the film Paige watches at the safe house with her mother and spy grandma. The resistance to that change is where this sixth-season conflict gets tricky, and where "Dead Hand" must do most of its dialogue heavy lifting. According to the reemerged Arkady Ivanovich, KGB leadership opposes Gorbachev's reforms, so they're going behind each other's backs and over each other's heads to orchestrate things like Elizabeth's trip to Mexico—a Directorate S operation conducted without the express approval of the deputy chief of Directorate S. Oleg is the ideal candidate to run the counter-operation without suspicion: ex-KGB with knowledge of Directorate S, a cushy job in the Department Of Transportation, and a powerful father. And so back to the United States—and back into grave danger—Oleg Burov goes.
G/O Media may get a commission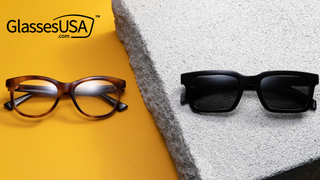 60% off frames
GlassesUSA.com Back to School Sales
There are a lot of liabilities here, and that's without any mention of Oleg's wife and his infant son. But it's there that The Americans' priorities lie. "Dead Hand" features the first face-to-face contact between two characters we've been following for the entire length of this series, but the deeper impact of Oleg and Philip's nighttime park-bench rendezvous is measured in how it's affecting their families. They're engaging in serious breaches of trust, not necessarily for the sake of their country, but for the sakes of the people they love. They both thought they were done with this type of thing, but as Joel Fields says, "It's not an easy job to quit." Fleetwood Mac makes a great match with The Americans because of the Rumours-era membership's fraught romantic backstory, but, as previously noted, their songs typically figure into scenes in which somebody's being kidnapped. Following that logic, "Gold Dust Woman" is used at just the right time in "Dead Hand": As he picks up and decodes Oleg's message, we're witnessing Philip being abducted by his old job.
It's a job indivisible from his own family, and it fully has its claws in Paige now. A major advantage of the final season's three-year time jump is that it moves the eldest Jennings kid out of the garage and into the field, where her training continues with a team that doesn't know she's Elizabeth's daughter. A nice scripting touch: the "I like Julie, but…" moment that establishes Paige's greenness, shortly before the encounter with the Navy guy. That scene is the source of a whole other "Dead Hand" queasy feeling, as the young officer's passes at Paige dredge up the hotel rendezvous her mother is finishing up at the beginning of the episode, and the second half of that comment about "Julie": "I told you when she came on, she's too young." Philip and Elizabeth would've been similarly too young when they were trained to trap enemy combatants with their bodies and mentally separate sex from emotion, but that conversation at Paige's driver-side window is still one of the tensest and most potentially devastating of "Dead Hand," and not because I was worried about her getting back that fake college ID.
Instead, the tension is released with a polite request and a violent stabbing. We've seen Elizabeth smoking throughout the premiere, so her asking Hanley for a light seems as innocent to us as it does to him. Then comes the gasp-inducing follow-up: She stabs Hanley right in the fucking neck, a reminder of what happened to the last person who tried to mess with her daughter under the cover of nightfall. Because Paige is still her family—no matter what she's told her team—and family still matters to Elizabeth, no matter what promises she made to the Strategic Rocket Command general. Keri Russell, nearing the end of one of the decade's most powerfully internal and external TV performances, keeps it all to herself as Elizabeth contemplates the capsule hidden in her new locket and picks Hanley's pocket—no "Show them your face!" to be heard here. Just that steely silence, which must be the default at the empty Jennings nest in Falls Church. Somebody crank the Crowded House.
---
Stray observations
The Americans Wig Report: Season Six, Episode One: B. Kudos to Elizabeth, who has to (head and) shoulder most of the wig work this week. Until: Just when Brad Eckert thinks he's out, they pull him back in!

The Americans Soundtrack Report: Season Six, Episode One: A. This is the single strongest set of pop cues ever rolled out in one episode, right down the line (dance) to "Louisiana Saturday Night" by Mel McDaniel. "Don't Dream It's Over" is such an evocative stage setter, and though it had already been succeeded by "Something So Strong" in the spring of 1987, my own fuzzy memories of this era indicate that Crowded House was chanting "Hey now / Hey now" on the radio through the remainder of the late '80s. (Like Halt And Catch Fire's leap into the 1990s, it's both weird and exciting to watch this show take place in a year when I was alive—albeit 2 years old.) The Gabriel and Fleetwood Mac cuts prove that the music supervisors P.J. Bloom and Amanda Krieg Thomas have yet to squeeze all of the juice from those acts, though anybody who's nervous about the fates of those left standing should worry that Bloom and Krieg Thomas still have Roxy Music in their back pocket. Meanwhile: Talking Heads receive their overdue welcome to this canon of post-punk paranoia and bands with married members, the Remain In Light deep cut "Listening Wind" (which has been covered by Gabriel) turning up on a show that could've, but thankfully hasn't, used "Life During Wartime" in every single episode.

Was there any Mail Robot? No, but we have the showrunners' word that there will be! The Americans, as ever, rewards your patience.
Star player and burgeoning high school heartthrob Henry Jennings wears No. 9 for St. Edward's, a number of deep hockey significance, worn by three of the National Hockey League's greatest players: Gordie Howe, Maurice Richard, and Bobby Hull. But it was also on the sweater of Soviet star Vladimir Krutov, the left wing of the Red Army's feared KLM Line. Krutov was on hand for the 1987 Canada Cup, the finals of which would've taken place a few weeks prior to "Dead Hand," and pitted Krutov and his comrades against Team Canada in one of the greatest international matchups in the sport's history. Carrying the championship squad and two "9"s on his back in that tournament: Wayne Gretzky.