Two weeks before the premiere of Ted Lasso's final season, Jason Sudeikis is flapping his mustache about the conclusion of his breakout Apple TV+ comedy. Moreover, he prepares viewers to say goodbye to the scrappy football club that won the hearts of people around the world.
"Ted Lasso" gets into the (video) game
"This is the end of this story that we wanted to tell, that we were hoping to tell, that we loved to tell," Sudeikis told Deadline. Considering the story began with a couple of promos for NBC's Premiere League coverage, it's perhaps the most successful commercial-to-series example since Geico's cavemen got a 13-episode order. Yet, even with three seasons of the man making biscuits for his boss, people still want more.
"The fact that folks will want more and are curious beyond more than what they don't even know yet—that being Season 3—it's flattering," Sudeikis said. "Maybe by May 31, once all 12 episodes of the season [are out], they're like, 'Man, you know what, we get it, we're fine. We don't need anymore, we got it.' But until that time comes, I will appreciate the curiosity beyond what we've come up with so far."
Despite Ted calling it a day to, maybe, we don't know, spend some time with his dang kid, Sudeikis concedes that there's still blood left to drain from this soccer ball. Spin-offs are likely coming to the Lassoverse because everything is a multi-verse waiting to be explored.
G/O Media may get a commission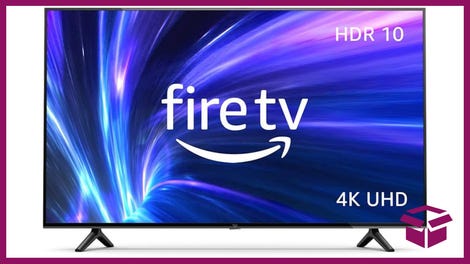 42% Off
Amazon Fire TV 50" 4K Smart TV
"I think that we've set the table for all sorts of folks to get to watch the further telling of these stories," he said. "Again, I can't help but take the question as flattery for what all of us that were working on the show has tried to do. It's really kind of folks to even consider that because you never know what's gonna happen when you make things. The fact that people want more, even if it's a different avenue is lovely."
Ted Lasso returns to warm your heart on Apple TV+ on March 15.