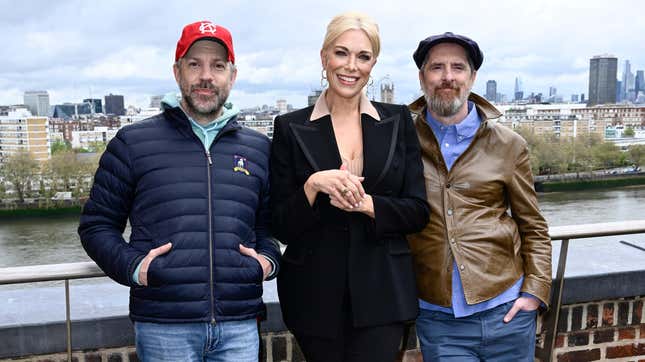 A "will they, won't they" scenario in sitcoms usually refers to a favorite couple getting together, not whether the creators will decide to keep making the show or not. Yet the somewhat coy response from Jason Sudeikis and Apple TV+ about the Ted Lasso finale made the question relevant in a new context. Of course, fans are used to their favorite shows getting canceled after two or three seasons, but usually, those shows aren't cultural juggernauts.
"Ted Lasso" gets into the (video) game
That's how we ended up in this confusing scenario where no one, not even the actors, know if they still have a job. But the Saturday Night Live alum always indicated he wanted to end it with the third season, and in a new interview with Dana Carvey and David Spade on the Fly On The Wall podcast, he reiterated as much. "This story is done," Sudeikis said. "It sounds like such a political answer, but it's the truth. We only conceived these three [seasons], then this thing became this big old thing."
In complete fairness to Sudeikis, this is what he's been saying all along. It's not exactly a definitive "Ted Lasso is over" answer, but (spoiler alert!) the finale makes pretty clear that Ted Lasso is done with Ted Lasso. Yet Apple TV+ hasn't officially made any statement about the show concluding. One might posit that Sudeikis was a little more ready to say goodbye to the series than the streamer that reaped the benefits of its success, which is perhaps why he has to give a political rather than definitive answer.
That said, he did acknowledge that the Ted Lasso cinematic universe could live on in some form. "Whether it's [a book], whether it's doing podcasts about the episodes to offer those audio commentaries... just to talk through things and the themes," he mused. "And also it would explain the show in a much more cerebral way than I ever would have been able to explain it to anybody. Yeah, there's opportunities, I think, for spin-offs."
Does this vague list of suggestions put us back at square one as to whether Ted Lasso is continuing? In the words of Hannah Waddingham, "You tell me, my friend!" The actor is pretty much in the dark as to whether she just filmed a series or season finale: "I don't know. None of us know. I don't even know if Jason (Sudeikis) knows. If he does, he is a sly dog," she said in an interview with Entertainment Weekly.
"Well, Jason has been quite clear, as has Brendan (Hunt), that this is the end of the story that they had planned," she told the outlet, reiterating Sudeikis' position. "So, I think it's better to just take it as that, otherwise those scenes that we have done, particularly in the season finale, wouldn't have been honored. You have to honor it as though it was the end, otherwise you're not getting yourself in to the right place emotionally."
Even so: "Would I be open to a conversation about it? Always," she said of returning. "You know, once a Greyhound, always a Greyhound."