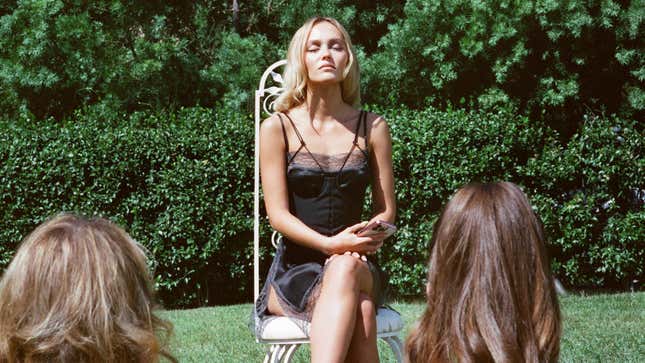 We have turned a corner. The Idol has gone from a tantalizing proposition (a provocative sendup of the industry driven by a salacious interest in equating pop music with porn, and maybe also investigating the cult-like tendencies of those who flirt with and crave fame) that struggled to straddle the tonal fine line required to pull its ambitious ideas off to … well, an almost unwatchable weekly dip into soft-core erotic scenes set in between a series of talky industry navel-gazing bits.

The feud between Howard Stern and the world's smuggest man, Bill Maher, has come to a tentative ceasefire
Namely, even as it tries to shock us (hey! there's a dildo in this week's episode!) The Idol is just plain boring to watch. And so bear with me as I grit my teeth and try to tease out what creators Sam Levinson and Abel "The Weeknd" Tesfaye are trying to do in this latest episode. Which, yes, begins with a survey of Jocelyn's house now truly under Tedros' hands; it all looks more like a commune now than the glittering mansion of a world class sinner, I mean pop star. He's even got Leia (Rachel Sennott) reporting to him even as it's becoming increasingly ludicrous to imagine why this most obvious of audience surrogates isn't trying to make a bigger deal out of Tedros' micromanaging. But therein lies our much needed suspension of disbelief. (Don't even get me started on Jocelyn's absurd gullibility.)
Enter Destiny (Da'Vine Joy Randolph), who's decided to infiltrate Jocelyn's house to see what Tedros is up to. For, as she's found out, he's even more trouble than she thought before: He's been in jail and has a paper trail that clearly suggests he's abusive and a grifter. But maybe he's getting good music out of Jocelyn? What better way to find out than to constantly be on the ground seeing how Tedros has turned Jocelyn's home into his own little compound where mild to wild sexual torture is a daily occurrence deployed in the name of "honest" and therefore good art? Sure, there's some slapping and some bondage but even she has to admit it's resulting in some promising tracks. She's even loath to add how good he is at spotting talent, taken as she is with Chloe (Suzanna Son), whose voice and lyrics, she says, can take any of us to church.
As we've heard before, all this abuse (or, as Leia flat out puts it, assault) is in the service of meaningful art making. Trauma, even self-inflicted trauma, is nothing more than fodder for, in this case, great songwriting and music recording. And, good scout of talent that he is, Tedros finds himself now turning his attention toward Xander (Troye Sivan) whom he creepily stalks as they sing in the shower ("you're such a little bitch!") and harasses into reigniting what was clearly a sore subject between Xander and Jocelyn. There's a reason, it turns out, he's no longer a singer, having taken a back seat to Jocelyn's career following a traumatic outing (at the hands of Jocelyn's mom) and some vocal-cord drama. Tedros, though, wants him to push through this, be truthful with who he is, and get in line with the rest of his ... what to call them? Wards? Protégés? Prisoners?
And thus follows easily one of the show's most insane scenes wherein Xander is tied up, armed with an electroshock choker and called to, in front of everyone else, share the "truth" of what happened between he and Jocelyn. It's all hard to watch, a torture scene designed to drive the two former friends apart all while destroying whatever agency Xander felt he had while under Tedros' control. By the end, after he's cursed Jocelyn's mom and voiced, perhaps, the central thesis of the show (it is Jocelyn who uses people; she's using everyone around her, Tedros included), he's left a meek shell of a person now devoted to Tedros. The latest member of this erstwhile cult.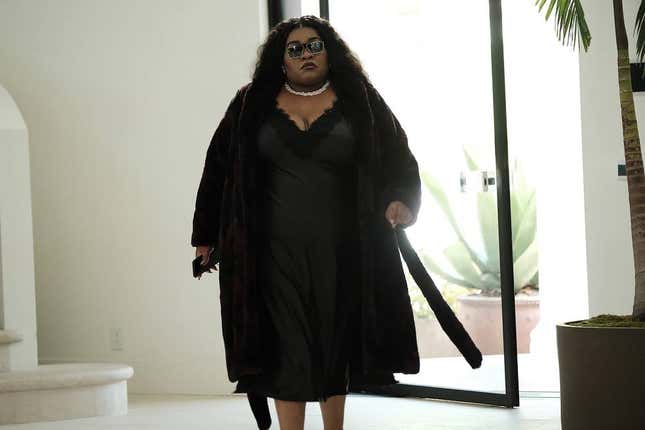 But the scene also helps Tedros nudge Jocelyn into one other bit of self-annihilation. The only way to rid herself of the trauma she's been harboring about her mother (and also, oh right, sell tickets to her upcoming tour) is to go on social media and tell the world about it. It's all very performative and exploitative and all it reminded me was how The Other Two's third season is doing an infinitely better and more trenchant critique of such celebrity moments than The Idol's self-seriousness ever could.
It's amidst all of this chaos that we enter the final set piece of the episode, a full-blown rager that looks like a parody of what we all imagine sex- and drug-fueled L.A. parties are all like. Leia gets doused in tequila (courtesy of Tedros' alcohol/water gun). Destiny learns how Tedros has distorted his own prison backstory in the eyes of Jocelyn. And Diane, fresh off a great meeting with Nikki at the record company, tells Jocelyn how she's now gonna take over "World Class Singer," which is fine by Joss except for the fact that Diane's arrival leads Chloe to spill the fact that Diane, long a Tedros admirer, had initially balked at getting Jocelyn to his club. Namely, she finally (maybe!) sees how she was played and opts to retaliate by doing the thing we'd all do: Call up her very sexy actor ex (hi Karl Glusman!) and fuck him loudly so that your dirtbag manager slash boyfriend slash music producer hears and thus gets a sense of who may still be in charge.
As the final moments of the episode, where Xander snaps some racy pics of Glusman's Rob, suggest, that may backfire for all involved. And I only wish I cared. Still, we'll have to wait to see what new S&M scenarios Levinson & Tesfaye have cooked up for us next week.
Stray observations
Don't mind me, I'm just dream casting either a buddy comedy between Da'Vine Joy Randolph and Rachel Sennott or a dry-witted dramedy with Randolph and Suzann Son; such talented and charismatic actors deserve all the high profile projects in the world. (Related: Destiny rolling her eyes at how easily she ingratiates herself with Chloe? GIF-ready perfection.)
Love that the show, in giving us a glimpse of how the outside world sees Jocelyn's house under Tedros (via the two Spanish speaking housekeepers), opts to make "finding dildo in shower" its most scandalous find when … truly out of everything that's going on that has to be the tamest thing around.
Will The Weeknd/Tedros creepily smiling while fondling Lily Rose Depp/Jocelyn as she records an orgasm-fueled take of her latest single forever haunt me? I truly hope not. But yeah, much scarier than the "don't worry I wasn't gonna butt fuck" horror villain moment he had with Xander.
Speaking of, do we think the endless homophobia spouted by Tedros serves a purpose other than make him squarely an out-of-date asshole?
Did The Idol finally (inadvertently, perhaps) gift us steamy moments that weren't solely meant to make us cringe? (I'm talking about Troye Sivan in the shower and Moses Sumney doing yoga … but sure, throw in Karl Glusman's every moment on screen; god he is as delectable an actor as you can find. Do yourself a favor and watch Please Baby Please and, ahem, Love if you want something a lot more explicit).
Best supporting prop this week goes to: Jocelyn's cigarettes. Depp has clearly committed to making them Jocelyn's entire personality and given how rare they've become in U.S. programs, we have to applaud such a superficial way of reminding us Jocelyn's a bad girl (who maybe should take better care of her vocal cords?).
Given how firmly The Idol leans into its own lurid horridness I wanted to shout out the work of costume designer Natasha Newman-Thomas, who's bringing her experience in music videos (Childish Gambino's "This Is America," Sam Smith's "To Die For," The Weeknd's "Mania") to the whirlwind world of the show. Particularly I have to single out Tedros' dirtbag aesthetic which is as ridiculous as it is off-putting.
The score and music featured in the show still slaps, though. And yes, there's a Spotify playlist for that.