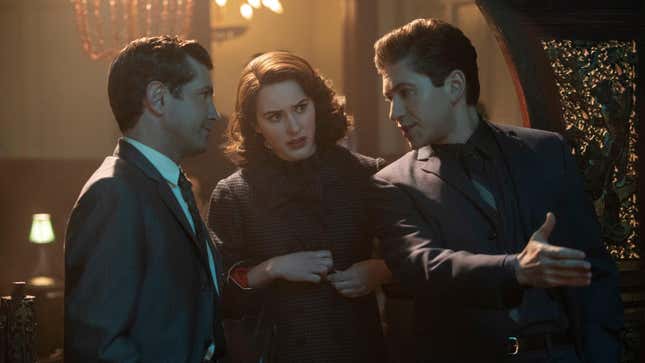 "It's two steps forward, three steps back, and I'm tired of it," our titular housewife-turned-comedienne carps in frustration in the fifth and final season of The Marvelous Mrs. Maisel, which drops its first three episodes on Prime Video on April 14. (One-a-week episodes follow until the series finale on May 26.)
Alfonso Ribeiro on working with Tyra Banks and his favorite dancers
And she's justified in her grievance: Miriam "Midge" Maisel (an ever-game Rachel Brosnahan) has been yanked from the precipice of stardom back to the valley of the underdogs a dizzying number of times over the course of five seasons, which saw the Upper West Side mother of two turn a cuckquean-ing from her cheating husband Joel (Michael Zegen) into a full-blown stand-up profession. But given that, yet again, Midge's career setbacks are the direct and avoidable result of her own inner self-saboteur—a character trait that has become less ballsy and more bratty over the years—that frustration isn't hers alone to bear.
After a fourth season that felt very much like a reset—Midge back at professional rock bottom (i.e., emceeing an illegal strip club) after her quick mouth royally mucked up that Shy Baldwin opening gig—season five looked like an opportune time for the impulsive comic to finally learn from her ways, especially after that Carnegie Hall callout from her mostly mentor/sometimes love interest/always cautionary tale Lenny Bruce (a sensational Luke Kirby) in the season-four finale. "If you blow this, Midge, I swear it will break my fucking heart," Lenny tearfully told her on the stage of that historic hall, a promise of what she could have if she'd only get out of her own way.
It sure was a galvanizing speech, which makes it all the more exasperating to see not only Miriam quickly fall into her old habits, but the show itself. Midge starts yet another job—rife with opportunities for the set designers and costume department to go ham with gorgeous, period-specific details—this time at The Gordon Ford Show, a The Tonight Show-esque operation with Veep's Reid Scott bumped up to series regular to play its titular host, another square-jawed, square-haired gent to first fawn over and then, yes, become frustrated by the ever-stubborn Midge. (Speaking of square-jawed gents, the return of Milo Ventimiglia's aptly named "The Handsome Man" serves no other purpose than to tickle Gilmore Girls fans and give us a look at the 1960s-era New York City subway system.)
For five seasons of Mrs. Maisel, co-creators Amy Sherman-Palladino and Daniel Palladino have struggled with self-indulgence, yielding to their own whimsical whims as often as Midge's tireless manager Susie Myerson (scene stealer Alex Borstein) appeases her most tempestuous client. Back in Gilmore land, the Palladinos had 20-plus episodes per season with which to plumb every quirk and quibble of Stars Hollow, a luxury they simply don't have with Maisel's more economic, single-digit episode counts.
And in a curtain-call of a season, when you want to see that dream-to-reality pipeline finally pay off, those signature extravagances—that subway-set chase between Brosnahan and Ventimiglia, say, or an in-universe family sitcom starring Sherman-Palladino's Bunheads leading lady Sutton Foster and Hank Azaria, or an inexplicably eight-minute-long musical segment devoted to, uh, trash—are now less endearing and more exhausting. It's a style-over-substance creative choice that sucks fleeting screen time away from more meaningful storylines. (Fans of one beloved character, in particular, will no doubt be disappointed by this season's showing, left instead with cameos by, count 'em, five more Gilmore alums, as well as Glee's Darren Criss, for some reason.)
The Maisel-verse stretches exponentially in season five, transporting us to brand-new continents for the show, and the already-considerable wardrobe budget makes room for the feather-trimmed caftans and groovy pantsuits of years to come. And the gap between reality and fiction narrows further than it has before—where having a real-life figure like Lenny Bruce living and breathing in its world was once a singular novelty, Mrs. Maisel goes full-blown Forrest Gump in its last hurrah, with everyone from rock stars to royals getting entangled in Midge's everyday.
That is to say that, yes, after a final self-destructive act, Miriam's recklessness miraculously, marvelously pays off. The problem is that we don't get to see it. Sure, we hear about the world tours and the famous lovers, but all of that largely happens offscreen, the audience held at a distance, with all of those previously mentioned diversions and distractions (we're still on Rose Weissman's matchmaking mafia schtick?!) regrettably filling that void. For a series as unabashedly taken with visuals, so many crucial plot points this time around are not shown but told.
The Palladino pair previously admitted that they didn't have a five-season plan for The Marvelous Mrs. Maisel in place when the series began, a lack of foresight that resulted in an aimlessness that bogged down the previous two seasons. Season five sees a big structural shift in its storytelling, one that would have been helpful had it been incorporated earlier in the show, as a reminder—no, a reassurance—that for all of Miriam's regressions and recklessness, there was a point to it all. An endpoint, as it were.
"Go Forward!" that big billboard beckoned Midge going into season five. And The Marvelous Mrs. Maisel does eventually go forward. It just sadly doesn't take us along for the ride.
---
The Marvelous Mrs. Maisel season 5 premieres April 14 on Prime Video