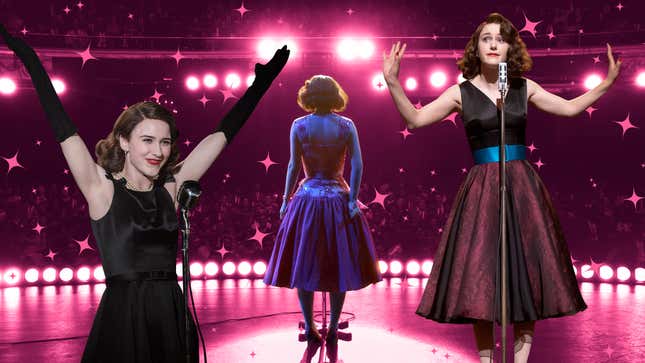 With the series finale of The Marvelous Mrs. Maisel set for May 26, it's high time to bid farewell to one of the our favorite things about the show: the fashion. Over five seasons, the costumes have become a standout aspect of the Prime Video series, immersing viewers into 1950s and '60s New York City as Miriam "Midge" Maisel journeys from housewife to standup comic.
Emmy-winning costume designer Donna Zakowska has certainly made her mark with Maisel's fashion fantasia: During the run of the show, she published Madly Marvelous: The Costumes Of The Marvelous Mrs. Maisel, a book that explores her creative process, and had two pieces acquired by the Smithsonian National Museum of American History.

Zakowska constructed the majority of the show's looks from scratch, wielding color palettes, shapes, and patterns to create era-accurate, character-specific outfits. Thanks to plenty of research and her experience as a painter, she meticulously crafted a distinctive style vocabulary for each player, purposefully heightening Midge's look compared to everyone around her. Whether it was using certain colors to reflect Midge's emotional state or different silhouettes to indicate her personal growth, Zakowska was very intentional with how fashion played into Midge's life.

As Midge has grown as a comic, her sense of style has evolved with her. In a final salute, let's count down 15 of her standup outfits that were simply marvelous.