Matt Berninger has been on a decade-long hot streak with his band of (literal) brothers, The National, so it was simultaneously worrisome and exciting when he announced he'd briefly step away and try something new. It turns out that the new something—EL VY—is more of a gentle pivot than a full-on reinvention, and that nobody should've worried at all: Return To The Moon is one of the best albums of 2015.
Though looser, simpler, and slinkier than his main band, EL VY—a partnership with his pal Brent Knopf, formerly of Menomena and currently of Ramona Falls—is also unmistakably Berninger, whose talky baritone would be difficult to disguise. And he's not doing anything radically different with that gorgeous voice here; casual fans might easily mistake many songs on Return for new National numbers. Those more invested will find something more earthy in this side project, starting with the fantastic first single, "Return To The Moon," a bouncy, easy-to-digest, weird pop song with a guitar line and overall structure that Berninger's main band would likely never let pass without some layers and tinkering. But that simplicity has its rewards, and Berninger seems more free to explore both his flights of fancy and more intimate moments with EL VY.
Berninger told NME that this is his "most personal album" yet, while at the same time describing its vague shot at a concept: It's inspired by the musical love affair between the Minutemen's D. Boon and Mike Watt, though knowing that legendary band's story will only provide sonic easter eggs, not revelations, when listening to Return To The Moon. So one moment he's singing nonsense about scratching a ticket with a cricket leg, the next he's pining for the real-life places of his Cincinnati youth, from Eden Park to "fucking Delhi." It's a weird, wonderful way to explore Berninger's knotty brain, and it pays off magnificently on the spooky, playful "Paul Is Alive," which imagines an alternate childhood spent "sitting outside the Jockey Club, crying in my 7-Up." As usual, his poet's eye for detail makes something simple feel profound; his sense of nostalgia is complicated, dotted with regret and joy.
Elsewhere, things get markedly more sexual than Berninger has flirted with in the past; perhaps he was inspired by the hip-pushing sonic beds that Knopf provides (via email, which is largely how Moon came together). "I'm The Man To Be" features the narrator's peaceful, happy dick in the sunlight, held up by kites, and its most sing-a-long-able line is a delightfully mumbled, "I'll be the one in the lobby in the green-colored fuck-me shirt—the green one." "Sad Case" is similarly though less overtly horn-dogged, and "Sleepin' Light" is almost '70s-inspired in its vibe, with a dose of Tindersticks thrown in for dour flavor.
G/O Media may get a commission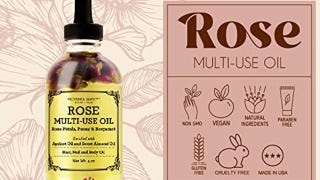 Provence Beauty Rose Multi-Use Oil
And, just like a National record, when things seem like they're getting a little samey, there's another gorgeous, occasionally subtle curveball around the corner: The short, sharp "Happiness, Missouri" sounds like Wolf Parade, and it ducks into Return's beautiful closer, "Careless." It's the most National-sounding song on the record, though where that band might've employed a full orchestra to push the emotion, this one offers a thin, haunting synth line. It's the flip side of the same gorgeous, engaging coin, and it's more than just a placeholder while the next National album marinates—it stands shoulder to miserable, brilliant shoulder.