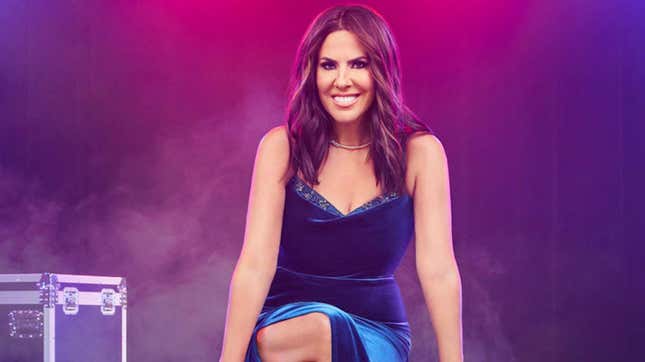 Before we begin, a formal apology must be made: Back in the season 13 premiere of Real Housewives Of New Jersey, I snarked that "Friend Of" Jennifer Fessler would forever be full-named by the rest of the cast so as not to confuse her with "Actual Housewife" Jennifer Aydin. But given the TV behavior of both Jens in this week's episode—one preoccupied with bon mots and the other with bitchy body-shaming—I have no choice but to instate Fessler as the one true Jennifer of RHONJ season 13. Not sorry, Jennifer Aydin.

That's because episode four did The Artist Formerly Known As Jennifer no favors. "Jennifer Aydin's coming in hot," Rachel tells Fessler during a lunch meet-up, and that's well before their blowout at Teresa's "Love Bubble"-themed housewarming party. Apparently, when Jen Aydin isn't having her own love bubble burst during tense dinners out with husband Bill ("I feel like sometimes you take my love for granted because I will always forgive you," she argues before appetizers even hit the table. Oof, pass the bread.), she's busy misguidedly phoning the RHONJ rookies and "grooming" them to talk smack about Dolores and Margaret.

"The balls are just too big, they're just huge balls...like not attractive, it's getting gross," Jennifer says of Jen Aydin's audacity. Adds Rachel: "Jealousy is a disease. Get well soon, Jennifer Aydin." If the Bravo merch site doesn't start selling crochet pillows with that one-liner….

G/O Media may get a commission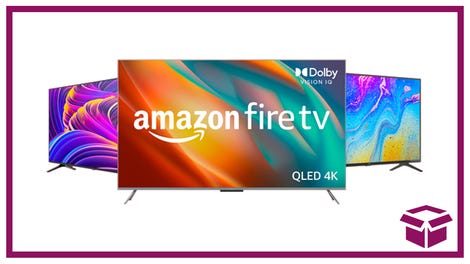 Ooh. stunning.
New Amazon Fire TVs
That wasn't the only drama surfacing pre-bubble bash. Joe Gorga is still smarting after last episode's guys' night squabble between him and his soon-to-be brother-in-law Luis. Per Luis' prodding, Teresa calls her brother to "make peace" and talk it out, but he just wants to move forward sans talking "because talking upsets me," he tells her. Sounds healthy and productive. We do get an "I love you" sibling exchange, which is progress, but ultimately Joe doesn't RSVP yes to Bubblepalooza. Baby steps, as Luis says.

Despite being frustrated with Joe's absence—"this is just gonna be the next thing that Teresa holds over his head"—Melissa does attend Teresa and Luis' housewarming to represent La Famiglia Gorga and "keep peace in the family." Things are already chilly between Zia Melissa and her nieces, Gia and Milania, at the backyard shindig but fully frost over after Teresa's welcome speech, during which she references the attendees as "our chosen family…we wouldn't want anyone else here but you."

"That's a dick thing to say," Marge tells Melissa. "What the fuck was that for?" Melissa tearfully excuses herself to the bathroom. "At certain times I try to be strong for Joe but I have my own breaking points," she adds in a talking head. "I just don't get it, these subtle digs." Teresa, meanwhile, is too busy "oh mah gahd"-ing over a mistimed sprinkler start-up in the middle of the party.

Melissa collects herself enough to go gab with Jackie and admits that she relayed Jackie's dig about Danielle's "hamper shorts" to the new housewife. "Fuck her, she's not significant to me," Jackie says of the RHONJ rookie, who overhears and comes swinging—literally. Danielle starts doing her best "Bernadette from Zoom," wildly gesticulating in the grand tradition of tri-state Italians. "If you could just get your hands out of my face, thanks," Jackie starts. "First of all, you're from Staten Island, you would know if my hands were in your face," Danielle retorts.

Not able to match that arm-flailing intensity, Jackie storms off to the bar, where she and Jennifer Aydin are doing shots when Margaret marches over to express her annoyance over Jen Aydin complaining about her to Jennifer. Fessler is quickly pulled in, as is Dolores and Rachel, the latter of whom gets called a "fucking idiot" by Jennifer Aydin. "Jennifer, what are you doing? Where is this coming from?" Dolores questions in a confessional.

In the midst of the squawks and slurs, Jen Aydin lobs a distasteful "I felt bad about your terrible nose job!" to Rachel, which gifts us a reaction shot from Jennifer so hilariously cartoonish, it could be a Looney Tunes. Fessler, for the win.

Stray observations
After being MIA for three episodes, we finally have this season's cast taglines, and they are…something:
Melissa: "You'll never see how toxic someone is until you breathe fresher air."
Dolores: "This Jersey girl has the luck of the Irish and nobody's screwing with my pot of gold."
Danielle: "I may be over the top but I'd rather be bougie than basic."
Margaret: "I'm a loyal friend and a lethal enemy."
Rachel: "I'm too busy running a business to care about yours."
Jennifer Aydin: "Payback's a bitch, so start barking."
Teresa: "Blood may be thicker than water, but it's hard to clean when it spills."
Yes, she was very messy this week, but we are loving Jen Aydin's commitment to pairing her fractured-toe boot with one irresponsibly high heeled shoe.
"I didn't look like Rachel Fuda at 31. I was 223 [pounds,] which is actually Evander Holyfield's weight when he won the heavyweight championship!" Jennifer gleefully reveals, before waving a well-manicured finger and telling Rachel that, no, she does not want to share her margherita pizza with her, thank you. Upgrade her to main cast, STAT.
Speaking of food, Danielle's reaction to the expansive spread at Teresa's housewarming was pure nonna energy. "I was gonna bring Tupperware in my purse…I'll walk out with a whole tray, do not tempt me!"