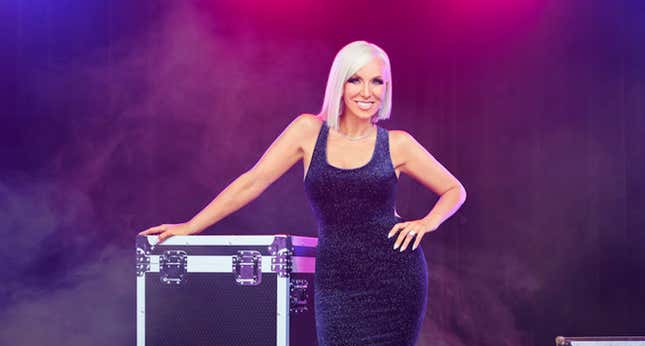 "Oh my god, are we even gonna have fun in Ireland? You guys are scaring me!" Melissa Gorga yells at the start of this week's The Real Housewives Of New Jersey and after that coffee-talk mess last episode, she has reason to worry. There's plenty of drama that needs unpacking along with their many suitcases—seriously, between nine women, there are about 47 checked bags—during the Dolores-hosted Dublin trip the women are taking to celebrate bride-to-be Teresa Giudice.
Danielle Cabral still isn't over "rat" Rachel Fuda ("Calling someone a rat where we're from is bad!" Melissa illuminates." If you're the rat, you're the lowest of the low."); Melissa remains hurt that Teresa asked Dolores and Jennifer Aydin to be in her wedding party and hasn't interacted with her sister-in-law since the Fuda's barbecue down at the Jersey Shore; and everyone is still ticked off that Jen A. obviously faked that Turkish coffee reading and gave the psychic intel on each of them before the party.

On top of all that, Dolores is worried about hosting the girls abroad: "I'm dealing with some picky bitches right now…bringing these girls to somewhere that's rural and ancient, it's not their jive!" However, she's correct in her "since we're all princesses, we're staying in a castle" strategy and the women are, largely, excited about their regal 400-year-old lodging for the trip. ("It's a big castle! I'm sure there's a dungeon," Margaret Josephs jokes about sharing a space with Jen Aydin.)

One guest who is less thrilled is Melissa, who is not down with the haunted vibes or old-school paintings of the place. ("That's typical haunted artwork!") However, the eerie atmosphere might be a boost for her relationship with her sister-in-law: "I think there's something in the Irish air. Teresa is like cozying up next to Melissa. Maybe Teresa is possessed by nice spirits?" jokes Marge.

During lunch at the castle, Dolores warns the women not to behave like, well, themselves while staying there: "We're not in New Jersey anymore." Of course, not even three minutes later, an argument breaks out over Jen Aydin's pre-party fluffing of the coffee-cup reader. "She knew all of the answers ahead of time," Margaret asserts. "You think I told her all that? Half of that shit I didn't even know!" rebuts Aydin.

However, the Irish jig is up when Teresa reveals that Jen A. briefed Angie the psychic about her and Margaret's fight prior to the party. "I called her the night before to make sure she had coffee cups that all matched and we got into a little conversation," Aydin divulges in a talking head. "When she said the word 'endorsements,' I was like, 'Fuck, did I tell her that?!" "Your expert witness outs you, you are guilty, shithead!" Marge says of Jen's bluff.

Aydin eventually does come clean about the psychic, but adds that she hadn't primed her about the "Laura" drama that was included in Margaret's reading. "Every time that Jen brings up this woman's name, I'm seeing a rise in Margaret," Danielle says. Indeed, Marge does hightail it out of lunch pretty quickly upon hearing "the L word," as Jennifer Fessler calls it, so clearly a nerve is touched. Intrigued, Danielle pops by Jennifer A's room after lunch to get the scoop. Aydin doesn't want to say exactly what intel Laura, Margaret's former friend, revealed to her and Teresa because doing so would make her "a hypocrite": "Something very similar was done to me last year and it did end up being true," she says, referring to the public outing of her husband's infidelity. "She made me and Teresa swear."

After Danielle correctly surmises that the intel is about Melissa, however, Jen's jaw loosens up: Marge apparently told Laura that someone who works with both of them allegedly caught Melissa making out in the backseat of a car with someone who was not Joe Gorga. "That's a bomb, Jen!" Danielle says, shocked. "Margaret is the one who knows all of this stuff, and if you piss her off, she pays you back," Aydin warns her. Danielle promises to keep her mouth shut: "Not touching that with a ten-foot fucking pole!"

Now onto a pub night to celebrate Teresa's upcoming nuptials (still two weeks away in TV time), which they toast with that traditional Irish delicacy: the espresso martini. Conversation naturally migrates to said wedding, with Fessler being a producer's dream and asking Teresa about her decision to make Jen Aydin and Dolores bridesmaids. "These two have been really big supporters of Louie…and then I'll be honest with you, when I asked them, I didn't want another big problem with my brother," Teresa says.

When the controversy over Melissa's mother not being extended an invite gets brought up, Aydin makes a mess for herself. "But you were through obligation, you were invited [out of obligation]," she tells Melissa, to the shock of the other women. "We're a family and you don't really know what you're talking about...stop talking for her, you're not helping her. You just put your foot in your mouth," Melissa snaps back. Teresa tries to retake the reins on the conversation but she does herself no favors either, saying that Melissa and Joe should have told her that inviting Melissa's mom was the right thing to do. "There's zero accountability when it comes to Teresa. 'It's her fault, it's her fault,' it's actually always my fault," Melissa says.

Leave it to Jackie Goldschneider, of all people, and her limerick skills, of all things, to diffuse the tension and change the subject. Playfully shading Jennifer Aydin, she reads: "There once was a girl from Paramus, who could be really friendly and amorous. But just bear in mind, if you ask her to find you a psychic, she might go and scam us." Even better? Fessler's off-the-cuff rhyme about Rachel: "There once was a girl named Fuda, who sometimes was in a bad mood-a. When you make fun of her nose like some of those hoes, she says, 'You bitches, screw ya!'" May the sun shine warm on your face always, Jenn Fessler.
Stray observations
Speaking of Jenn F.'s greatness, the reality star revealed that she was a former talent agent who, yes, did fraternize with her clients, one very famous one in particular: James Gandolfini. ("Who gets to fuck Tony Soprano?!" yells Melissa.) According to Fessler, The Sopranos icon took her to an S&M bar: "We hung out, we drank, and we fucked…he was the one who got away but he was also the one who was never really there. But he absolutely was inside me, that's a fact! More than once!"
Paulie's warnings about the Irish ways are pretty sound ("If you start singing, they're gonna sing. If you start fighting, they're gonna fight"), but his sister's advice is decidedly more practical: "Ask for plastic cups, that way nobody hurts each other."
We get insights into several of the women's bachelorette parties, or lack thereof, and they're all very on-brand:
Danielle: "I had the penis straws, the penis cups, my hoohas were out everywhere."
Margaret: "I did not have a bachelorette party, but my entire life has been a bachelorette party. I've slept with enough men, it's fine."
Teresa: "My first bachelorette party, we went to see male strippers in Long Island. It was alright. Maybe if it was Channen Taming, maybe if it was him, it would've been better."
Melissa Gorga's in-flight aid is Sleepytime Tea. Jenn Fessler's? "Vodka and Xanax."