It's been safely delivered into the hands of I Am Love and Call Me By Your Name director Luca Guadagnino, but there's still some nervousness over the impending remake of Suspiria. And rightfully so: The film is so defined by director Dario Argento's opera-meets-Hitchcock sensibilities and striking visual style, it's hard to imagine any filmmaker, even an aesthetically refined one like Guadagnino, being able to re-create its magic.
Perhaps that's why the original 1977 version of the film has been experiencing a second life in theaters. Earlier this year, the programming group Chicago Cinema Society toured a dubbed 35mm Italian print of the film, but by far the most dedicated expression of passion for Argento's masterpiece has come from genre DVD/Blu-ray label Synapse Films. Synapse has been working on a 4k restoration of Suspiria made from the uncut 98-minute 35mm Italian camera negative for the past four years, and finally debuted it to effusive praise at the Fantasia International Film Festival late last month.
In a blog post back in March, Synapse previewed still frames from the restoration laid side-by-side next to stills from the Italian Blu-ray of the film, and the results are indeed remarkable. Not only is the 4k restoration of the film brighter and clearer than before, it completely changes the palette of certain scenes, revealing layers of color that weren't visible before. This was done with the help of cinematographer Luciano Tovoli, who explained that his vision for the film was "always conflict between color, not conflict between light and dark."
And while you obviously can't hear it in stills, the soundtrack—including Goblin's famous score—has been remixed to match the original four-channel English stereo mix with split mono surround sound, for a sound that Synapse's Don May. Jr. describes as "really crazy." As he tells Blumhouse's Shock Waves podcast:
Suspiria was specifically mixed with directional dialogue. Nowadays, you get a 5.1 and all the dialogue is in the center. In Suspiria, there's people talking as they walk behind, and you hear things way over to the left and way over to the right. There's one funny scene where there are girls talking in a room, and there's one girl sitting in the center of the frame with a pair of scissors, and the only thing in the center channel at that moment is her scissors noise! So, they really did this crazy surround-track, and we're going to be the first people to present it that way on home video.
G/O Media may get a commission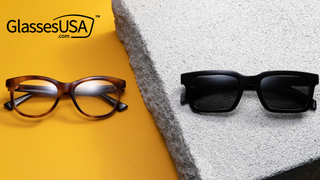 60% off frames
GlassesUSA.com Back to School Sales
And now that the restoration is complete, Synapse has revealed its final plan for this labor-intensive, multi-year project, which includes both a theatrical tour of the film's 4k restoration on DCP and a Blu-ray release timed to coincide with the film's 40th anniversary. The latter was just announced today, with the opening of pre-orders for a steelbook version of the Blu-ray, with art from Malleus, Van Orton Design, Juan José Saldarriaga, and Chris MacGibbon:
The restoration comes with the support of Guillermo del Toro, who tells Indiewire in its article about the restoration, "Dario [Argento] especially needs this now that we have a little historical perspective to position Suspiria as the work of pure madness and cinematic joy it is. I think it's very important to celebrate his place in history." May adds, "we're keeping the original version alive for those who want to see it ... The remake will be out there, but the original version will not be going away any time soon."
You can see stills from and the current theatrical schedule for Synapse's 4k restoration of Suspiria—with more dates expected to be added soon—below.
Suspiria 4k restoration theatrical dates
8/25-8/29—Buffalo, NY—The North Park Theatre
8/25-8/27—Akron, OH—Nightlight Cinema
9/1-9/7—Austin, TX—Austin Film Society
9/8—North Kansas City, MO—Screenland Armour Theatre
9/14-9/15—Dallas, TX—Texas Theatre
9/15-9/16—St.Louis, MO—Moolah Theatre & Lounge (Presented by LATE NITE GRINDHOUSE)
10/1—Santa Ana, CA—The Frida Cinema
10/2—Wichita, KS—Warren Oldtown Theatre (Regal Cinemas) (October at the Oldtown Horror Festival)
10/13—London, ON—Imagine Cinemas (London Comic-Con Shock Stock event)
10/20—Knoxville, TN—Regal Cinemas Downtown West 8 (Knoxville Horror Film Fest)
10/21—Phoenix, AZ—FilmBar Phoenix (FilmBar's Scream All-Night Slumber Party)
10/28—Cleveland, OH—Cinematheque at the Cleveland Institute of Art