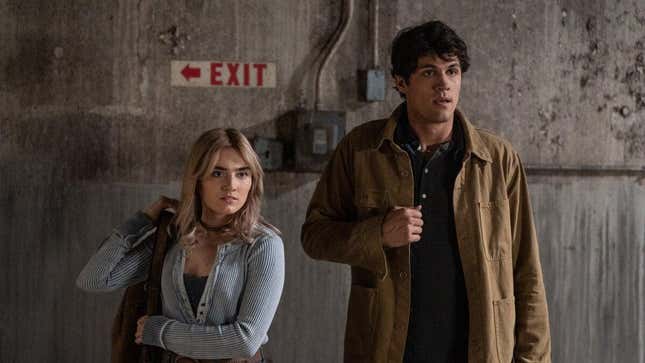 You know how it is in the Supernatural universe: Nobody's really dead until you've watched them die, gone down to hell, killed them there, and then, like, gotten God to co-sign on their extinction and booted their ghost plum out of the cosmos. We're just saying: It takes a lot of effort, in that particular cosmology, to ensure that something is really, truly dead.
Misha Collins talks Two-Face, "Supernatural," and more
Well, The Winchesters is really, truly dead.
Deadline confirms this week that the Supernatural spin-off—which followed the demon-hunting lives of Sam and Dean's parents back in the days when the boys were just a potential-Satan-vessel gleam in their eyes—has now become what we think of as "double canceled." (That is, The CW canceled it, as part of its widespread pattern of belt-tightening after being sold to new management recently, and then nobody else stepped up to buy the thing and save it.) This, despite a campaign from executive producer Jensen Ackles, who also appeared on the series to lend it a little of that ol' Dean Winchester magic. (Which does not appear, in hindsight, to have worked.)
With its cancellation, The Winchesters ends the very long run of the Supernatural franchise on television—a run that the show was, admittedly, only 1/16th of, having lasted for only a single season. Honestly, the longest tail the series might end up having was in a public blow-up between Ackles and former co-star Jared Padalecki, who expressed unhappiness that he wasn't told the spin-off was being developed until it was publicly announced. (The pair have since reportedly patched things up; the fact that Padalecki's Walker is one of a very small number of scripted shows that are surviving at The CW probably takes the sting off of things a bit.)