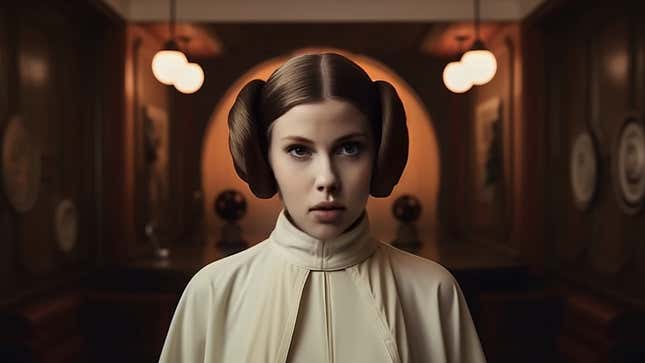 Commenting on the recent wave of artificial intelligence "art," musician Nick Cave recently declared, "A.I. may very well save the world, but it can't save our souls." Yet that hasn't stopped folks from generating their soulless little replicas of human creativity. Recent months have produced AI lyrics, AI songs, AI articles, and endless AI Seinfeld. Now, this past weekend saw a proliferation of AI movie trailers.
The A.V. Club's 5 last minute Halloween costume ideas
Most notable, perhaps, was an AI take on Star Wars with the aesthetic of Wes Anderson. This comes on the heels of a recent TikTok trend wherein users have been presenting their daily lives in Anderson's signature style. These amateurs may not all understand the precise filmmaking strategies that make a Wes Anderson film, but the parodies come from a place of passion. At least those fans have got the spirit, unlike AI, which has no spirit by definition.
Sure, there's symmetry and pastel colors, but one needs only behold the eerie, empty stillness of each frame, the spookiness of its faux Scarlett Johansson, the uncanny valley of the entire endeavor, to understand that neither Anderson nor any warm-blooded creature had a hand in the creation of these images. A Wes Anderson Star Wars may be fun to imagine for some film fans, but it pales in comparison to the real thing. ("all you fucking people liking that ai wes anderson shit better fucking go see asteroid city," tweeted Moonrise Kingdom star Jared Gilman.)
Then there's the faux-1930s romantic comedy "The Great Catspy," posted by Twitter user Chase Curtis (who apparently works for the ChatGPT prompt site "Snack Prompt"). "Hollywood is done for," Curtis proclaimed. "[You] might not believe me, but this is AI generated." Of course, anyone with 20/20 vision would believe this is an AI generated clip. The human figures are freakish and strange, with terrifying fingers and haunting doll-like faces. The cat figures are more freakish and even stranger. The various drinks being poured (and set aflame?) are befuddling, the voiceovers contain no emotion, and one shot is just literally Leonardo DiCaprio raising his glass in Gatsby, but way worse.
Curtis may have been baiting his audience to grab their pitchforks (in a reply, he declares that "This video is perfect—I bet even the top government analysts couldn't find the flaws," something no human being could possibly believe). Hollywood is certainly safe for now, but the nature of the technology—supposedly—is that it will continue to evolve until we might actually have trouble discerning the AI version from the real thing. It's an unsettling prospect, one that has this writer turning again to Cave's opinion on the subject: "It is more a kind of sad, disappointed feeling that there are smart people out there that actually think the artistic act is so mundane that it can be replicated by a machine. I find that insulting," he told The New Yorker. "There's no earthly reason why we need to invent a technology that can mimic this most beautiful and mysterious creative act." Hear, hear.