As the sun rose on second day of boot camp on The X Factor, the scent of freshly-spilled blood hanging heavy in the air, Simon Cowell's thirst for carnage was still not fully quenched, and I gotta say, neither was mine. This is how we heal after the torture of auditions, folks. There's something so cleansing about going from 162 to 32 contestants in 2 days; it's like puking after drinking half a bottle of rum in the bathroom at prom, or just getting a really good colonic (Sorry.) We don't even have to see (most of) their tearful farewells! They're just gone! Tonight, as the final 32 are revealed and the judges are assigned their groups, for the first time it started to feel like something was actually happening on X Factor. Did I always agree with what was happening? No, but my god, look at all those decisions getting made and people saying things of consequence! Super cool!
As the episode opens, we're reminded that we are still in the thick of boot camp, with lots of clips of contestants saying "Oh my god, boot camp," to convey the gravity of the state of being in boot camp. We've still got five more group performances to get through, and get through them we do, in short order. And at this point I understand that I'm not supposed to worry about anybody other than the people I'm being explicitly told to worry about. Gina Rene, Chris' sister? She's obviously going. All those blondes, minus Drew Bieber and Caitlin The Rugby Chick? Going. I could tune out so very much of this show and still "get it," it turns out! I was so relieved when I realized that I wasn't too dumb to keep up with X Factor!
The remaining groups include Marcus Canty; Chris Rene and his doomed sister; Tiah, the Girl with the Steely Eyes; and The Brewer Boys, Temecula's premier kid detective squad. That is all you need to know. They get through, but sheesh, everyone sounds bad in these group performances, don't they? Simon says the point of putting them in groups is to get a better perspective on their level of talent in comparison to their peers, which is all well and good, but it makes for some tedious watching. Luckily it's all over in the first half hour, the Top 100 are divided into three groups, one group is eliminated, and Voila… we have our top 64.
The final stage of the competition has each act picking a song out of a preselected 35 to prepare and perform in front of a live audience. It's at about this point when I notice Dexter in the crowd backstage and HOLY SHIT DEXTER IS STILL HERE? Pity, man, it's powerful stuff. Anyway, seeing as Dexter made it this far I figure he's a shoo-in for the judges' houses, so I promise not to be shocked at anything Dexter-related from here on out. Oh, who am I kidding, he's got this competition in the bag. I'm calling it now: Dexter Haygood is Your 2011 X Factor.
G/O Media may get a commission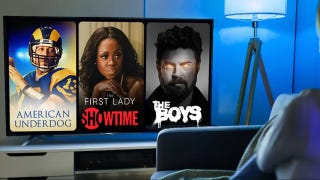 UNDER $1
99¢ Prime Video Channels
Because 64 people is still a heck of a lot of people, we fast forward through a good number of the final boot camp acts, but with my newfound super X Factor sense I'm able to deduce that those people are going home anyway, so whatever. Rachel Crow is up first, and sings "If I Was A Boy" which, as you might imagine, is a very bizarre song to hear a little muppet belt out of its big muppet mouth. But then, we cut to Nicole and she's just weeping for days, which makes me think that the control center that operates her emotional responses to external stimuli went on their lunch break and put her tear ducts on autopilot. Lady. It's the first song of the show. Save some up for Stacey Francis; don't waste it on this fourteen year old little girl wailing about how she wants to be a better man. But Rachel is technically quite good. The audience stands and cheers because her voice makes you think you should do that if you're inclined to do that sort of thing.
After that strong opening, the audience seems to go quiet for the next few acts. It does't help that the judges give zero feedback after each performance. Anna Turner (the Ike Turner ex-wife) and Paige Elizabeth (the… blonde one) get lukewarm responses. But Tiger Budbill and Josh Krajcik, two over-30 growly types, get the masses excited again. I'm warming up to Tiger; this time around, I was impressed with how much control he had over the tone and texture of his voice. He knows how to phrase a song, and he comes off as a pro. Josh is still high on my list of favorites; he's like a big diva in the body of a sweaty hipster lumberjack, and I love it. I just wish he'd cool it with the sob story; he's getting a little serious and cocky in the talking head interviews, which makes me less confident in his mental stability than I'd like to be.
More highlights: Simone Battle says "fierce" a lot and forgets all the words to her weird, disjointed rendition of "Your Song," while wannabe crooner Philip Lomax continues to be a total weenie and still manages to make the ladies scream. All of the arrangements of the songs are super weird; everyone seems to want to put their "twist" on the classics, and everyone's "twist" is apparently beat poetry, which winds up driving Simon bonkers enough that guys with headsets have to come out and crowd around the judges table to address the issue. You know it's serious when the guys with headsets come out, but they really get the job done while they're crowded around that table, so it's a good thing we have them around.
Eventually it's Stacey Francis' turn, and LA is all "Hey Stacey, do you want to tell us about how your dad died? And Stacey says, 'Yes, now that you bring it up, I would like to tell you about that!'" Did you know that Stacey's dad died on the first day of boot camp? Apparently she was keeping it all bottled up inside until it came out in the form of that 30 minute long note that we keep seeing over and over in flashback clips. Now the struggles all make sense! But hey, I thought that her rendition of "Summertime" was pretty great and gave Fantasia Barrino's rather-famous Season 3 American Idol rendition a run for its money. I just want to know what a tearless Stacey Francis performance looks like. Seriously, if she made it big, would she just have to keep a box of Kleenex on stage with her?
We wrap up the performances, and then the judges deliberate, and its impossible to tell who or what they're talking about, with everything being chopped up to bits and intercut with footage of contestants who may or may not be under discussion at that moment. Finally, we get to the announcement of who made it, and most of the contestants can be categorized by one of three reactions I had: Phew, Really!? and DUH.
Phew: Tora, Jazzlyn Little, Tiah, Marcus Canty, Tiger Budbill, Josh Krajcik
Really?: Simone Battle, Skyelor Anderson, Nick Voss, Phillip Lomax, ALL OF THE GROUPS, Christa Collins
DUH: Drew Bieber, Rachel Crow, Caitlin Koch, Melanie Amaro, Chris Rene, Dexter, Stacey Francis.
If this was my own personal X Factor I'd want to mentor the Phews and leave the Reallys and the Pepsi bottle disposal duties to Scherzinger, but the powers that be have different plans. After the final commercial break, we are ready to find out the group assignments, and the fact that they are trying to make us believe that none of the judges already know who they are mentoring is kind of ridiculous, especially in Simon's case. But apparently, in some remote location or perhaps in space, there is a white room which serves as X Factor command central, where a man who I can only assume is Simon's father makes the really big decisions about how to run an X Factor. He tells the judges who is coaching whom, and everything more or less makes sense (Simon with the Girls, LA with the Boys, Paula with the Groups, Nicole with the Over 30s) except WHAT? Who said Nicole Scherzinger should be allowed around people over 30? She's not going to make them seem younger by osmosis, you guys! This is a very bad idea! Ah, well. I'm sure she and sweet Dexter will have a lovely time.
Things are going to get weird next week! I can't wait to see Paula try to make two newly-minted groups into viable competitors, I can't wait to see Simon make good on his promise to "make eight girls very, very happy" (Gross.) But mostly, of course, I can't wait for more bloodshed. Let's get cuttin', judges!